US close: Stocks close higher after Fed raises rates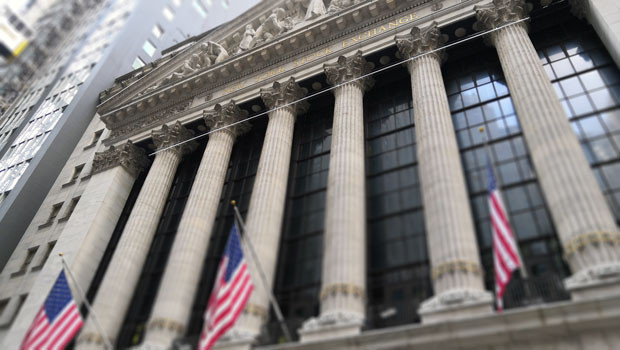 Wall Street stocks were in the green at the close of trading on Wednesday as market participants digested the outcome of the FOMC's two-day policy meeting.
At the close, the Dow Jones Industrial Average was up 0.02% at 34,092.96, while the S&P 500 advanced 1.05% to 4,119.21 and the Nasdaq Composite saw out the session 2.00% firmer at 11,816.32.
The Dow closed just 6.92 points higher on Wednesday, barely extending gains recorded in the previous session.
Wednesday's primary focus was news that the US central bank raised the range for its benchmark interest rate by 25 basis points to 4.5-4.75% and said it foresaw further hikes. In his press briefing following the Federal Open Market Committee's meeting, chairman Jerome Powell explained that with inflation running at multi-decade highs the job was "not yet fully done". At one point during the question and answer session, he also said that it was "very difficult" to manage the risk of doing too little, to then only see inflation spring back a few quarters down the road.
On the macro front, US mortgage applications tumbled 9% in the week ended 27 January, according to the Mortgage Bankers Association of America, with applications for refinancing falling 7.1% and purchase applications slumping 10.3%. The fall comes despite the average contract interest rate for 30-year fixed-rate mortgages slipping one basis lower to 6.19% - the lowest level seen since September 2022.
Elsewhere, hiring in the US private sector slowed significantly at the start of 2023, according to the results of consultancy ADP's tally of private sector payrolls, which printed at 106,000 for January, well and truly short of consensus estimates for a reading of 160,000.
Moving on, labour demand in the States remained high at the end of 2022, according to the Department of Labor, which revealed that in seasonally adjusted terms, the number of job openings jumped at a month-on-month pace of 5.5% in December to reach approximately 11.01m.
Still on data, US factory activity at the start of 2023 declined a tad less than previously thought, according to S&P Global. S&P's manufacturing sector PMI improved from a reading of 46.2 in December to 46.9 in January - ahead of preliminary expectations for a reading of 46.8.
On another note, the Institute of Supply Management said factory sector activity in the US shrank more quickly than expected at the beginning of 2023, with its manufacturing sector PMI slipping from a reading of 48.4 in December to 47.4 in January. Economists had pencilled-in a print of 48.1.
Finally, construction spending fell by 0.4% month-on-month to $1.81trn in December, according to the Census Bureau, swinging from an upwardly revised 0.5% expansion in November but missing market forecasts of a stall.
In the corporate space, T-Mobile posted fourth-quarter earnings of $1.48bn and said it expects to add at least 5.0m new customers in 2023, while Boston Scientific fell just shy of earnings estimates in Q4 but delivered revenues that were bang in line with estimates.
After the close, Facebook parent company Meta Platforms Q4 earnings rocketed past expectations as it announced a massive $40.0bn stock buyback and Netgear posted quarterly earnings that beat Wall Street estimates by $0.05 per share and revenues that topped guidance.
Reporting by Iain Gilbert at Sharecast.com
Dow Jones - Risers
Intel Corp. (INTC) $29.07 2.87%
Salesforce.Com Inc. (CRM) $171.82 2.29%
Microsoft Corp. (MSFT) $252.75 1.99%
Nike Inc. (NKE) $129.50 1.70%
Dow Chemical Co. (DOW) $60.23 1.47%
Home Depot Inc. (HD) $328.09 1.21%
Johnson & Johnson (JNJ) $164.79 0.92%
Walgreens Boots Alliance, Inc. (WBA) $37.18 0.87%
Walt Disney Co. (DIS) $109.39 0.83%
Boeing Co. (BA) $214.75 0.82%
Dow Jones - Fallers
Travelers Company Inc. (TRV) $185.23 -3.08%
Amgen Inc. (AMGN) $246.41 -2.37%
Chevron Corp. (CVX) $171.36 -1.53%
Caterpillar Inc. (CAT) $249.50 -1.09%
American Express Co. (AXP) $173.16 -0.75%
Unitedhealth Group Inc. (UNH) $497.00 -0.44%
McDonald's Corp. (MCD) $266.27 -0.42%
Merck & Co. Inc. (MRK) $106.98 -0.40%
JP Morgan Chase & Co. (JPM) $139.42 -0.26%
Cisco Systems Inc. (CSCO) $48.57 -0.21%
S&P 500 - Risers
Advanced Micro Devices Inc. (AMD) $84.64 12.63%
Stryker Corp. (SYK) $278.95 9.91%
Nektar Therapeutics (NKTR) $2.95 8.46%
Carmax Inc. (KMX) $75.80 7.65%
Nvidia Corp. (NVDA) $209.43 7.20%
Applied Materials Inc. (AMAT) $119.01 6.75%
Edwards Lifesciences Corp. (EW) $81.50 6.23%
Lam Research Corp. (LRCX) $530.26 6.03%
Norwegian Cruise Line Holdings Ltd (NCLH) $16.11 5.92%
Altria Group Inc. (MO) $47.54 5.55%
S&P 500 - Fallers
Westrock Company (WRK) $34.27 -12.67%
Electronic Arts Inc. (EA) $116.76 -9.26%
Bread Financial Holdings, Inc. (BFH) $38.07 -7.21%
Chubb Corp. (CB) $214.19 -6.18%
Amerisource Bergen Corp. (ABC) $160.94 -4.68%
Johnson Controls International plc (JCI) $66.29 -4.61%
Marathon Petroleum Corporation (MPC) $122.97 -4.32%
Juniper Networks Inc. (JNPR) $30.99 -4.06%
HF Sinclair Corporation (DINO) $54.47 -3.95%
Hess Corp. (HES) $144.24 -3.94%
Nasdaq 100 - Risers
Baidu Inc. (BIDU) $152.25 13.05%
Nvidia Corp. (NVDA) $209.43 7.20%
Applied Materials Inc. (AMAT) $119.01 6.75%
Lam Research Corp. (LRCX) $530.26 6.03%
Align Technology Inc. (ALGN) $282.53 4.75%
Tesla Inc (TSLA) $181.41 4.73%
Microchip Technology Inc. (MCHP) $81.16 4.56%
KLA-Tencor Corp. (KLAC) $409.77 4.41%
Seagate Technology Plc (STX) $70.49 4.00%
QUALCOMM Inc. (QCOM) $138.46 3.94%
Nasdaq 100 - Fallers
Electronic Arts Inc. (EA) $116.76 -9.26%
Amgen Inc. (AMGN) $246.41 -2.37%
Vertex Pharmaceuticals Inc. (VRTX) $317.27 -1.80%
Western Digital Corp. (WDC) $43.32 -1.43%
Vodafone Group Plc ADS (VOD) $11.42 -1.38%
Take-Two Interactive Software Inc. (TTWO) $112.25 -0.87%
Cisco Systems Inc. (CSCO) $48.57 -0.21%
Liberty Global plc Series A (LBTYA) $21.65 -0.18%
Liberty Global plc Series C (LBTYK) $22.33 -0.09%
Regeneron Pharmaceuticals Inc. (REGN) $758.00 -0.06%