US close: S&P, Nasdaq reach nine-month highs as sentiment surges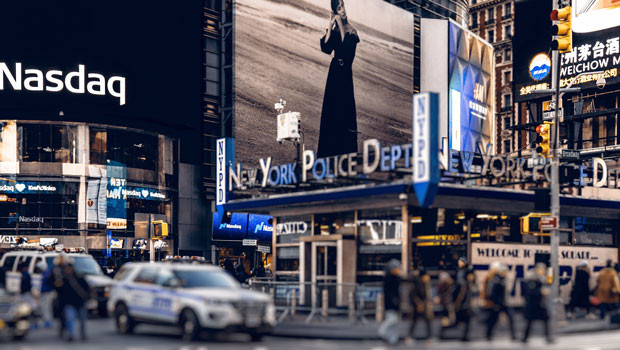 Wall Street's equity markets ended on a high note on Thursday, with both the Nasdaq Composite and the S&P 500 closing at their highest points in more than nine months.
At the close, the Dow Jones Industrial Average was up 0.47% at 33,061.57, while the S&P 500 climbed 0.99% to end the day at 4,221.02.
The tech-focussed Nasdaq Composite was ahead 1.28% by the closing bell, finishing at 13,100.98.
Upbeat sentiment was put down to a combination of encouraging economic data, as well as progress on Capitol Hill over raising the federal debt ceiling.
In currency markets, the dollar was slightly weaker against its European counterparts, slipping 0.03% on sterling to trade at 79.81p, and losing 0.01% against the common currency to 92.91 euro cents.
The greenback did, however, gain a marginal 0.02% against the yen to change hands at JPY 138.83.
"Now that Democrats and Republicans have basically agreed to raise the US debt ceiling and a new bill is expected to become law before the 5 June cut-off date at which the US would default, the dollar advance stalls," said IG senior market analyst Axel Rudolph earlier.
"Comments by permanent voters, Fed governors Philip Jefferson and Patrick Harker, in which they expressed a preference to skip a potential interest rate hike this month, led to a repricing of risk ahead of Friday's all-important nonfarm payrolls and average hourly earnings."
Labour market data paints better-than-expected picture
On the economic front, fresh figures from the Labor Department suggested a slightly better than expected situation in the jobs market.
Unemployment claims for last week totaled 232,000 - a minor increase of 2,000 from the prior week's revised figures.
Experts had projected a higher climb to 235,000, with the milder uptick following a 1,000 upward revision for the week before's data.
The four-week moving average, often regarded as a more reliable metric due to its capacity to mitigate the weekly data's volatility, stood at 229,500.
That represented a drop of 2,500 from the preceding week's revised average of 232,000.
Private sector job growth meanwhile surpassed predictions in May, with ADP reporting an employment boost of 278,000, significantly outpacing the forecast 170,000.
The growth was primarily driven by small businesses, which added 235,000 jobs.
Midsize firms also experienced an increase, creating 140,000 new roles, while large businesses reported a decline, shedding 106,000 jobs.
The service sector added 168,000 positions, and the goods-producing sector saw a 110,000 job increase.
However, the wage picture was less rosy, with job changers experiencing a 12.1% increase in pay, down by a full percentage point from April.
Wage growth for those who kept their jobs was 6.5% in May, slightly down from the 6.7% recorded in April.
"This is the second month we've seen a full percentage point decline in pay growth for job changers," said Nela Richardson, chief economist at ADP.
"Pay growth is slowing substantially, and wage-driven inflation may be less of a concern for the economy despite robust hiring."
In contrast to the relatively encouraging employment figures, the US manufacturing sector continued to struggle, with the ISM manufacturing index falling to 46.9% in May, marking the seventh straight month of contraction.
The figure came in slightly short of the anticipated 47.0%.
Moreover, the new orders index slipped to 42.6% from April's 45.7%, and the production index dropped to 51.1% from 48.9%.
The prices index also fell sharply to 44.2%, down by nine percentage points from the previous month, while the backlog of orders index followed suit, registering 37.5%, a decline from April's 43.1%.
Andrew Hunter, deputy chief US economist at Capital Economics, said the slight decline in the manufacturing index reinforced the view that the jump in manufacturing output in April would not be sustained.
"But the bigger news was the renewed plunge in the new orders index, suggesting that the economy is still at high risk of falling into recession," he said.
"Overall, the report suggests the resilience of the hard activity data in April was not the start of an improving trend and that a recession over the coming months is still a significant risk.
"In that environment, there is still plenty of justification for the Fed to pause interest rate hikes at the FOMC meeting later this month."
Victoria's Secret tumbles, department stores maintain their poise
In equites, Salesforce dropped 4.69% after the release of the software company's first-quarter results.
Victoria's Secret & Co closed 8.72% lower, as the lingerie retailer reduced its full-year sales forecast, citing weaker consumer demand.
On the upside, Macy's shares ended the day 1.18% higher, reversing earlier losses despite the department store chain reducing its annual sales and profit forecasts.
The company said earlier that it now expected net sales to fall between $22.8bn and $23.2bn for 2023, a decrease from the prior forecast of $23.7bn to $24.2bn.
It also expected comparable owned-plus-licensed sales to decline by 6% to 7.5%, worse than the previous prediction of a 2% to 4% fall.
Meanwhile, upscale department store Nordstrom saw its shares rise 4.71% on the back of better-than-expected first-quarter results, along with a maintained full-year guidance.
Reporting by Josh White for Sharecast.com.
DOW JONES INDUSTRIAL AVERAGE +153.30 (+0.47%) 33,061.57
RISERS
American Express Co +2.62% $162.72
Visa Inc +2.48% $226.50
Home Depot Inc +1.74% $288.39
Caterpillar Inc +1.61% $209.07
Apple Inc +1.6% $180.09
JPMorgan Chase & Co +1.38% $137.58
UnitedHealth Group Inc +1.31% $493.63
Microsoft Corporation +1.28% $332.58
Travelers Companies Inc +1.22% $171.30
Honeywell International Inc +1.18% $193.86
FALLERS
Salesforce Inc -4.69% $212.90
Amgen Inc -2.89% $214.27
Goldman Sachs Group Inc -2.32% $316.40
Nike Inc -1.55% $103.63
Intel Corporation -0.99% $31.13
Johnson & Johnson -0.34% $154.54
Walgreens Boots Alliance Inc -0.17% $30.32
Cisco Systems Inc +0.14% $49.74
Verizon Communications Inc +0.23% $35.72
Walmart Inc +0.37% $147.41
S&P 500 +41.19 (+0.99%) 4,221.02
RISERS
Match Group Inc +10.2% $38.02
NetApp Inc +8.46% $71.96
Constellation Energy Corporation +5.78% $88.88
Comerica Inc +5.76% $38.18
Carnival Corporation +5.52% $11.85
ON Semiconductor Corporation +5.2% $87.95
Align Technology Inc +5.14% $297.20
Nvidia Corporation +5.12% $397.70
Hormel Foods Corporation +5.1% $40.20
SLB +5.02% $44.98
FALLERS
Dollar General Corporation -19.51% $161.86
Advance Auto Parts Inc -6.67% $68.03
Salesforce Inc -4.69% $212.90
NRG Energy Inc -4.11% $32.40
Dollar Tree Inc -3.94% $129.56
Abbvie Inc -3.28% $133.44
Amgen Inc -2.89% $214.27
Atmos Energy Inc -2.79% $112.07
Xcel Energy Inc -2.67% $63.55
Ross Stores Inc -2.63% $100.90
NASDAQ COMPOSITE +165.70 (+1.28%) 13,100.98
RISERS
Match Group Inc +10.2% $38.02
Baidu Inc +6.46% $130.79
JD.com Inc +5.92% $34.53
PDD Holdings Inc +5.77% $69.09
Align Technology Inc +5.14% $297.20
Nvidia Corporation +5.12% $397.70
Marvell Technology Inc +4.46% $61.10
Enphase Energy Inc +4.37% $181.47
Sirius XM Holdings Inc +3.93% $3.70
Splunk Inc +3.74% $103.00
FALLERS
Lucid Group Inc -16.24% $6.50
Dollar Tree Inc -3.94% $129.56
Amgen Inc -2.89% $214.27
Xcel Energy Inc -2.67% $63.55
Ross Stores Inc -2.63% $100.90
Broadcom Inc -2.23% $789.95
Atlassian Corporation -1.95% $177.26
CrowdStrike Holdings Inc -1.61% $157.55
American Electric Power Company -1.32% $82.02
Lululemon Athletica Inc -1.08% $328.35