US close: S&P 500 jumps by most since October 2008 amid wild swings in VIX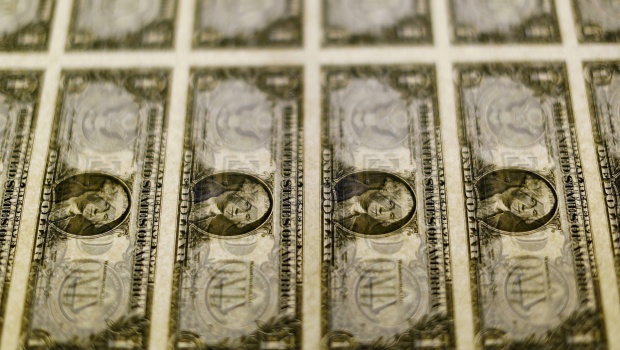 Wall Street's main market gauges snapped higher after the speaker of the House of Representatives, Nancy Pelosi, voiced "real optimism" that a deal on a coronavirus spending bill could be voted on Tuesday, or Wednesday at the latest.
By the end of trading, the S&P 500 was 9.38% higher at 2,447.33 and just below technical resistance at 2,450, alongside a more than 2,000 point jump on the Dow Jones Industrials to 20,704.91, while the Nasdaq Composite put on 8.12% to 7,417.86.
According to Bloomberg data, it was the biggest one day gain for the S&P 500 since October 2008, while the Dow Industrials saw its largest percentage point advance since 1933.
The next level of technical resistance for the S&P 500 lay at 2,550.
The VIX volatility index remained up by 0.13% at 61.67, but well off its recent highs of 85.47, having fallen to 36.24 earlier in the session.
West Texas Intermediate crude oil futures rose 3.91% to $24.31 a barrel on the ICE and the yield on the benchmark 10-year US Treasury note added six basis points to 0.85%.
Overnight, Pelosi had indicated that the roughly $2.0trn spending package would not get past the House, which was controlled by the Democrats, unless a proviso was added for Congressional oversight of the $500bn of proposed financing for companies.
"Things like a $500 billion slush fund was really insulting," Pelosi said, according to Bloomberg.
June gold futures on COMEX were more than 5% higher to $1,675.10/oz. as the US dollar funding squeeze abated, with analysts at Goldman Sachs pointing to prospects for an expanded Fed balance sheet and doubts around the euro area's survival as the proximate cause.
In parallel the US dollar index fell 0.69% to 101.78.
Stock in Best Buy was 17% higher after the discount retailer reported strong demand for the products needed during a prolonged lockdown, such as freezers and PC screens.
Investors were also eyeing graphics card maker Nvidia, with analysts at Needham pointing out its string cash position, which was second only to that of Taiwan Semiconductor.
Elsewhere in the semiconductor sector, Intel shelved its share buyback programme due to the uncertainty around the Covid-19 pandemic.
To take note of, there was talk in markets that a government support package for airlines was in the works, while at least one analyst broached the possibility of a bailout package for Boeing .
On the home front, sales of newly-built homes ran at a faster-than-expected clip last month.
According to the Department of Commerce, in February the annualised pace of new home sales fell by 4.4% month-on-month to reach 765,000.
Economists had forecast 750,000.
And in the background, G-7 leaders pledged to do whatever it takes to restore economic growth.
To take note of, some analysts were skeptical regarding what some observers said was a 'trial balloon' by President Trump regarding reopening the US economy by 12 April.
"If the current rate of growth were to be sustained, with cases doubling every three days, the U.S. will have four million cases in just over two week's time," said Ian Shepherdson at Pantheon Macroeconomics.
"This is why the president's talk of the country opening up again by Easter is just fanciful."
Dow Jones - Risers
Chevron Corp. (CVX) $66.55 22.74%
American Express Co. (AXP) $84.05 21.88%
Boeing Co. (BA) $127.68 20.89%
McDonald's Corp. (MCD) $161.95 18.13%
United Technologies Corp. (UTX) $86.76 15.76%
Nike Inc. (NKE) $72.33 15.18%
Walt Disney Co. (DIS) $98.12 14.41%
Visa Inc. (V) $154.53 13.84%
Goldman Sachs Group Inc. (GS) $153.60 13.80%
Home Depot Inc. (HD) $184.72 13.75%
Dow Jones - Fallers
Verizon Communications Inc. (VZ) $49.99 -0.64%
Dowdupont Inc. (DWDP) $30.52 0.00%
Walmart Inc. (WMT) $115.03 0.66%
Walgreens Boots Alliance, Inc. (WBA) $45.25 3.76%
Merck & Co. Inc. (MRK) $69.05 3.99%
Pfizer Inc. (PFE) $29.70 4.25%
Coca-Cola Co. (KO) $39.45 5.03%
Intel Corp. (INTC) $52.40 5.69%
Procter & Gamble Co. (PG) $103.27 5.70%
Travelers Company Inc. (TRV) $93.74 6.09%
S&P 500 - Risers
Norwegian Cruise Line Holdings Ltd (NCLH) $13.75 42.19%
L Brands Inc (LB) $12.75 39.04%
Dxc Technology Company (DXC) $14.99 38.28%
American Airlines Group (AAL) $13.92 35.80%
Alliance Data Systems Corp. (ADS) $42.01 35.43%
MGM Resorts International (MGM) $12.18 33.11%
Lincoln National Corp. (LNC) $22.85 31.70%
Darden Restaurants Inc. (DRI) $53.89 31.34%
Freeport-McMoRan Inc (FCX) $6.99 29.68%
Tapestry Inc. (TPR) $13.72 29.68%
S&P 500 - Fallers
Mylan Inc. (MYL) $15.14 -3.81%
Activision Blizzard Inc. (ATVI) $54.43 -3.61%
Kroger Co. (KR) $30.15 -2.99%
Regeneron Pharmaceuticals Inc. (REGN) $449.53 -1.34%
Electronic Arts Inc. (EA) $94.30 -1.23%
Clorox Co. (CLX) $168.00 -1.07%
Coty Inc. Class A (COTY) $5.10 -0.97%
Netflix Inc. (NFLX) $357.32 -0.82%
Verizon Communications Inc. (VZ) $49.99 -0.64%
Costco Wholesale Corp. (COST) $284.94 -0.21%
Nasdaq 100 - Risers
American Airlines Group (AAL) $13.92 35.80%
Ulta Salon, Cosmetics & Fragrance Inc. (ULTA) $177.59 23.98%
Hasbro Inc (HAS) $63.11 21.67%
Intuit Inc. (INTU) $233.82 20.08%
Align Technology Inc. (ALGN) $165.28 20.01%
Lam Research Corp. (LRCX) $230.64 19.60%
Paychex Inc. (PAYX) $59.56 18.20%
Western Digital Corp. (WDC) $40.47 17.75%
Intuitive Surgical Inc. (ISRG) $431.90 17.44%
KLA-Tencor Corp. (KLAC) $136.36 17.19%
Nasdaq 100 - Fallers
Mylan Inc. (MYL) $15.14 -3.81%
Activision Blizzard Inc. (ATVI) $54.43 -3.61%
Regeneron Pharmaceuticals Inc. (REGN) $449.53 -1.34%
Electronic Arts Inc. (EA) $94.30 -1.23%
Netflix Inc. (NFLX) $357.32 -0.82%
Costco Wholesale Corp. (COST) $284.94 -0.21%
Shire Plc Ads (SHPG) $179.20 0.00%
Celgene Corp. (CELG) $108.24 0.00%
Citrix Systems Inc. (CTXS) $122.00 0.33%
Adobe Systems Inc. (ADBE) $310.00 0.89%