US close: Mixed performance on the Street following China GDP figures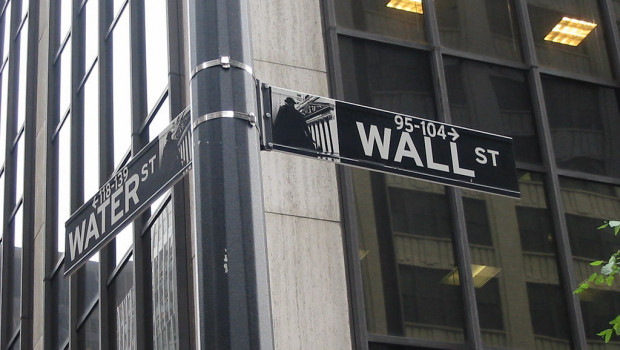 Wall Street stocks turned in a mixed performance on Monday as bond yields headed north and Chinese GDP numbers disappointed.
At the close, the Dow Industrial Average was down 0.10% at 35,258.61, while the S&P 500 was 0.34% stronger at 4,486.46 and the Nasdaq Composite saw out the session 0.84% firmer at 15,021.81.
The Dow closed 36.15 points weaker on Monday, cutting into gains recorded at the tail end of last week on the back of a better than anticipated start to the third-quarter earnings season.
In focus on Monday, the yield on the benchmark 10-year Treasury note ticked up to above 1.58% at the start of the week, applying some pressure to shares, while also weighing on sentiment was a report from Beijing that gross domestic product had fallen short of estimates in the third quarter, coming in at 4.9% annual growth, less than the 5.3% clip expected by economists.
On the macro front, US industrial production dropped unexpectedly last month, according to the Department of Commerce, which revealed that, in seasonally adjusted terms, total output shrank at a month-on-month pace of 1.3%, compared to a 0.3% rise as forecast by economists. Manufacturing production dropped by 0.7% in comparison to the prior month, while mining output declined 2.3% and utilities fell 3.6%.
Elsewhere, homebuilder sentiment rebounded in October, according to the National Association of Home Builders/Wells Fargo housing market index, which rose four points to 80 as supply chain issues were offset by high buyer demand.
In the corporate space, Disney shares traded lower after analysts at Barclays downgraded the stock, pointing to an expected slowdown in subscriber growth.
While things were fairly quiet on the earnings front on Monday, big-time names like Netflix, Johnson & Johnson, United Airlines and Procter & Gamble will report tomorrow, while Tesla, Verizon and IBM will publish their latest quarterly results before the week is out.
Dow Jones - Risers
Goldman Sachs Group Inc. (GS) $413.69 1.88%
Home Depot Inc. (HD) $355.01 1.31%
Apple Inc. (AAPL) $146.55 1.18%
Microsoft Corp. (MSFT) $307.29 1.01%
Nike Inc. (NKE) $159.43 0.90%
Walmart Inc. (WMT) $141.68 0.80%
American Express Co. (AXP) $176.82 0.57%
Intel Corp. (INTC) $54.47 0.02%
Salesforce.Com Inc. (CRM) $291.70 0.01%
McDonald's Corp. (MCD) $242.26 0.00%
Dow Jones - Fallers
Walt Disney Co. (DIS) $171.14 -3.01%
Amgen Inc. (AMGN) $203.13 -2.27%
Travelers Company Inc. (TRV) $152.82 -1.77%
International Business Machines Corporation (CDI) (IBM) $142.32 -1.58%
Merck & Co. Inc. (MRK) $77.15 -1.51%
Procter & Gamble Co. (PG) $142.34 -1.44%
Walgreens Boots Alliance, Inc. (WBA) $48.40 -1.06%
Coca-Cola Co. (KO) $53.94 -0.99%
Unitedhealth Group Inc. (UNH) $424.60 -0.81%
Johnson & Johnson (JNJ) $160.12 -0.73%
S&P 500 - Risers
Macy's Inc. (M) $28.25 17.51%
Nordstrom Inc. (JWN) $29.62 5.48%
Helmerich & Payne Inc. (HP) $34.30 4.67%
Gap Inc. (GPS) $23.15 4.56%
Occidental Petroleum Corp. (OXY) $32.93 4.01%
Advanced Micro Devices Inc. (AMD) $116.43 3.84%
Tractor Supply Company (TSCO) $204.50 3.67%
Fortinet Inc. (FTNT) $326.74 3.63%
Albemarle Corp. (ALB) $236.91 3.56%
Kohls Corp. (KSS) $48.02 3.47%
S&P 500 - Fallers
Nektar Therapeutics (NKTR) $16.33 -5.66%
Medtronic Plc (MDT) $120.71 -5.50%
NetApp Inc. (NTAP) $90.34 -4.32%
Biogen Inc (BIIB) $269.73 -4.08%
Walt Disney Co. (DIS) $171.14 -3.01%
DENTSPLY Sirona Inc. (XRAY) $56.33 -2.63%
Gilead Sciences Inc. (GILD) $65.90 -2.56%
Travel + Leisure Co (TNL) $53.32 -2.52%
Bristol-Myers Squibb (BMY) $56.94 -2.43%
Borg Warner Inc. (BWA) $45.92 -2.40%
Nasdaq 100 - Risers
Baidu Inc. (BIDU) $171.04 4.53%
Facebook Inc. (FB) $335.34 3.26%
Tesla Inc (TSLA) $870.11 3.21%
Citrix Systems Inc. (CTXS) $100.48 2.97%
NetEase Inc. Ads (NTES) $97.90 2.45%
Intuit Inc. (INTU) $564.56 2.25%
Costco Wholesale Corp. (COST) $461.95 2.11%
Adobe Systems Inc. (ADBE) $622.83 2.09%
Qurate Retail Inc. (QRTEA) $10.23 1.99%
Xilinx Inc. (XLNX) $170.39 1.94%
Nasdaq 100 - Fallers
Biogen Inc (BIIB) $269.73 -4.08%
Trip.com Group Limited (TCOM) $31.83 -2.72%
DENTSPLY Sirona Inc. (XRAY) $56.33 -2.63%
Biomarin Pharmaceutical Inc. (BMRN) $73.92 -2.60%
Gilead Sciences Inc. (GILD) $65.90 -2.56%
Amgen Inc. (AMGN) $203.13 -2.27%
Cerner Corp. (CERN) $70.12 -1.82%
Regeneron Pharmaceuticals Inc. (REGN) $543.48 -1.76%
Comcast Corp. (CMCSA) $53.22 -1.48%
Booking Holdings Inc. (BKNG) $2,502.13 -1.43%