US close: Markets mixed as reopening plays see-saw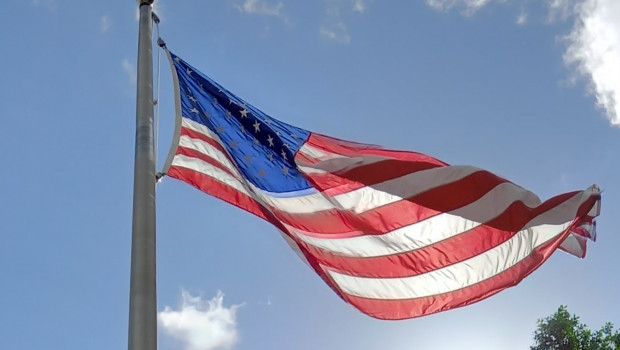 Wall Street closed mixed again on Tuesday, after a rise in new cases of Covid-19 cases knocked both the Dow Jones Industrial Average and the S&P 500 off their all-time highs in the previous session.
At the close, the Dow Jones Industrial Average was up 0.46% at 35,264.67 and the S&P 500 added 0.1% to 4,436.75, while the Nasdaq Composite was 0.49% lower at 14,788.09.
The Dow closed 162.82 94 points higher on Tuesday, reversing some of the losses recorded in the previous session amid concerns about a resurgence in new coronavirus cases.
Tuesday's primary focus was on Washington, with news that the Senate could pass a $1.0trn bipartisan infrastructure bill by the end of the day.
The plan, which includes $550.0bn in new spending on transportation and broadband, would give the US economy a boost as peak growth slows as the nation reopens from the Covid-19 pandemic.
Also in focus, the yield on the benchmark 10-year Treasury note also traded slightly higher at 1.342%.
No major data points were slated for release.
In the corporate space, energy stocks faring better at the end of the day as oil prices bounced, having fallen earlier around fears of a potential slowdown in demand.
Reopening plays, meanwhile, reversed earlier losses despite a spike in fresh Covid-19 cases, with Norwegian Cruise Line up 4.7% and United Airlines ahead 2.65%.
Coinbase, Softbank and Sysco were also in focus towards the end of the session, ahead of reporting earnings after the bell.
Dow Jones - Risers
Caterpillar Inc. (CAT) $214.07 2.48%
Walmart Inc. (WMT) $148.68 2.13%
Dow Chemical Co. (DOW) $63.12 2.10%
Walgreens Boots Alliance, Inc. (WBA) $48.43 2.09%
Goldman Sachs Group Inc. (GS) $407.97 2.02%
Chevron Corp. (CVX) $102.08 1.83%
Boeing Co. (BA) $235.78 1.51%
JP Morgan Chase & Co. (JPM) $159.26 1.23%
3M Co. (MMM) $199.25 0.92%
Home Depot Inc. (HD) $331.48 0.83%
Dow Jones - Fallers
Salesforce.Com Inc. (CRM) $243.39 -2.38%
Visa Inc. (V) $238.07 -0.80%
American Express Co. (AXP) $169.49 -0.76%
Microsoft Corp. (MSFT) $286.44 -0.66%
McDonald's Corp. (MCD) $233.45 -0.52%
Apple Inc. (AAPL) $145.60 -0.34%
Intel Corp. (INTC) $53.92 -0.24%
Merck & Co. Inc. (MRK) $75.19 -0.17%
Dowdupont Inc. (DWDP) $30.52 0.00%
Honeywell International Inc. (HON) $230.94 0.00%
S&P 500 - Risers
Nucor Corp. (NUE) $118.10 9.58%
Kansas City Southern (KSU) $289.75 7.47%
Sysco Corp. (SYY) $78.24 6.52%
Apache Corp. (APA) $19.06 6.42%
Arconic Inc. (ARNC) $36.10 5.22%
Freeport-McMoRan Inc (FCX) $38.22 4.83%
Pfizer Inc. (PFE) $48.19 4.81%
Norwegian Cruise Line Holdings Ltd (NCLH) $25.82 4.70%
Marathon Oil Corp. (MRO) $12.35 4.48%
Gap Inc. (GPS) $30.29 4.41%
S&P 500 - Fallers
Micron Technology Inc. (MU) $75.91 -5.36%
Abiomed Inc. (ABMD) $332.70 -4.02%
Teleflex Inc. (TFX) $360.30 -3.95%
Lam Research Corp. (LRCX) $617.17 -3.64%
Intuitive Surgical Inc. (ISRG) $995.62 -3.53%
Nektar Therapeutics (NKTR) $14.99 -3.29%
Western Digital Corp. (WDC) $65.50 -3.12%
Applied Materials Inc. (AMAT) $138.06 -2.77%
Ansys Inc. (ANSS) $361.52 -2.72%
KLA-Tencor Corp. (KLAC) $341.99 -2.71%
Nasdaq 100 - Risers
Mercadolibre Inc. (MELI) $1,878.53 6.99%
Ross Stores Inc. (ROST) $125.74 3.52%
Dollar Tree Inc (DLTR) $101.42 3.13%
eBay Inc. (EBAY) $67.31 3.00%
Qurate Retail Inc. (QRTEA) $11.32 2.91%
Ulta Salon, Cosmetics & Fragrance Inc. (ULTA) $361.74 2.58%
Dish Network Corp. (DISH) $43.15 2.13%
Booking Holdings Inc. (BKNG) $2,202.99 2.10%
Walgreens Boots Alliance, Inc. (WBA) $48.43 2.09%
Activision Blizzard Inc. (ATVI) $82.99 1.94%
Nasdaq 100 - Fallers
Micron Technology Inc. (MU) $75.91 -5.36%
Lam Research Corp. (LRCX) $617.17 -3.64%
Intuitive Surgical Inc. (ISRG) $995.62 -3.53%
Western Digital Corp. (WDC) $65.50 -3.12%
Applied Materials Inc. (AMAT) $138.06 -2.77%
KLA-Tencor Corp. (KLAC) $341.99 -2.71%
Incyte Corp. (INCY) $73.62 -2.24%
Idexx Laboratories Inc. (IDXX) $671.53 -2.17%
DENTSPLY Sirona Inc. (XRAY) $58.25 -2.15%
Vertex Pharmaceuticals Inc. (VRTX) $196.46 -1.97%