US close: Markets mixed as focus turns from Fed to trade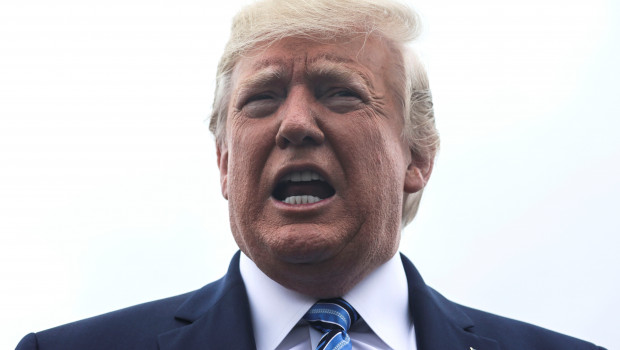 US stocks finished in a mixed state on Thursday, as investors continued to react to the Federal Reserve's latest policy announcement and got hopeful about trade talks between US and Chinese officials in Washington.
The Dow Jones Industrial Average ended the session down 0.19% at 27,094.79, while the S&P 500 was flat, rising just 0.002% to 3,006.79, and the Nasdaq 100 added 0.17% to 7,901.79.
At the open, the Dow was 101.07 points higher after stocks closed on a mixed note on Wednesday following a cut to the US central bank's main policy rate by a further 25 basis points.
Several top officials there also indicated that it would need to be lowered again before the year was out.
In his post-meeting press conference, Fed chairman Jerome Powell said that the central bank was prepared to move "forcefully" if necessary.
Market participants were also keeping a keen eye on a new round of face-to-face talks between Chinese and US officials in Washington.
The two-day talks will focus on preparing for high-level talks early next month which will determine whether or not Washington and Beijing can move forward with a deal or be forced to resume the ongoing game of tit-for-tariff between the two.
On the data front, manufacturing sector activity in the US mid-Atlantic region remained stronger than expected in September, but that resilience was likely to soon be tested and should not be extrapolated to the remainder of the country, economists said.
The Federal Reserve Bank of Philadelphia's headline factory sector index slipped from August's level of 16.8 to 12.0, still beating consensus expectations for a reading of 10.8.
Elsewhere, the number of Americans lining up for unemployment benefits increased less than expected last week, indicating strong labour market conditions.
Initial jobless claims rose 2,000 to a seasonally adjusted 208,000 for the week ended 14 September, according to the Labor Department, while data for the prior week was revised to show 2,000 more applications received than previously thought.
Lastly, US home sales unexpectedly jumped to a 17-month high last month, marking a second straight month of gains.
The National Association of Realtors revealed that existing home sales increased 1.3% to a seasonally adjusted annual rate of 5.49m units in August, yet another sign that lower mortgage rates were encouraging buyers.
July's sales pace was unchanged at 5.42m.
In corporate news, shares in software behemoth Microsoft advanced 1.84% after authorising a further $40bn in share buybacks and raising its quarterly dividend to $0.51 per share.
Technology companies Advanced Micro Devices and Micron Technology both saw their earlier fortunes reverse, with the former slipping 0.43% and the latter down 1.31% by the closing bell.
Dow Jones - Risers
Microsoft Corp. (MSFT) $141.07 1.84%
Merck & Co. Inc. (MRK) $83.97 1.14%
Unitedhealth Group Inc. (UNH) $232.85 0.97%
Coca-Cola Co. (KO) $54.52 0.53%
International Business Machines Corp. (IBM) $142.97 0.53%
Procter & Gamble Co. (PG) $121.86 0.40%
Visa Inc. (V) $175.96 0.38%
Pfizer Inc. (PFE) $36.51 0.36%
Travelers Company Inc. (TRV) $146.94 0.32%
Walgreens Boots Alliance, Inc. (WBA) $54.57 0.29%
Dow Jones - Fallers
Walt Disney Co. (DIS) $133.30 -2.56%
Home Depot Inc. (HD) $228.12 -1.17%
Goldman Sachs Group Inc. (GS) $215.23 -0.85%
Apple Inc. (AAPL) $220.96 -0.81%
American Express Co. (AXP) $117.79 -0.80%
Caterpillar Inc. (CAT) $130.12 -0.72%
Exxon Mobil Corp. (XOM) $72.33 -0.67%
Boeing Co. (BA) $384.44 -0.51%
Nike Inc. (NKE) $87.70 -0.43%
Chevron Corp. (CVX) $123.66 -0.42%
S&P 500 - Risers
CIGNA Corp. (CI) $164.71 2.66%
Occidental Petroleum Corp. (OXY) $45.79 2.62%
Alexion Pharmaceuticals Inc. (ALXN) $105.67 2.61%
Align Technology Inc. (ALGN) $180.36 2.59%
American Tower Corp (Reit) (AMT) $227.07 2.46%
Kroger Co. (KR) $25.82 2.38%
Amerisource Bergen Corp. (ABC) $84.63 1.96%
Humana Inc. (HUM) $278.41 1.93%
Microsoft Corp. (MSFT) $141.07 1.84%
Brighthouse Financial, Inc. (BHF) $40.75 1.75%
S&P 500 - Fallers
Seagate Technology Plc (STX) $52.94 -6.71%
Darden Restaurants Inc. (DRI) $120.68 -5.07%
Noble Energy Inc. (NBL) $23.30 -3.88%
Macy's Inc. (M) $15.72 -3.38%
Under Armour Inc. Class A (UAA) $20.21 -2.79%
Ralph Lauren Corp (RL) $95.85 -2.73%
Mosaic Company (MOS) $20.99 -2.69%
Kohls Corp. (KSS) $48.80 -2.58%
PVH Corp. (PVH) $86.74 -2.56%
Walt Disney Co. (DIS) $133.30 -2.56%
Nasdaq 100 - Risers
Alexion Pharmaceuticals Inc. (ALXN) $105.67 2.61%
Align Technology Inc. (ALGN) $180.36 2.59%
Vodafone Group Plc ADS (VOD) $19.96 2.52%
Microsoft Corp. (MSFT) $141.07 1.84%
Autodesk Inc. (ADSK) $153.38 1.50%
Electronic Arts Inc. (EA) $99.69 1.43%
Tesla Inc (TSLA) $246.60 1.28%
Mercadolibre Inc. (MELI) $549.31 1.25%
T-Mobile Us, Inc. (TMUS) $81.00 1.10%
Facebook Inc. (FB) $190.14 1.06%
Nasdaq 100 - Fallers
Seagate Technology Plc (STX) $52.94 -6.71%
Qurate Retail Inc. (QRTEA) $10.70 -3.43%
Check Point Software Technologies Ltd. (CHKP) $108.18 -2.62%
Ctrip.Com International Ltd. Ads (CTRP) $33.20 -2.44%
Netflix Inc. (NFLX) $286.60 -1.70%
Nvidia Corp. (NVDA) $176.94 -1.69%
Workday, Inc. (WDAY) $172.74 -1.58%
Costco Wholesale Corp. (COST) $287.83 -1.57%
Western Digital Corp. (WDC) $62.65 -1.43%
Fastenal Co. (FAST) $32.40 -1.43%