US close: Markets higher on trade optimism, Fed minutes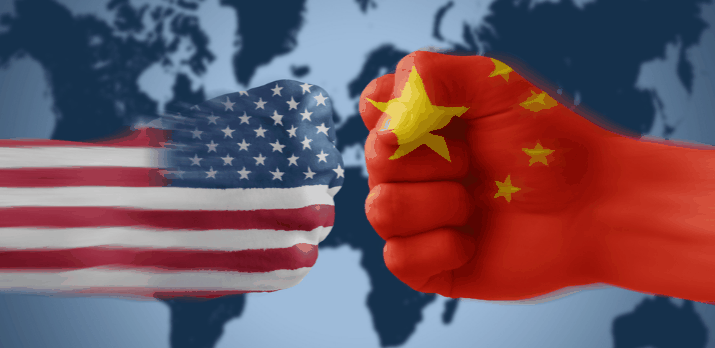 US stocks finished higher on Wednesday amid cautious optimism following trade talks between the US and China, and as investors sifted through the latest Federal Reserve minutes.
The Dow Jones Industrial Average ended the session up 0.39% at 23,879.12, the S&P 500 added 0.41% to 2,584.96, and the Nasdaq 100 was ahead 0.75% at 6,600.69.
Investors appeared to cheer the fact that negotiations between Washington and Beijing went on for a day longer than expected, with China's Foreign Ministry saying that the unscheduled third day showed both parties were "serious" about making progress.
US Undersecretary of Agriculture for Trade and Foreign Agricultural Affairs, Ted McKinney, said earlier the negotiations "went just fine", while China's foreign ministry spokesman, Lu Kang, said a statement concerning the negotiations would soon be released.
"Now that the talks in Beijing have officially come to a close - one day later than expected, something that has been treated as hugely significant - investors are on tenterhooks to know what, if anything, was agreed between the two superpowers," said Spreadex analyst Connor Campbell.
"So far there isn't a lot to go on; however, the signs appear to be positive," he added.
The government shutdown, which was now well into its third week, remained in focus as Fitch warned that the US could lose its triple-A credit rating later this year if the shutdown negatively affects the country's debt ceiling.
Donald Trump used his first televised address to the American people to blame Democrats for the continuing government shutdown, now the second longest in history.
Speaking on Tuesday evening, Trump once again insisted on funding his long-promised US-Mexico border wall and called the situation the country's boundary "a humanitarian crisis, a crisis of the heart and a crisis of the soul".
He did stop short, however, of declaring a national emergency, which he has threatened to do if the newly Democrat-dominated House of Representatives continue to deny funding to the wall.
Investors also spent the final hours of the business day leafing through the minutes of the Federal Reserve's December meeting, in which the central bank said it could "afford to be patient about further policy firming" against a backdrop of generally low domestic inflation.
At least some of the Fed's members appeared to believe there would be a "relatively limited amount" of rate increases on the way.
On the corporate front, Apple shares reversed earlier losses to close up 1.7%, having earlier suffered from reports that it would cut its iPhone production by 10% between January and March.
According to the Nikkei Asian Review, Apple told its suppliers last month to make fewer new iPhones than was initially planned for the March quarter.
Booze business Constellation Brands plunged 12.42%, while airline group United Continental added 1.68% even after it was downgraded to 'underperform' by analysts at Imperial Capital.
Dow Jones - Risers
Boeing Co. (BA) $343.83 4.79%
International Business Machines Corp. (IBM) $120.69 2.15%
Walt Disney Co. (DIS) $112.67 1.91%
Apple Inc. (AAPL) $153.31 1.70%
Caterpillar Inc. (CAT) $130.25 1.59%
Dowdupont Inc. (DWDP) $55.62 1.57%
Home Depot Inc. (HD) $179.78 1.52%
Microsoft Corp. (MSFT) $104.27 1.43%
Walgreens Boots Alliance, Inc. (WBA) $72.23 1.20%
Visa Inc. (V) $138.41 1.18%
Dow Jones - Fallers
Verizon Communications Inc. (VZ) $57.05 -2.28%
Coca-Cola Co. (KO) $46.57 -1.92%
Procter & Gamble Co. (PG) $90.96 -1.63%
Johnson & Johnson (JNJ) $128.93 -0.79%
Merck & Co. Inc. (MRK) $75.41 -0.76%
Cisco Systems Inc. (CSCO) $43.32 -0.55%
Walmart Inc. (WMT) $94.89 -0.33%
Pfizer Inc. (PFE) $43.37 -0.21%
Nike Inc. (NKE) $76.59 -0.18%
McDonald's Corp. (MCD) $180.37 -0.17%
S&P 500 - Risers
Chesapeake Energy Corp. (CHK) $2.77 16.03%
Lennar Corp. Class A (LEN) $46.29 7.98%
Intuitive Surgical Inc. (ISRG) $517.11 7.06%
Borg Warner Inc. (BWA) $38.70 6.73%
Southwestern Energy Co. (SWN) $4.37 6.33%
D. R. Horton Inc. (DHI) $39.59 5.83%
Helmerich & Payne Inc. (HP) $53.51 5.60%
FMC Technologies Inc. (FTI) $22.90 5.53%
Range Resources Corp. (RRC) $11.60 5.45%
Ford Motor Co. (F) $8.72 5.19%
S&P 500 - Fallers
Constellation Brands Inc. Class A (STZ) $150.94 -12.42%
Frontier Communications Co. (FTR) $2.61 -7.45%
ConAgra Brands Inc (CAG) $21.36 -4.26%
AT&T Inc. (T) $30.10 -3.77%
CVS Health Corp (CVS) $66.03 -3.75%
AbbVie Inc (ABBV) $87.77 -3.32%
Mylan Inc. (MYL) $28.94 -3.11%
Motorola Solutions Inc (MSI) $116.14 -2.80%
Estee Lauder Co. Inc. (EL) $127.83 -2.79%
General Electric Co. (GE) $8.50 -2.75%
Nasdaq 100 - Risers
Intuitive Surgical Inc. (ISRG) $517.11 7.06%
NetEase Inc. Ads (NTES) $258.44 6.61%
Lam Research Corp. (LRCX) $144.00 5.16%
Micron Technology Inc. (MU) $35.44 5.04%
Western Digital Corp. (WDC) $39.79 4.41%
Broadcom Inc. (AVGO) $246.28 4.32%
Applied Materials Inc. (AMAT) $34.30 4.22%
Asml Holdings N.V. (ASML) $162.92 4.15%
Microchip Technology Inc. (MCHP) $75.85 3.96%
Illumina Inc. (ILMN) $305.24 3.91%
Nasdaq 100 - Fallers
Sirius XM Holdings Inc (SIRI) $6.06 -4.57%
Mylan Inc. (MYL) $28.94 -3.11%
Booking Holdings Inc. (BKNG) $1,649.49 -2.22%
Expedia Group Inc. (EXPE) $114.62 -2.01%
Incyte Corp. (INCY) $73.70 -1.60%
Biomarin Pharmaceutical Inc. (BMRN) $90.86 -1.56%
PACCAR Inc. (PCAR) $58.64 -1.51%
Dish Network Corp. (DISH) $28.26 -1.46%
Dollar Tree Inc (DLTR) $97.17 -1.45%
Ross Stores Inc. (ROST) $90.34 -1.31%