US close: Markets higher as trade spat with China grows more intense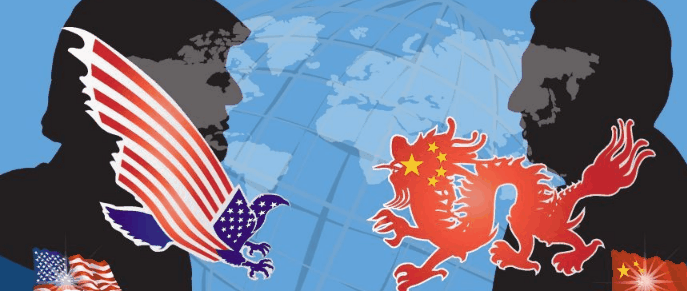 US stocks finished green across the board on Tuesday, despite worries about trade relations with China intensifying after it emerged that Beijing was set to ask the World Trade Organization permission to impose sanctions on the US.
The Dow Jones Industrial Average ended the day up 0.44% at 25,971.06, the S&P 500 added 0.37% to 2,887.89, and the Nasdaq 100 was 0.81% higher at 7,507.87.
In trade news, the WTO's meeting agenda revealed that China will ask permission to impose sanctions on the US next week following Donald Trump's latest threat to impose tariffs on a further $267bn of Chinese goods, on top of the $200bn already planned.
"This news immediately sparked fears that the next round of trade war-escalation isn't far off," said Spreadex analyst Connor Campbell.
Elsewhere, Washington confirmed it was in the process of arranging a second meeting between Trump and North Korean leader Kim Jong Un.
CMC Markets analyst David Madden said: "The announcement is seen as a step in the right direction for political stability in the region."
On the data front, the National Federation of Independent Business' small business optimism index rose to 108.8, a new record in the survey's 45-year history, from 107.9 in the month before.
That was ahead of expectations for a reading of 108.2.
"Today's groundbreaking numbers are demonstrative of what I'm hearing every day from small business owners - that business is booming," commented NFIB president and chief executive officer Juanita Duggan.
"As the tax and regulatory landscape changed, so did small business expectations and plans."
Meanwhile, US job openings increased in July, according to the monthly JOLTS report.
Job openings, a measure of labour demand, rose 117,000 to 6.939m in July, the Labor Department said on Tuesday, topping economists forecasts of 6.646m.
Lastly, US wholesale inventories rose slightly less than expected in July as motor vehicle stocks fell further.
The Commerce Department said wholesale inventories increased 0.6% instead of gaining 0.7% as reported last month, while stocks at wholesalers edged up 0.1% in June.
In corporate news, Sonos dropped 22.03% after the company's first earnings release since its IPO revealed a drop in revenue for the consumer audio device maker, and an earnings loss of 45 cents per share.
Elsewhere, Integrated Device Technology shot up 10.65% as Japan's Renesas Electronics said it would buy the US chip maker in a $6.7bn deal.
Dow Jones - Risers
Apple Inc. (AAPL) $223.85 2.53%
Microsoft Corp. (MSFT) $111.24 1.70%
Home Depot Inc. (HD) $213.85 1.50%
Exxon Mobil Corp. (XOM) $82.86 1.41%
Verizon Communications Inc. (VZ) $54.72 1.09%
Boeing Co. (BA) $345.25 0.99%
Johnson & Johnson (JNJ) $138.48 0.95%
Visa Inc. (V) $145.49 0.94%
American Express Co. (AXP) $108.31 0.94%
Nike Inc. (NKE) $82.63 0.65%
Dow Jones - Fallers
Intel Corp. (INTC) $44.93 -2.96%
Walt Disney Co. (DIS) $109.60 -0.94%
Goldman Sachs Group Inc. (GS) $230.21 -0.71%
Merck & Co. Inc. (MRK) $69.10 -0.69%
3M Co. (MMM) $211.78 -0.57%
Procter & Gamble Co. (PG) $82.01 -0.45%
McDonald's Corp. (MCD) $164.62 -0.27%
Walmart Inc. (WMT) $96.64 -0.27%
Walgreens Boots Alliance, Inc. (WBA) $68.74 -0.09%
Coca-Cola Co. (KO) $46.02 -0.09%
S&P 500 - Risers
Activision Blizzard Inc. (ATVI) $79.50 7.06%
United Rentals Inc. (URI) $168.38 5.24%
Murphy Oil Corp. (MUR) $30.89 3.83%
CenturyLink Inc. (CTL) $22.51 3.21%
Diamond Offshore Drilling Inc. (DO) $16.85 3.18%
Hess Corp. (HES) $64.37 2.93%
Range Resources Corp. (RRC) $14.97 2.88%
Apple Inc. (AAPL) $223.85 2.53%
Amazon.Com Inc. (AMZN) $1,987.15 2.48%
Devon Energy Corp. (DVN) $41.49 2.42%
S&P 500 - Fallers
Amerisource Bergen Corp. (ABC) $84.09 -4.80%
Western Digital Corp. (WDC) $54.98 -3.63%
Broadcom Inc. (AVGO) $232.55 -3.35%
Intel Corp. (INTC) $44.93 -2.96%
Molson Coors Brewing Co. Class B (TAP) $62.83 -2.92%
Mallinckrodt Plc Ordinary Shares (MNK) $32.04 -2.91%
Micron Technology Inc. (MU) $43.60 -2.90%
Spectra Energy Corp. (SE) $12.41 -2.82%
Monster Beverage Corp (MNST) $58.09 -2.79%
Alcoa Corporation (AA) $40.87 -2.71%
Nasdaq 100 - Risers
Activision Blizzard Inc. (ATVI) $79.50 7.06%
Take-Two Interactive Software Inc. (TTWO) $133.92 3.69%
Apple Inc. (AAPL) $223.85 2.53%
Amazon.Com Inc. (AMZN) $1,987.15 2.48%
Netflix Inc. (NFLX) $355.93 2.16%
Align Technology Inc. (ALGN) $382.80 2.14%
JD.com, Inc. (JD) $27.09 2.11%
American Airlines Group (AAL) $40.18 1.90%
Paypal Holdings Inc (PYPL) $91.43 1.82%
Workday, Inc. (WDAY) $146.15 1.73%
Nasdaq 100 - Fallers
Western Digital Corp. (WDC) $54.98 -3.63%
Broadcom Inc. (AVGO) $232.55 -3.35%
Intel Corp. (INTC) $44.93 -2.96%
Micron Technology Inc. (MU) $43.60 -2.90%
Monster Beverage Corp (MNST) $58.09 -2.79%
Seagate Technology Plc (STX) $48.98 -2.60%
Lam Research Corp. (LRCX) $155.40 -2.55%
Incyte Corp. (INCY) $66.82 -2.31%
Liberty Global plc Series A (LBTYA) $27.18 -2.20%
Celgene Corp. (CELG) $87.23 -2.15%