US close: Markets finish weaker amid fresh trade action from Trump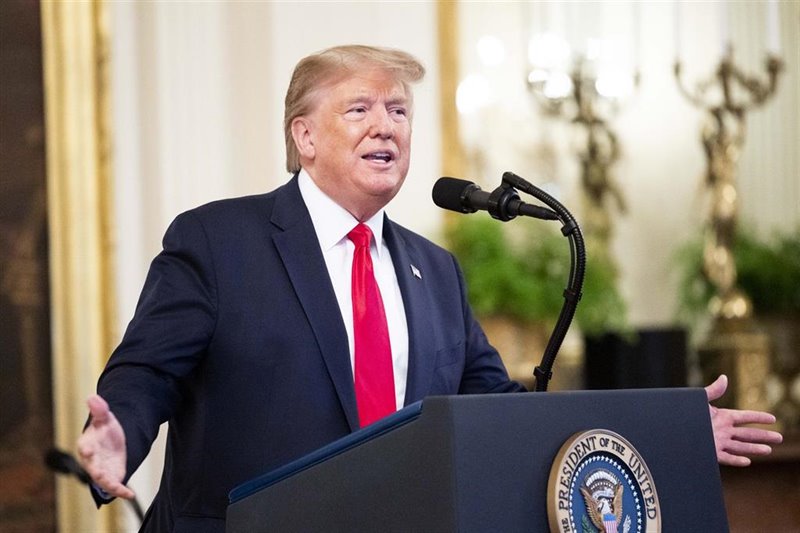 US stocks finished weaker on Monday, following fresh round of punitive trade action from Donald Trump, and some weaker-than-expected manufacturing data.
The Dow Jones Industrial Average ended the session down 0.96% at 27,783.04, the S&P 500 lost 0.86% to 3,223.87, and the Nasdaq Composite was 1.12% weaker at 8,567.99.
In currencies, the dollar was last 0.01% stronger against the pound at £0.7728, and also up 0.01% on the euro at €0.9027.
At the open, the Dow had lost 152.80 points following on from losses seen during Friday's shortened session.
Late last week, China claimed the US had "sinister intentions" when Donald Trump signed legislation that gave Washington power to revoke Hong Kong's special trade status with the US should it decide the territory was no longer independent enough of Beijing.
Market participants continued monitoring trade developments between Beijing and Washington on Monday, after Chinese state media reported on Sunday that the Asian superpower wanted to see the cancellation of all tariffs before a phase one trade deal was reached.
Hopes that the US and China were close to striking a crucial phase one trade deal weakened, according to reports, after the White House appeared to back the protestors in Hong Kong.
According to American political news website Axios, citing an unnamed source "close" to US president Donald Trump, talks had now stalled.
However, it was thought the imposition of tariffs on 15 December would still be delayed, Axios said.
Reuters, which cited people close to the White House, said a deal was now no longer expected until the new year.
"Oh Donald, Donald, Donald," quipped SpreadEx analyst Connor Campbell.
"With the markets having done their best to maintain a positive outlook on the US-China situation, despite Hong Kong becoming a political pawn between the two sides, Trump went and added another couple of enemies to his trade war portfolio."
Also on the trade front, and delivering the news via his favoured medium of Twitter, the president said that "effective immediately" he would be restoring tariffs on all steel and aluminium imports from Brazil and Argentina.
Trump claimed the countries had been "presiding over a massive devaluation of their currencies" that was "not good" for American farmers.
"Never missing a chance to attack Jerome Powell at the Federal Reserve, he ended the announcement by haranguing the central bank about lowering rates and loosening monetary policy to weaken the dollar," said Campbell.
On the data front, activity in the US manufacturing sector weakened further in November, according to figures released on Monday by the Institute for Supply Management.
The ISM index fell to 48.1 from 48.3 in October, missing expectations for a reading of 49.2 and remaining below the 50.0 mark that separates contraction from expansion.
"Global trade remains the most significant cross-industry issue," said ISM chair Timothy Fiore.
"Among the six big industry sectors, food, and tobacco products remains the strongest, while fabricated metal products is the weakest.
"Overall, sentiment this month is neutral regarding near-term growth."
On the corporate front, chipmaker Intel was down 0.67% as it completed the sale of most of its smartphone modem business to Apple, in a $1bn deal initial announced in late July.
Amazon.com was off 1.07%, even as Cyber Monday was in full swing in the United States - one of the most important sales days of the year for online retailers in the US.
Smart television platform Roku slid 15.15% after analysts at Morgan Stanley said its shares looked too pricey, given competition from other apps and streaming services was becoming more intense.
On the upside, Hostess Brands - best known for the Twinkie snack food product - was ahead 2.97% after it said it was keen to buy Voortman Cookies for $320m from Swander Pace Capital.
Dow Jones - Risers
Coca-Cola Co. (KO) $53.75 0.66%
Procter & Gamble Co. (PG) $122.72 0.54%
Exxon Mobil Corp. (XOM) $68.42 0.43%
McDonald's Corp. (MCD) $195.18 0.36%
Walmart Inc. (WMT) $119.28 0.16%
Nike Inc. (NKE) $93.56 0.07%
Dowdupont Inc. (DWDP) $30.52 0.00%
Unitedhealth Group Inc. (UNH) $279.66 -0.08%
Johnson & Johnson (JNJ) $137.48 -0.09%
Merck & Co. Inc. (MRK) $87.04 -0.16%
Dow Jones - Fallers
Boeing Co. (BA) $355.18 -3.00%
American Express Co. (AXP) $117.26 -2.38%
United Technologies Corp. (UTX) $144.99 -2.26%
Goldman Sachs Group Inc. (GS) $217.64 -1.68%
Visa Inc. (V) $181.79 -1.47%
Cisco Systems Inc. (CSCO) $44.70 -1.35%
Home Depot Inc. (HD) $217.62 -1.31%
Caterpillar Inc. (CAT) $142.96 -1.22%
Microsoft Corp. (MSFT) $149.55 -1.21%
Apple Inc. (AAPL) $264.16 -1.16%
S&P 500 - Risers
Cimarex Energy Co (XEC) $47.66 3.68%
Edison International (EIX) $71.55 3.56%
Marathon Oil Corp. (MRO) $11.96 2.66%
HollyFrontier Corp (HFC) $52.73 2.27%
National Oilwell Varco Inc. (NOV) $23.05 2.22%
Hormel Foods Corp. (HRL) $45.43 2.02%
Altria Group Inc. (MO) $50.60 1.81%
Kraft Heinz Co. (KHC) $30.95 1.48%
Kroger Co. (KR) $27.74 1.46%
Halliburton Co. (HAL) $21.29 1.43%
S&P 500 - Fallers
Apache Corp. (APA) $19.54 -12.30%
L Brands Inc (LB) $18.17 -5.12%
Nektar Therapeutics (NKTR) $19.48 -3.99%
Cadence Design Systems Inc. (CDNS) $67.48 -3.94%
AFLAC Inc. (AFL) $52.69 -3.94%
Synopsys Inc. (SNPS) $135.49 -3.94%
Tapestry Inc. (TPR) $25.89 -3.72%
Western Digital Corp. (WDC) $48.50 -3.64%
Keysight Technologies Inc. (KEYS) $103.29 -3.49%
Nvidia Corp. (NVDA) $209.25 -3.46%
Nasdaq 100 - Risers
Tesla Inc (TSLA) $334.87 1.49%
Kraft Heinz Co. (KHC) $30.95 1.48%
Ulta Salon, Cosmetics & Fragrance Inc. (ULTA) $236.27 1.03%
O'Reilly Automotive Inc. (ORLY) $446.36 0.92%
Mondelez International Inc. (MDLZ) $52.84 0.57%
Hologic Inc. (HOLX) $51.54 0.43%
NortonLifeLock Inc. (NLOK) $24.99 0.36%
Incyte Corp. (INCY) $94.47 0.33%
DENTSPLY Sirona Inc. (XRAY) $56.70 0.28%
Henry Schein Inc. (HSIC) $69.08 0.26%
Nasdaq 100 - Fallers
Trip.com Group Limited (TCOM) $31.88 -4.09%
Workday, Inc. (WDAY) $171.93 -4.01%
Cadence Design Systems Inc. (CDNS) $67.48 -3.94%
Synopsys Inc. (SNPS) $135.49 -3.94%
Western Digital Corp. (WDC) $48.50 -3.64%
Nvidia Corp. (NVDA) $209.25 -3.46%
Vodafone Group Plc ADS (VOD) $19.18 -3.23%
Autodesk Inc. (ADSK) $175.63 -2.91%
Xilinx Inc. (XLNX) $90.27 -2.71%
Biogen Inc (BIIB) $292.39 -2.47%