US close: Markets finish mixed as FOMC keeps rates near zero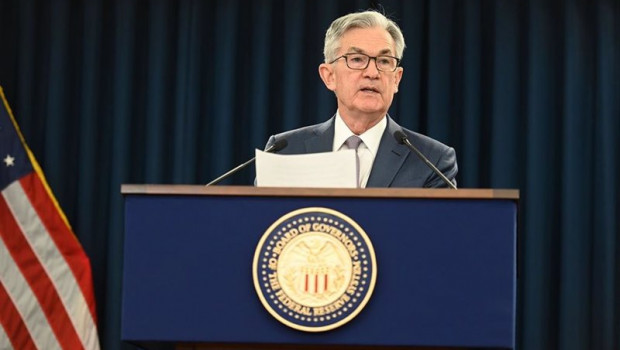 Wall Street stocks closed mixed on Wednesday, as the Federal Open Market Committee signalled that interest rates would stay where they are near zero through until 2023.
At the close, the Dow Jones Industrial Average was up 0.13% at 28,032.38, while the S&P 500 lost 0.46% to 3,385.49 and the Nasdaq Composite was 1.25% weaker at 11.050.47.
The Dow closed 36.78 points higher, extending the previous session's minute gains following Apple's first virtual-only product reveal.
Late in the day, the Federal Reserve stood pat on its current interest rate targets, and forecast a 3.7% contraction in GDP and an unemployment rate of 7.6% by the end of the year, as the US economy emerges from the pit of the Covid-19 crisis.
Those were improved forecasts from the ones set out in June, when the central bank pencilled in a 6.5% contraction for GDP and an unemployment rate of 9.3%.
"Today the FOMC adjusted its forward guidance on rates to reflect the new monetary policy strategy of flexible average inflation targeting," said economists at Rabobank.
"This was supported by updated and extended rate projections that see the target range for the federal funds rate at the zero bound through the end of 2023.
"In contrast, the forward guidance on asset purchases is still limited to 'coming months', although the motivation was shifted in the direction of outright quantitative easing, as opposed to support for the monetary transmission mechanism."
On the macro front, mortgage applications dropped 2.5% in the week ended 11 September as ongoing economic uncertainty managed to offset low interest rates and all but reverse the prior week's 2.9% increase.
The Mortgage Bankers Association also said applications to refinance a home loan dropped 3.7% and homebuyer mortgage applications declined 0.5%.
Still on the housing market, single-family homebuilder confidence grew to an all-time high in September, with historically low mortgage rates continuing to boost the market as the National Association of Housebuilders/Wells Fargo housing market index rose five points to a record high of 83.
Elsewhere, US retail sales volumes grew more slowly than anticipated last month, weighed down by slower growth in consumer spend for autos and at gasoline stations.
According to the Department of Commerce, in seasonally adjusted terms, retail sales grew at a 0.6% month-on-month clip in August, against consensus forecasts for a 1.0% improvement, to reach $537.53bn.
Commerce also revised down its preliminary estimate for July, from an increase of 1.2% to 0.9%.
Lastly, business inventories increased 0.1% in July - bang in line with expectations and a marked turnaround from the 1.1% decline recorded in June.
In the corporate space, stronger-than-anticipated earnings from FedEx helped boost sentiment, with its stock rising 5.76%.
Shares in data storage firm Snowflake opened for trading on Wednesday, with the group pricing its shares at $120 per share, before they rocketed 111.61% by the close.
Dow Jones - Risers
Exxon Mobil Corp. (XOM) $37.81 4.25%
Chevron Corp. (CVX) $78.56 2.89%
Walgreens Boots Alliance, Inc. (WBA) $36.28 2.86%
Boeing Co. (BA) $167.46 2.43%
Raytheon Technologies Corporation (RTX) $62.92 2.41%
3M Co. (MMM) $169.51 1.77%
Caterpillar Inc. (CAT) $151.09 1.69%
Merck & Co. Inc. (MRK) $85.57 1.62%
International Business Machines Corporation (CDI) (IBM) $124.22 1.45%
Goldman Sachs Group Inc. (GS) $200.68 1.35%
Dow Jones - Fallers
Apple Inc. (AAPL) $112.13 -2.95%
Microsoft Corp. (MSFT) $205.05 -1.79%
Home Depot Inc. (HD) $281.63 -1.38%
Walmart Inc. (WMT) $136.26 -0.80%
Procter & Gamble Co. (PG) $137.70 -0.67%
American Express Co. (AXP) $105.98 -0.66%
Nike Inc. (NKE) $118.59 -0.57%
Coca-Cola Co. (KO) $50.79 -0.51%
Pfizer Inc. (PFE) $36.78 -0.49%
Cisco Systems Inc. (CSCO) $40.42 -0.44%
S&P 500 - Risers
General Electric Co. (GE) $6.75 10.66%
Occidental Petroleum Corp. (OXY) $11.64 8.68%
Diamondback Energy Inc. (FANG) $32.91 7.90%
Tapestry Inc. (TPR) $18.10 7.48%
FMC Technologies Inc. (FTI) $7.33 7.48%
Cimarex Energy Co (XEC) $26.39 7.19%
Helmerich & Payne Inc. (HP) $16.64 6.87%
ONEOK Inc. (OKE) $28.07 6.77%
Alliance Data Systems Corp. (ADS) $47.05 6.06%
Eog Resources Inc. (EOG) $40.86 5.88%
S&P 500 - Fallers
Illumina Inc. (ILMN) $322.47 -8.44%
Borg Warner Inc. (BWA) $39.56 -6.41%
NextEra Energy Inc. (NEE) $280.35 -5.19%
Adobe Systems Inc. (ADBE) $476.00 -4.35%
Nvidia Corp. (NVDA) $500.58 -3.67%
Intuitive Surgical Inc. (ISRG) $691.90 -3.38%
Facebook Inc. (FB) $263.52 -3.27%
Teleflex Inc. (TFX) $357.90 -3.23%
Wynn Resorts Ltd. (WYNN) $79.66 -3.18%
Ansys Inc. (ANSS) $317.89 -3.14%
Nasdaq 100 - Risers
Qurate Retail Inc. (QRTEA) $6.89 11.85%
American Airlines Group (AAL) $13.80 5.02%
Liberty Global plc Series A (LBTYA) $22.41 2.94%
Walgreens Boots Alliance, Inc. (WBA) $36.28 2.86%
Seagate Technology Plc (STX) $48.67 2.81%
Western Digital Corp. (WDC) $38.78 2.65%
Liberty Global plc Series C (LBTYK) $21.92 2.48%
Micron Technology Inc. (MU) $50.21 2.36%
Marriott International - Class A (MAR) $107.76 2.25%
Ross Stores Inc. (ROST) $96.02 2.24%
Nasdaq 100 - Fallers
Illumina Inc. (ILMN) $322.47 -8.44%
Adobe Systems Inc. (ADBE) $476.00 -4.35%
Nvidia Corp. (NVDA) $500.58 -3.67%
Intuitive Surgical Inc. (ISRG) $691.90 -3.38%
Facebook Inc. (FB) $263.52 -3.27%
Wynn Resorts Ltd. (WYNN) $79.66 -3.18%
Apple Inc. (AAPL) $112.13 -2.95%
Intuit Inc. (INTU) $313.38 -2.82%
Paypal Holdings Inc (PYPL) $180.91 -2.75%
eBay Inc. (EBAY) $50.42 -2.63%