US close: Markets continue rebound as Trump unveils infrastructure plan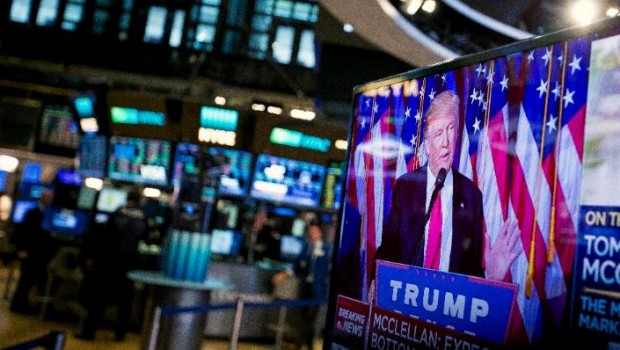 Wall Street's main indexes finished the session higher on Monday, extending the bounce that began late on Friday, driven by technology and financial issues as stocks did their best to recover from their worst week since 2016.
The Dow Jones Industrial Average finished up 1.7% at 24,601.27, the S&P 500 added 1.39% to 2,656.00, and the Nasdaq 100 was ahead 1.73% at 6,523.85.
At the same time, the Chicago Board of Options Exchange's volatility index was down 11.87% at 25.61.
"There are no major data points due, but after worries about inflation and rising interest rates prompted a selloff in equity markets last week, investors will be eyeing the release of the consumer price index for January on Wednesday," noted SpreadEx financial analyst Connor Campbell earlier.
"Economists expect headline inflation to rise 0.3%, while core inflation - which excludes food and energy costs - is seen edging up 0.2%."
Investors were also busy sifting through the Trump administration's freshly-released 10-year infrastructure plan, with early criticism centred on the slashing of funding for transportation projects in largely Democratic states.
According to Politico, a quarter of the $200bn funding would go to rural areas for projects including airports, broadband, highways and sewers.
However, the online news outlet pointed out that only 14% of the US population lives outside its metropolitan areas, leaving major transport projects - including rail projects in California and the New York-New Jersey urban area.
Of the money not destined for rural projects, $20bn was earmarked for so-called "transformative" projects designed to "lift the American spirit" - though exactly how was not quite defined.
"Along with healthcare and tax reform, this was a key election pledge," commented Rabobank's senior FX strategist Jane Foley.
"Trump is scheduled to host both Democrat and Republican leaders at the White House on Wednesday to discuss the way forward for the proposals.
"The White House plan marks only a starting point for an infrastructure overhaul."
Foley added that the plan faced a "difficult path" given the deeply divided Senate, and congressional elections later in the year.
In corporate news, shares in government IT business CSRA rocketed 31.05% after it agreed to be bought out by General Dynamics for $9.6bn, and shares in Ryder System edged ahead 2.26% after announcing it would lift its quarterly dividend by 13% to $0.52 per share thanks to the boost to earnings as a result of recent changes to the US tax system.
Iconix shares rose 38.4%, after it unveiled a cost savings plan alongside its new deal with retail giant Target, while Cisco Systems nudged ahead 2.71% after having its stock upgraded to 'buy' from 'neutral' by analysts at Instinet.
Elsewhere, front month West Texas Intermediate was up by 0.19% to $59.31 per barrel, after OPEC raised its crude supply forecasts for this year, saying that strengthening global demand would continue to help eat up the excess supply of crude reserves.
The cartel added that supplies from producers outside OPEC would increase around 1.4m barrels a day throughout 2018 – with 1.3m barrels a day of the growth to come from the US itself.
Dow Jones - Risers
American Express Co. (AXP) $94.64 7.20%
Dowdupont Inc. (DWDP) $71.86 5.32%
Caterpillar Inc. (CAT) $152.29 4.32%
Apple Inc. (AAPL) $162.71 4.03%
Boeing Co. (BA) $343.61 3.22%
Goldman Sachs Group Inc. (GS) $253.16 2.76%
Cisco Systems Inc. (CSCO) $40.60 2.71%
International Business Machines Corp. (IBM) $151.43 2.62%
General Electric Co. (GE) $14.82 2.56%
Unitedhealth Group Inc. (UNH) $225.61 2.14%
Dow Jones - Fallers
Walmart Inc. (WMT) $99.55 0.18%
Verizon Communications Inc. (VZ) $50.11 0.46%
Johnson & Johnson (JNJ) $130.23 0.54%
Nike Inc. (NKE) $65.96 0.75%
Travelers Company Inc. (TRV) $138.13 0.77%
Exxon Mobil Corp. (XOM) $76.42 0.84%
Merck & Co. Inc. (MRK) $55.43 1.02%
Microsoft Corp. (MSFT) $89.13 1.08%
Pfizer Inc. (PFE) $34.66 1.43%
Chevron Corp. (CVX) $113.98 1.50%
S&P 500 - Risers
Csra Inc. (CSRA) $40.40 30.92%
Frontier Communications Co. (FTR) $7.64 12.19%
American Express Co. (AXP) $94.64 7.20%
Alexion Pharmaceuticals Inc. (ALXN) $115.43 6.29%
Emerson Electric Co. (EMR) $70.31 5.89%
United States Steel Corp. (X) $36.22 5.78%
FMC Corp. (FMC) $85.22 5.38%
Agilent Technologies Inc. (A) $68.43 5.20%
Marathon Oil Corp. (MRO) $16.28 4.96%
Discover Financial Services (DFS) $75.93 4.90%
S&P 500 - Fallers
Chipotle Mexican Grill Inc. (CMG) $254.38 -4.35%
Dollar Tree Inc (DLTR) $104.74 -2.68%
Ball Corp (BLL) $37.53 -2.37%
Amerisource Bergen Corp. (ABC) $89.45 -2.29%
Ventas Inc. (VTR) $50.44 -2.19%
Wynn Resorts Ltd. (WYNN) $162.92 -1.99%
SCANA Corp. (SCG) $35.65 -1.79%
Nvidia Corp. (NVDA) $228.03 -1.75%
Kroger Co. (KR) $27.19 -1.70%
TripAdvisor Inc. (TRIP) $37.71 -1.57%
Nasdaq 100 - Risers
Alexion Pharmaceuticals Inc. (ALXN) $115.43 6.29%
Mercadolibre Inc. (MELI) $353.45 5.24%
CSX Corp. (CSX) $53.16 4.46%
Micron Technology Inc. (MU) $42.19 4.40%
Lam Research Corp. (LRCX) $172.95 4.27%
Apple Inc. (AAPL) $162.71 4.03%
Shire Plc Ads (SHPG) $132.27 3.80%
Broadcom Limited (AVGO) $244.40 3.78%
Biomarin Pharmaceutical Inc. (BMRN) $83.26 3.67%
American Airlines Group (AAL) $50.09 3.58%
Nasdaq 100 - Fallers
Ulta Salon, Cosmetics & Fragrance Inc. (ULTA) $209.48 -4.15%
Dollar Tree Inc (DLTR) $104.74 -2.68%
Wynn Resorts Ltd. (WYNN) $162.92 -1.99%
T-Mobile Us, Inc. (TMUS) $58.12 -1.82%
Nvidia Corp. (NVDA) $228.03 -1.75%
Fastenal Co. (FAST) $52.84 -1.20%
Expedia Inc. (EXPE) $102.82 -1.13%
Hasbro Inc (HAS) $96.63 -1.13%
Celgene Corp. (CELG) $91.51 -1.08%
O'Reilly Automotive Inc. (ORLY) $248.24 -0.63%