US close: Major indices sharply lower as sell-off continues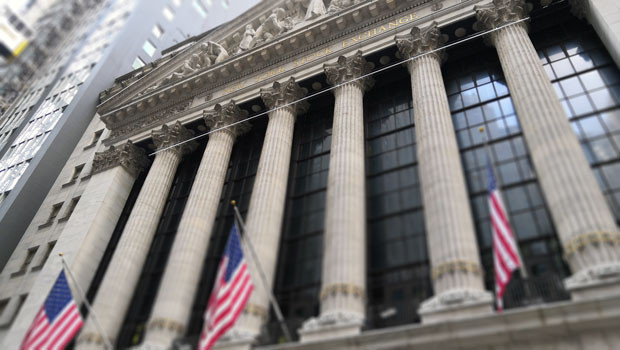 Wall Street stocks closed lower yet again on Wednesday amid elevated bond yields, with the Nasdaq Composite falling into correction territory.
At the close, the Dow Jones Industrial Average was down 0.96% at 35,028.65, while the S&P 500 was 0.97% weaker at 4,532.76 and the Nasdaq Composite saw out the session 1.15% softer at 14,340.26.
The Dow closed 339.82 points lower on Wednesday, extending losses recorded in the previous session as market participants digested more corporate earnings and kept one eye on government bond yields sitting at pandemic-era highs.
Corporate earnings were again one of the session's primary focusses on Wednesday, with Bank of America beating estimates on the Street after releasing its Covid-19 pandemic-related loan loss reserves, while Procter & Gamble earnings topped estimates and raised its 2022 full-year forecasts.
UnitedHealth reiterated its full-year guidance after its fourth-quarter earnings came in slightly ahead of estimates and Morgan Stanley posted quarterly profits that beat expectations.
Bond yields also still drew investor attention as they remained elevated, with the yield on the benchmark 10-year Treasury note hovering around 1.869% at the end of play.
On the macro front, mortgage applications rose 2.3% in the US last week, according to the Mortgage Bankers Association, driven by a 7.9% increase in loans to buy a home, which was somewhat offset by a 3.1% drop in refinancing applications to their lowest level in over two years.
The move comes as the MBA's weekly measure of the average contract rate on a 30-year, fixed-rate mortgage climbed to 3.64% in the week ended 14 January, up from 3.52% a week earlier to the highest level seen since March 2020, when the pandemic triggered a recession and drove borrowing costs to historic lows.
Elsewhere, US homebuilding unexpectedly increased in December but elevated prices for materials following a government decision to almost double duties on imported softwood lumber from Canada to 17.9% after a review of its anti-dumping and countervailing duty orders could potentially limit activity over the next few months.
According to the National Association of Housebuilders, housing starts rose 1.4% to a seasonally adjusted annual rate of 1.7m units last month, according to the Commerce Department, while data for November was revised slightly lower to a rate of 1.67m units. Economists had forecast starts slipping to 1.65m.
Dow Jones - Risers
Procter & Gamble Co. (PG) $162.00 1.37%
Verizon Communications Inc. (VZ) $53.50 0.41%
Visa Inc. (V) $214.68 0.00%
Dowdupont Inc. (DWDP) $30.52 0.00%
Honeywell International Inc. (HON) $230.94 0.00%
Chevron Corp. (CVX) $128.91 -0.04%
Merck & Co. Inc. (MRK) $81.29 -0.11%
3M Co. (MMM) $178.48 -0.15%
Coca-Cola Co. (KO) $61.00 -0.64%
Johnson & Johnson (JNJ) $166.58 -0.75%
Dow Jones - Fallers
Goldman Sachs Group Inc. (GS) $347.32 -8.83%
JP Morgan Chase & Co. (JPM) $148.93 -5.67%
American Express Co. (AXP) $161.24 -4.16%
Cisco Systems Inc. (CSCO) $58.90 -4.01%
Apple Inc. (AAPL) $166.23 -3.95%
Boeing Co. (BA) $217.08 -3.93%
Intel Corp. (INTC) $53.62 -3.73%
Home Depot Inc. (HD) $359.69 -3.31%
Caterpillar Inc. (CAT) $221.66 -3.18%
Microsoft Corp. (MSFT) $303.33 -2.21%
S&P 500 - Risers
Activision Blizzard Inc. (ATVI) $82.15 25.63%
Citrix Systems Inc. (CTXS) $104.70 9.29%
Kohls Corp. (KSS) $51.83 8.50%
Take-Two Interactive Software Inc. (TTWO) $163.36 7.07%
Newmont Corporation (NEM) $64.95 6.09%
Electronic Arts Inc. (EA) $136.91 4.96%
CME Group Inc. (CME) $229.65 2.89%
Teleflex Inc. (TFX) $332.86 2.18%
Western Union Co. (WU) $18.77 2.01%
Foot Locker Inc. (FL) $44.21 1.91%
S&P 500 - Fallers
Applied Materials Inc. (AMAT) $143.07 -14.33%
Lam Research Corp. (LRCX) $642.73 -11.93%
KLA-Tencor Corp. (KLAC) $393.19 -11.64%
Ford Motor Co. (F) $22.45 -10.88%
Lennar Corp. Class A (LEN) $96.86 -10.45%
State Street Corp. (STT) $93.88 -9.53%
US Bancorp (USB) $57.37 -9.30%
Alliance Data Systems Corp. (ADS) $65.69 -9.23%
Microchip Technology Inc. (MCHP) $76.66 -9.05%
Gap Inc. (GPS) $16.65 -8.87%
Nasdaq 100 - Risers
Activision Blizzard Inc. (ATVI) $82.15 25.63%
Citrix Systems Inc. (CTXS) $104.70 9.29%
Take-Two Interactive Software Inc. (TTWO) $163.36 7.07%
Electronic Arts Inc. (EA) $136.91 4.96%
Hologic Inc. (HOLX) $70.42 1.19%
Verisk Analytics Inc. (VRSK) $199.86 0.86%
Vodafone Group Plc ADS (VOD) $16.56 0.64%
Regeneron Pharmaceuticals Inc. (REGN) $618.11 0.47%
Dollar Tree Inc (DLTR) $131.32 0.39%
NetEase Inc. Ads (NTES) $103.46 0.10%
Nasdaq 100 - Fallers
Applied Materials Inc. (AMAT) $143.07 -14.33%
Lam Research Corp. (LRCX) $642.73 -11.93%
KLA-Tencor Corp. (KLAC) $393.19 -11.64%
Microchip Technology Inc. (MCHP) $76.66 -9.05%
QUALCOMM Inc. (QCOM) $172.47 -8.60%
Micron Technology Inc. (MU) $90.00 -7.56%
Western Digital Corp. (WDC) $61.94 -7.05%
Nvidia Corp. (NVDA) $250.67 -6.96%
American Airlines Group (AAL) $17.31 -6.38%
Skyworks Solutions Inc. (SWKS) $145.88 -6.28%