US close: Dow tops 27,000 for the first time since July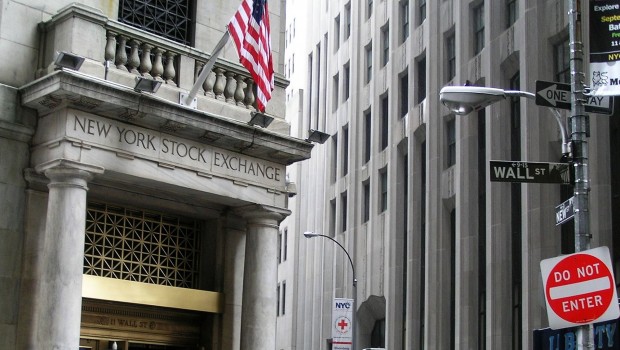 Wall Street stocks closed higher on Wednesday as the focus shifted between Apple's product launch a day earlier and trade relations between China and the US.
At the close, the Dow Jones Industrial Average was up 0.85%% at 27,137.04, while the S&P 500 gained 0.72% at 3,000.93 and the Nasdaq Composite saw out the session 1.06% firmer at 8,169.68.
The Dow closed 227.61 points higher on Wednesday, breaking above 27,000 for the first time since July in its sixth consecutive day of gains.
While stocks were mostly muted ahead of the bell on Wednesday, sentiment got a slight boost after Beijing released a tariff exemptions list for some products from the US.
China confirmed it would exempt 16 categories of US goods from the 25% tariff that it had imposed on roughly $50bn-worth of imports last summer.
Beijing's Ministry of Finance said the exemptions would apply to items that include some medicines, animal feed and lubricants, although more than 5,000 types of US goods, including key agricultural products such as soybeans and corn, remained subject to the additional tariffs.
Elsewhere, according to the American Chamber of Commerce in Shanghai, American companies in China had sped up their withdrawal from the mainland as a result of the ever-increasing tariffs that were continuing to hurt their operations.
Back in Washington, Donald Trump yet again took aim at the "bonehead" Federal Reserve, blaming the central bank for slowing the economy.
"The Federal Reserve should get our interest rates down to ZERO, or less, and we should then start to refinance our debt. INTEREST COST COULD BE BROUGHT WAY DOWN, while at the same time substantially lengthening the term," he tweeted.
On the data front, wholesale prices in the US edged higher last month despite sharp declines in both food and energy inflation.
According to the Bureau of Labour Statistics, so-called final demand prices increased at a 0.1% month-on-month clip in August, but that sufficed to push the year-on-year rate of increase from 1.7% for July to 1.8% due to upwards revisions to readings for previous months. Economists had forecast a rise of 0.1% on the month and 1.7% over the year.
Elsewhere, wholesale inventories rose 0.2% in July, according to the Commerce Department, rebounding from a small drop in June. However, trade sales were flat and the ratio of inventories to sales was also unchanged at 1.36.
In corporate news, Apple shares closed 3.1% higher after unveiling new iPhones, a fresh Apple Watch, a television subscription service and a gaming platform a day earlier.
Bank of America said the tech giant had priced its new products compellingly, noting that its gaming service was the cost of "one console game for access to 100 games for the entire family for a year".
"The biggest surprise at the event was monthly price for Apple TV+ service which was set at $4.99/month which is lower than we expected which makes it more attractive and can drive higher number of subscriber," Bank of America also pointed out.
Apple's strong performance also gave tech stocks a much appreciated boost, with the likes of Micron Technology and Cisco Systems both closing higher.