US close: Dow slides as Fed signals further, faster rate hikes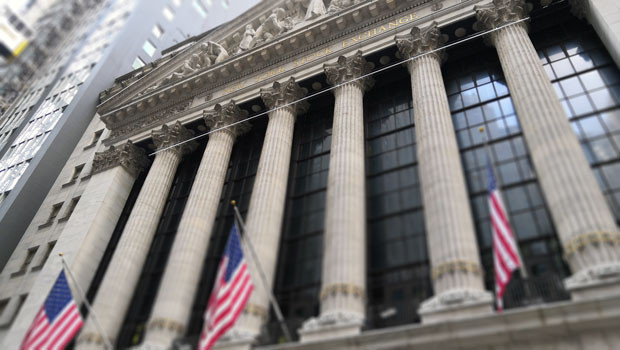 Wall Street stocks turned negative by the close on Wednesday, with the Dow losing more than 500 points, after the Federal Reserve locked in another 75-basis point rate hike and signalled more was to come.
At the close, the Dow Jones Industrial Average was down 1.7% at 30,183.78, as the S&P 500 lost 1.71% to 3,789.93 and the Nasdaq Composite was off 1.79% at 11,220.19.
The Dow closed 522.45 points lower on Wednesday, adding to the losses it recorded on Tuesday.
"This third consecutive 75-basis point rate hike makes this the most aggressive hiking cycle since the Volcker disinflation," said Mickey Levy at Berenberg after the Fed's decision and markets closed.
"Following a painfully slow response to the soaring inflation, the Fed's latest rate hike, its projections, and statements by Fed chair [Jerome] Powell at the post-meeting press conference underline the Fed's focus on reducing inflation that 'remains much too high'."
Levy noted that Powell signalled further aggressive rate hikes over coming meetings were likely, with the historical record cautioning "strongly" against prematurely loosening policy.
"While Powell acknowledged it was 'very likely' labour market conditions would soften, the Fed will likely remain attentive to incoming data as risks become more two-sided."
Indeed, Fed officials waved through another big 75-basis point rate hike in their latest decision late in the session, taking the federal funds rate target to between 3% and 3.25%.
At the same time, policymakers signalled there would be another 125 basis points tacked on to rates by the end of the year, which was much higher than markets were previously anticipating.
"We will keep at it until the job is done," said Federal Reserve chair Jerome Powell on the fight against rampant inflation.
"I wish there was a painless way to do that. There isn't."
The Federal Open Market Committee was now aiming for a midpoint base rate of 4.4% by the end of 2022, up markedly from the 3.8% that it previously signalled.
It also saw a terminal rate in its current cycle of hikes of 4.6% in 2023, with no rate cuts foreseen until 2024.
Naeem Aslam, chief market analyst at AvaTrade, said traders needed to take the news "with a pinch of salt", noting that it could have been worse given some were fearing a full percentage point hike.
"The fact that we have not seen that much interest rate hike today should be considered good news," he said.
"This fact may actually bring some bargain hunters into the market when panic settles.
"At the same time, a recession is highly likely now as well, and this means markets are going to be immensely choppy."
Earlier in the day, news that Russian president Vladimir Putin was mobilising more troops to neighbouring Ukraine was making headlines, as he said the West wanted to destroy his country ahead of announced referendum plans on Ukraine joining Russia within days.
Elsewhere on the macroeconomic front, US mortgage applications increased by 3.8% on a seasonally adjusted basis in the week ended 16 September, according to the Mortgage Bankers Association.
The refinance index rose 10% from the previous week, while the seasonally-adjusted purchase index increased 1% from one week earlier.
Still on data, US existing home sales dipped 0.4% to 4.8m in August, according to the National Association of Realtors, following a downwardly revised 5.7% drop in July for the lowest reading since May 2020, and a seventh consecutive monthly drop.
In equities, Cheerios and Betty Crocker maker General Mills closed up 5.72% after saying net sales had increased 4% to $4.7bn, with organic net sales up 10% year-on-year, leading the group to raise its full-year outlook.
On the downside, plant protein firm Beyond Meat was off 0.81% after suspending its chief operating officer Doug Ramsey, who was arrested and charged at the weekend on allegations of biting a man's nose in an Arkansas altercation.
Elsewhere, Glatfelter slid 5.57% after it suspended its quarterly dividend overnight amid a "reprioritisation" of capital.
Reporting by Josh White at Sharecast.com. Additional reporting by Iain Gilbert.
Dow Jones - Risers
Walmart Inc. (WMT) $134.77 0.91%
Honeywell International Inc. (HON) $0.00 0.00%
Dowdupont Inc. (DWDP) $0.00 0.00%
Goldman Sachs Group Inc. (GS) $320.71 -0.79%
Chevron Corp. (CVX) $155.01 -0.81%
Coca-Cola Co. (KO) $59.40 -0.83%
Home Depot Inc. (HD) $271.57 -0.95%
Johnson & Johnson (JNJ) $163.28 -1.02%
International Business Machines Corporation (CDI) (IBM) $124.93 -1.08%
Procter & Gamble Co. (PG) $135.73 -1.29%
Dow Jones - Fallers
Caterpillar Inc. (CAT) $171.95 -3.39%
American Express Co. (AXP) $148.88 -3.11%
JP Morgan Chase & Co. (JPM) $112.49 -2.88%
Walt Disney Co. (DIS) $104.49 -2.86%
Verizon Communications Inc. (VZ) $39.48 -2.73%
Visa Inc. (V) $187.02 -2.63%
Nike Inc. (NKE) $99.79 -2.57%
Travelers Company Inc. (TRV) $157.15 -2.42%
Dow Chemical Co. (DOW) $44.98 -2.41%
Cisco Systems Inc. (CSCO) $41.59 -2.33%
S&P 500 - Risers
General Mills Inc. (GIS) $79.72 5.72%
Coty Inc. Class A (COTY) $8.05 3.21%
Kellogg Co. (K) $72.93 2.01%
Dxc Technology Company (DXC) $27.54 1.81%
Illumina Inc. (ILMN) $198.17 1.78%
Campbell Soup Co. (CPB) $48.60 1.59%
Kraft Heinz Co. (KHC) $34.44 1.47%
NortonLifeLock Inc. (NLOK) $21.19 1.34%
Hormel Foods Corp. (HRL) $46.57 1.22%
VeriSign Inc. (VRSN) $176.72 1.14%
S&P 500 - Fallers
Carnival Corp. (CCL) $9.71 -6.81%
Marriott International - Class A (MAR) $148.17 -5.63%
Wynn Resorts Ltd. (WYNN) $63.99 -5.62%
Royal Caribbean Cr (RCL) $46.76 -5.52%
Freeport-McMoRan Inc (FCX) $28.10 -5.45%
Expedia Group Inc. (EXPE) $99.01 -5.37%
United Airlines Holdings Inc (UAL) $36.12 -5.37%
Hilton Inc (HLT) $124.63 -5.35%
American Airlines Group (AAL) $13.23 -5.30%
MGM Resorts International (MGM) $32.78 -5.18%
Nasdaq 100 - Risers
Illumina Inc. (ILMN) $198.17 1.78%
Kraft Heinz Co. (KHC) $34.44 1.47%
NortonLifeLock Inc. (NLOK) $21.19 1.34%
Vodafone Group Plc ADS (VOD) $12.28 0.99%
Nvidia Corp. (NVDA) $132.61 0.65%
Activision Blizzard Inc. (ATVI) $75.32 0.37%
Hasbro Inc (HAS) $75.16 0.21%
Citrix Systems Inc. (CTXS) $103.75 0.03%
Mylan Inc. (MYL) $0.00 0.00%
Maxim Integrated Products Inc. (MXIM) $0.00 0.00%
Nasdaq 100 - Fallers
Trip.com Group Limited (TCOM) $24.43 -8.50%
Marriott International - Class A (MAR) $148.17 -5.63%
Wynn Resorts Ltd. (WYNN) $63.99 -5.62%
Expedia Group Inc. (EXPE) $99.01 -5.37%
American Airlines Group (AAL) $13.23 -5.30%
Baidu Inc. (BIDU) $119.57 -5.22%
JD.com, Inc. (JD) $53.93 -5.05%
NetEase Inc. Ads (NTES) $79.76 -5.03%
Booking Holdings Inc. (BKNG) $1,806.70 -4.74%
Qurate Retail Inc. (QRTEA) $2.35 -4.08%