US close: Dow Jones registers third-worst day in history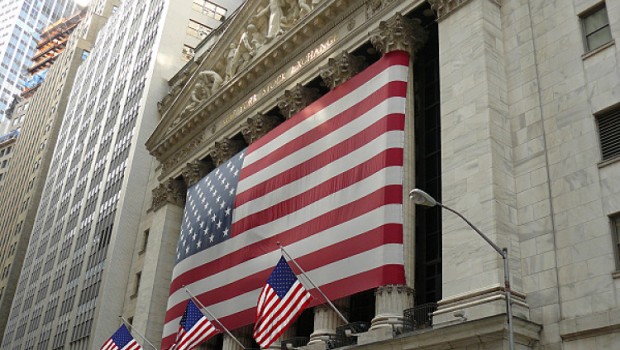 US stocks recorded heavy losses on Monday after Wall Street trading was halted on when stocks hit "limit down" despite the Federal Reserve launching an extensive monetary stimulus campaign at the weekend aimed at curbing slower economic growth amid the fallout from the COVID-19 outbreak.
At the close, the Dow Jones Industrial Average was down 12.93% at 20,188.52, while the S&P 500 was 11.98% lower at 2,386.13 and the Nasdaq Composite saw out the session 12.32% weaker at 6,904.59.
The Dow closed 2,997.10 points lower on Monday, giving back all of Friday's gains and recording its third-worst day ever after the President said the US "may be" moving headfirst into a recession.
The SPY ETF, which tracks the S&P 500, plummeted 9% in pre-market trading, triggering a "circuit breaker" at the open which saw trading halted for 15 minutes. Dow Jones and Nasdaq ETFs were also down 8%.
The Federal Reserve cut interest rates to between 0.00% and 0.25% on Sunday as it announced the launch of a $700bn stimulus programme to help counter the impact of the coronavirus pandemic.
The Fed said in a statement: "The coronavirus outbreak has harmed communities and disrupted economic activity in many countries, including the United States.
"The effects of the coronavirus will weigh on economic activity in the near-term and pose risks to the economic outlook.
"The Committee expects to maintain this target range until it is confident that the economy has weathered recent events and is on track to achieve its maximum employment and price stability goal."
The central bank also said it was renewing its bond-buying campaign. It will buy at least $500bn in Treasury bonds and at least $200bn in mortgage-backed securities to lower rates for mortgages and other consumer and business loans.
However, news that US COVID-19 cases had grown to 3,774, with 69 deaths, weighed on sentiment and comments from Donald Trump that implied the outbreak was expected to last until August certainly didn't help boost confidence on the Street either.
On the election front, Democratic candidate Joe Biden overtook Donald Trump as the favourite to win the US Presidential Election.
Paddy Power upped Biden's position and listed him as their even-money favourite to win the race, with Trump now out to 11/10 to secure another term in office.
After his victories in the primaries against his main rival Bernie Sanders he is now 1/25 with a 96% of becoming the Democratic nominee to go head to head with Trump in November.
In macro news, manufacturing activity in the New York jurisdiction deteriorated sharply in March, posting its worst one-month drop on record to the lowest level since 2009, according to data released on Monday.
The New York Fed's Empire State index slid 34 points to -21.5, missing expectations for a reading of 3.0. According to the survey, 20% of respondents reported that conditions had improved over the month, while 42% reported a worsening.
While no major corporate earnings were scheduled for release on Monday, Apple shares were down 12.86% after announcing that it would close all of its retail stores outside of Greater China until 27 March.