US close: Dow Jones narrowly extends gains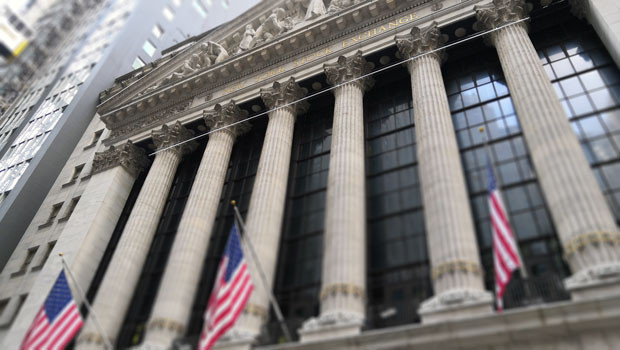 Wall Street stocks closed mostly lower on Monday ahead of some key retail data and earnings slated for later in the week.
At the close, the Dow Jones Industrial Average was up 0.08% at 32,223.42, while the S&P 500 was 0.39% weaker at 4,008.01 and the Nasdaq Composite saw out the session 1.20% softer at 11,662.79.
The Dow closed 26.76 points lower on Monday, narrowly extending gains recorded in the previous session when the blue-chip index managed to snap a six-day losing streak for the blue-chip index.
Major indices were mostly in the red at the closing bell after ending last week on a positive note as investors switched into relief rally mode and the Nasdaq registered its best daily gain since November 2020, led by hard-hit tech and growth stocks.
Disappointing Chinese economic numbers were in focus throughout the course of the day on Monday, with data showing that China's zero-tolerance policy had caused industrial output and consumer spending to slump and hit their lowest level since the Covid-19 pandemic began, with industrial output falling 2.9% in April and retail sales contracting 11.1%. The unemployment rate also climbed to 6.1.
Also drawing an amount of investor attention was the yield on the benchmark 10-year Treasury note, which slipped below 2.9% on Monday.
On the macro front, the New York Empire State manufacturing index surprisingly fell to -11.6 in May, down from 24.6 in April to miss market expectations for a reading of 17. According to the Federal Reserve Bank of New York, new orders decreased to -8.8, while shipments fell at the fastest pace since early in the Covid-19 pandemic - tumbling to -15.4 from 34.5 in the previous month. Delivery times also continued to lengthen and inventories expanded.
In the corporate space, US carrier JetBlue Airways has launched a hostile all-cash takeover bid for rival Spirit Airlines. JetBlue offered Spirit shareholders $30 per share but stated it was willing to "negotiate in good faith a consensual transaction at $33", subject to receiving necessary diligence.
Shares in drugmaker Eli Lilly jumped after its drug Mounjaro was granted approval by the Food and Drug Administration to treat Type 2 diabetes. The drug was also being investigated for potential usage in the treatment of obesity.
No major corporate earnings were released on Monday but the likes of Walmart, Target, and Home Depot will all report before the week is out.
Reporting by Iain Gilbert at Sharecast.com
Dow Jones - Risers
Chevron Corp. (CVX) $173.01 3.06%
Merck & Co. Inc. (MRK) $92.32 2.11%
Verizon Communications Inc. (VZ) $49.04 1.78%
Caterpillar Inc. (CAT) $207.19 1.40%
Walgreens Boots Alliance, Inc. (WBA) $44.15 1.38%
International Business Machines Corporation (CDI) (IBM) $135.03 1.07%
Travelers Company Inc. (TRV) $174.50 1.00%
Procter & Gamble Co. (PG) $155.12 0.98%
3M Co. (MMM) $150.50 0.80%
Unitedhealth Group Inc. (UNH) $489.22 0.79%
Dow Jones - Fallers
Boeing Co. (BA) $124.05 -2.48%
Walt Disney Co. (DIS) $105.18 -2.00%
Salesforce.Com Inc. (CRM) $164.12 -1.67%
American Express Co. (AXP) $156.43 -1.46%
Intel Corp. (INTC) $43.08 -1.19%
Goldman Sachs Group Inc. (GS) $303.44 -1.16%
Cisco Systems Inc. (CSCO) $49.00 -1.13%
Apple Inc. (AAPL) $145.54 -1.07%
Visa Inc. (V) $197.81 -0.71%
JP Morgan Chase & Co. (JPM) $118.27 -0.70%
S&P 500 - Risers
Occidental Petroleum Corp. (OXY) $67.72 5.68%
Helmerich & Payne Inc. (HP) $47.48 5.21%
NRG Energy Inc. (NRG) $44.08 4.21%
Halliburton Co. (HAL) $37.57 4.07%
National Oilwell Varco Inc. (NOV) $18.36 3.91%
Marathon Oil Corp. (MRO) $27.98 3.63%
Schlumberger Ltd. (SLB) $42.14 3.44%
Devon Energy Corp. (DVN) $70.99 3.33%
FMC Technologies Inc. (FTI) $7.60 3.12%
Apache Corp. (APA) $42.41 3.06%
S&P 500 - Fallers
Twitter Inc (TWTR) $37.39 -8.18%
Expedia Group Inc. (EXPE) $123.85 -6.02%
Bath & Body Works, Inc. (BBWI) $48.41 -5.10%
Coty Inc. Class A (COTY) $6.26 -4.86%
Vulcan Materials Co. (VMC) $160.09 -4.70%
Starbucks Corp. (SBUX) $72.42 -4.21%
Svb Financial Group (SIVB) $432.15 -3.81%
Wynn Resorts Ltd. (WYNN) $63.94 -3.52%
Arista Networks Inc. (ANET) $105.00 -3.36%
eBay Inc. (EBAY) $45.09 -3.34%
Nasdaq 100 - Risers
Vertex Pharmaceuticals Inc. (VRTX) $254.17 3.02%
Vodafone Group Plc ADS (VOD) $15.03 2.73%
Seagate Technology Plc (STX) $82.83 2.63%
Electronic Arts Inc. (EA) $127.39 1.96%
Regeneron Pharmaceuticals Inc. (REGN) $655.25 1.51%
Walgreens Boots Alliance, Inc. (WBA) $44.15 1.38%
Hologic Inc. (HOLX) $77.27 1.30%
Dollar Tree Inc (DLTR) $161.45 1.29%
Comcast Corp. (CMCSA) $41.89 0.99%
NetEase Inc. Ads (NTES) $93.29 0.90%
Nasdaq 100 - Fallers
Expedia Group Inc. (EXPE) $123.85 -6.02%
Tesla Inc (TSLA) $724.37 -5.88%
Qurate Retail Inc. (QRTEA) $3.63 -5.34%
Starbucks Corp. (SBUX) $72.42 -4.21%
Wynn Resorts Ltd. (WYNN) $63.94 -3.52%
Workday, Inc. (WDAY) $176.17 -3.36%
eBay Inc. (EBAY) $45.09 -3.34%
Intuit Inc. (INTU) $359.59 -3.27%
Booking Holdings Inc. (BKNG) $2,045.11 -2.70%
Nvidia Corp. (NVDA) $172.64 -2.50%