US close: Dow adds more than 500 points in solid session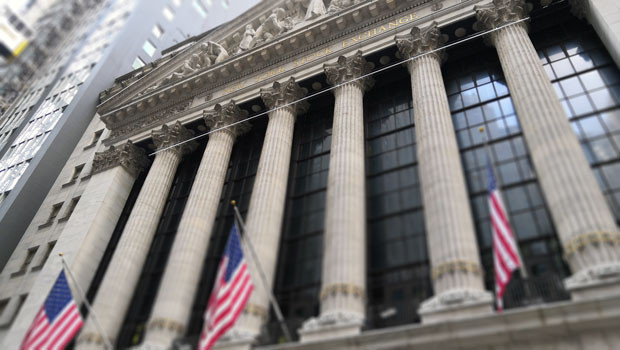 Wall Street stocks managed to close higher on Wednesday, as major indices searched for direction following fresh bear market lows.
At the close, the Dow Jones Industrial Average was up 1.88% at 29,683.74, as the S&P 500 added 1.97% to 3,719.04 and the Nasdaq Composite was ahead 2.05% at 11,051.64.
The Dow closed 548.75 points higher on Wednesday, going against the losses it recorded in Tuesday's session.
"The Bank of England's u-turn - at least for now - on quantitative easing has given embattled buyers a reason to step back into the market," said IG chief market analyst Chris Beauchamp.
"While it might not be the big QE programmes of old, it seems the bank's willingness to intervene is being taken as a good sign, especially compared to its inaction earlier in the week.
"After days of selling we are seeing another attempt to move higher, though Apple's 3% drop following news of its decision to hold rather than expand iPhone production has limited gains for now."
In focus before markets opened stateside was news that the Bank of England was buying long-dated UK government bonds as part of an effort to stabilise the pound after the currency dropped to a record low against the dollar of $1.03.
Sterling was changing hands at $1.0885 after the closing bell on Wednesday.
On the macro front, US mortgage applications fell 3.7% week-on-week in the seven days ended 23 September after rising 3.8% in the previous week as interest rates continued to increase.
According to the Mortgage Bankers Association, applications to refinance a home loan dropped 10.9% and applications to purchase a home dipped 0.4%.
Elsewhere, an advance reading of August's goods trade balance showed the goods gap drop for a fifth consecutive month to $87.3bn - the lowest reading seen since October 2021.
According to the Census Bureau, imports fell 1.7% to $267.1bn and exports declined 0.9% to $179.8bn.
Finally, US pending homes fell 24.2% year-on-year in August, the biggest annual decrease since April 2020.
The National Association of Realtors said all four regions had posted double-digit declines.
In the corporate space, shares in consumer tech behemoth Apple fell 1.27% after Bloomberg revealed the company was abandoning plans to hike new iPhone production, as demand for the flagship handset failed to meet expectations.
On the upside, pharmaceuticals firm Biogen rocketed 39.85% after it said its experimental Alzheimer's drug "significantly slowed" both functional and cognitive and functional decline in the disease's early stages.
Reporting by Josh White at Sharecast.com. Additional reporting by Iain Gilbert.
Dow Jones - Risers
Home Depot Inc. (HD) $282.19 5.02%
Boeing Co. (BA) $133.44 4.65%
Walt Disney Co. (DIS) $99.40 3.70%
Chevron Corp. (CVX) $145.78 3.38%
Caterpillar Inc. (CAT) $168.12 3.28%
Goldman Sachs Group Inc. (GS) $301.14 3.23%
Dow Chemical Co. (DOW) $45.19 2.88%
Nike Inc. (NKE) $98.70 2.50%
Walgreens Boots Alliance, Inc. (WBA) $33.20 2.37%
American Express Co. (AXP) $140.56 2.23%
Dow Jones - Fallers
Apple Inc. (AAPL) $149.84 -1.27%
Honeywell International Inc. (HON) $0.00 0.00%
Dowdupont Inc. (DWDP) $0.00 0.00%
Procter & Gamble Co. (PG) $131.98 0.00%
McDonald's Corp. (MCD) $236.94 0.10%
Visa Inc. (V) $179.18 0.74%
International Business Machines Corporation (CDI) (IBM) $122.77 0.84%
Salesforce.Com Inc. (CRM) $150.17 0.86%
Johnson & Johnson (JNJ) $166.36 0.86%
Intel Corp. (INTC) $27.13 0.89%
S&P 500 - Risers
Biogen Inc (BIIB) $276.61 39.85%
Netflix Inc. (NFLX) $245.20 9.29%
Marathon Petroleum Corporation (MPC) $100.09 7.80%
Illumina Inc. (ILMN) $201.29 7.73%
Valero Energy Corp. (VLO) $108.80 7.54%
Eli Lilly and Company (LLY) $334.38 7.48%
HF Sinclair Corporation (DINO) $54.37 7.19%
Hess Corp. (HES) $108.30 7.13%
Devon Energy Corp. (DVN) $60.05 6.91%
Phillips 66 Common Stock (PSX) $81.40 6.80%
S&P 500 - Fallers
VF Corp. (VFC) $32.66 -6.87%
Apple Inc. (AAPL) $149.84 -1.27%
QUALCOMM Inc. (QCOM) $118.93 -1.17%
Align Technology Inc. (ALGN) $212.10 -0.99%
Skyworks Solutions Inc. (SWKS) $92.96 -0.32%
Broadridge Fin Sol (BR) $148.78 -0.31%
Arconic Inc. (ARNC) $17.47 -0.29%
Coty Inc. Class A (COTY) $6.85 -0.15%
Edison International (EIX) $61.25 -0.10%
Hasbro Inc (HAS) $69.38 -0.09%
Nasdaq 100 - Risers
Biogen Inc (BIIB) $276.61 39.85%
Qurate Retail Inc. (QRTEA) $2.33 12.02%
Netflix Inc. (NFLX) $245.20 9.29%
Illumina Inc. (ILMN) $201.29 7.73%
Mercadolibre Inc. (MELI) $865.24 7.52%
Paypal Holdings Inc (PYPL) $91.12 6.26%
Meta Platforms Inc. (META) $141.61 5.36%
Workday, Inc. (WDAY) $156.85 5.14%
Dish Network Corp. (DISH) $14.82 4.88%
Charter Communications Inc. (CHTR) $321.08 4.62%
Nasdaq 100 - Fallers
Apple Inc. (AAPL) $149.84 -1.27%
QUALCOMM Inc. (QCOM) $118.93 -1.17%
Align Technology Inc. (ALGN) $212.10 -0.99%
Skyworks Solutions Inc. (SWKS) $92.96 -0.32%
Hasbro Inc (HAS) $69.38 -0.09%
Xilinx Inc. (XLNX) $0.00 0.00%
Mylan Inc. (MYL) $0.00 0.00%
Celgene Corp. (CELG) $0.00 0.00%
Alexion Pharmaceuticals Inc. (ALXN) $0.00 0.00%
Shire Plc Ads (SHPG) $0.00 0.00%