US close: Dow closes 250 points higher on positive rumours out of Beijing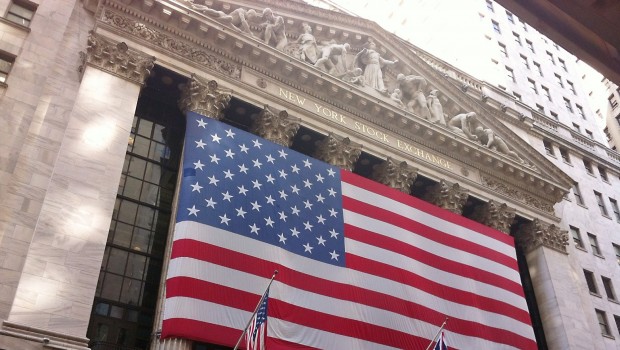 Wall Street stocks closed higher for a third straight session on Tuesday as optimism surrounding the latest round of talks between the US and China boosted sentiment.
At the close, the Dow Jones Industrial Average was 1.09% higher at 23,787.45, while the S&P 500 gained 0.97% to 2,574.41 and the Nasdaq closed 1.08% firmer at 6,897.00.
The Dow closed more than 250 points higher after losing some of its earlier momentum as a key report revealed job openings across the US had fallen to their lowest level since the beginning of summer.
Early reports out of Beijing state American and Chinese negotiators had reportedly made progress in talks, including on purchases of US goods and services, but the two sides were said to still not be ready to finalise a deal.
According to Dow Jones Newswires, citing sources, follow-up cabinet-level talks were expected later in January.
Earlier, the US President himself had tweeted: "Talks with China are going very well!"
China approved five genetically-modified crops for import, which could help increase Chinese imports of US agricultural goods, including corn and soybean products developed by the likes of DowDuPont.
The government shutdown, which entered its 17th day, was also on investors' minds as Donald Trump was due to make a speech at 0200 GMT from the Oval Office, in which he is expected to argue that an immigration crisis requires his Mexican border wall.
In energy news, West Texas Intermediate was 2.62% higher at $49.79 a barrel, while Brent Crude was 2.34% higher at $58.67.
On the corporate side of things, Boston Scientific closed 2.79% higher after the release of its fourth-quarter sales figures and Union Pacific shot up 9.04% in the session after it announced that former Canadian National executive Jim Vena had taken over as COO.
Apple picked up 1.91% after rival Samsung issued fourth-quarter guidance well below expectations.
On the data front, the latest survey from the National Federation of Independent Business showed that small business confidence in the US remained near historically-high levels in December amid signs of strength in hiring and in companies' inventory planning.
But some analysts said the stable headline index masked underlying weakness and rising price pressures.
The NFIB's small business confidence gauge slipped by just 0.4 points from the month before to reach 104.4, versus consensus expectations for a reading of 103.5. Meanwhile, a sub-index linked to job openings hit a fresh record high and according to the NFIB plans for inventory investment surged.
However, those positives were offset by a decline in expected real sales growth and expected business conditions.
Reports of higher worker compensation remained near record levels too, NFIB said.
According to the business lobby group: "Critics of the Federal Reserve are popping up everywhere. They say that the Federal Reserve is not paying attention to what financial markets are telling us about the economy.
"However, the stock market does not reflect the entire economy. The small business sector represents the other half and it continues its two-year run of record high performance levels, an important consideration."
Still, Ian Shepherdson at Pantheon Macroeconomics believed a further decline in business optimism was likely in January.
In particular, Shepherdson noted the four point decline seen in the sub-index for companies' capital expenditure plans, which he described as a "big blow", although it remained to be seen if the drop would "stick" or even drop further.
Elsewhere, the number of job openings fell to 6.9m in November, according to the Bureau of Labor Statistics.
Over the month, hires edged down to 5.7m, quits edged down to 3.4m, and total separations were broadly unchanged at 5.5m.