US close: Stocks mixed as bond yields surge on ISM data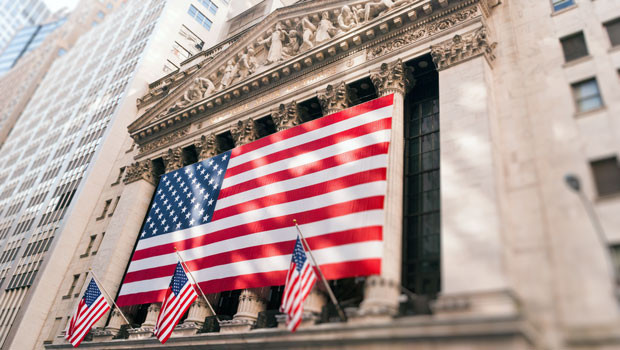 US stocks finished flat on Monday despite a last-minute deal in Washington to avert a government shutdown, as bond yields surged on the back of yet more promising economic data.
The Dow Jones Industrial Average was 0.2% lower at 33,433, the S&P 500 finished flat at 4,288, while the Nasdaq gained 0.7% to 13,308.
"US markets slipped back [...] as the news that a government shutdown has been avoided collides with the reality that a resilient US economy will probably mean US rates could well need to go higher," said analyst Michael Hewson from CMC Markets.
The yield on a 10-year Treasury note jumped 11.3 basis points to 4.692%, touching an earlier high of 4.707%, while the 30-year bond yield rose 9.4% to 4.797% – their highest levels since October 2007 and April 2010, respectively.
Over the weekend, the US government narrowly avoided a shutdown, passing a 45-day Continuing Resolution that shifts the funding deadline to 17 November. However, many felt like the short-term fix was inevitably kicking the can further down the road and that political brinkmanship would begin to heat up again soon.
"This clean bill excluded new funding for Ukraine, but also excluded Republican demands for outright cuts in spending or new spending for border security. More importantly, 90 House Republicans voted against it, setting up a potential showdown between Speaker Kevin McCarthy and the opposition from the right-wing of his party," said analysts at TD Securities.
In economic data, the Institute for Supply Management's manufacturing purchasing managers' index increased from 47.6 in August to 49.0 in September, well ahead of the 47.7 consensus forecast and its highest since November 2022. However, this was still the 11 straight month under the 50-point mark which separates growth from contraction.
The sub-indices for new orders and employment both improved, with the employment gauge jumping into positive territory; while the decline in the prices paid sub-index deteriorated substantially.
Commenting on the data, analysts at Berenberg said: "There were broad based improvements across components of the [...] survey that suggest the slump in manufacturing output may be close to bottoming out, while not indicating that a rebound in activity is imminent."
Across the Pond, a raft of PMIs across the Eurozone showed that the contraction in manufacturing activity worsened last month. The headline single-currency area manufacturing PMI fell to 43.4, down from 43.5 in August and in line with the flash estimate.
Tesla misses forecasts
Electric car giant Tesla managed to finish up despite missing forecasts for quarterly deliveries as it reiterated its full-year target to deliver 1.8m vehicles in 2023. Deliveries totalled 435,059 in the third quarter, around 7% lower than the second quarter, as a result of downtime and planned upgrades at its factories.
Danni Hewson, AJ Bell head of financial analysis, said that the miss wouldn't have come as a surprise to investors. "The miss was well signposted as factories were shut for improvements. Investors seemed happy enough with the company's current strategy of cutting prices to stoke demand, whilst preparing new models to tempt buyers."
Sector peer Rivian Automotive declined despite more than doubling its third-quarter deliveries compared with a year ago.
Coinbase shares were higher as the crypto exchange said it had obtained a Major Payment Institution license from regulators in Singapore.
SmileDirectClub saw shares drop more than 60% after the teeth-straightening company filed for Chapter 11 bankruptcy protection.