London pre-open: Stocks to gain as Evergrande worries ease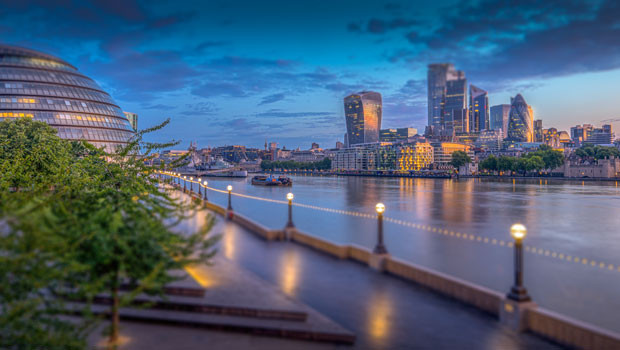 London stocks were set to rise at the open on Friday as worries about Chinese property group Evergrande ease, and as investors digest the latest UK retail sales data.
The FTSE 100 was called to open 23 points higher at 7,213.
CMC Markets analyst Michael Hewson said: "European markets underwent a little bit of China syndrome yesterday, as a combination of concerns about an Evergrande default this weekend, and China targeting the restructuring of the steel, primary aluminium, flat glass and other energy intensive sectors, prompted a little bit of weakness in commodity prices, as copper prices hit a one week low.
"US markets, however, had no such concerns with the S&P500 making a new record high and close, as earnings numbers continued to beat expectations, following on from the Dow the day before, however some big misses after hours took some of the gloss off, as Snap plunged after missing on revenues blaming Apple privacy changes, with Facebook also taking a dive, ahead of its numbers next week. Intel was also sharply lower after downgrading their outlook.
"As we look towards today's European open, we can expect to see a positive open after reports in Asia that Evergrande would be paying the $83m interest due on its US dollar bond."
On home shores, figures released earlier by the Office for National Statistics showed retail sales unexpectedly fell in September.
Sales were down 0.2% versus expectations for a 0.5% increase. Nevertheless, they remained 4.2% above pre-pandemic levels.
ONS statistician Darren Morgan said: "Household goods were the main driver of this month's decline with a fall of nearly 10%, while food sales ticked back up after falling last month."
Separately, a survey from GfK showed that consumer sentiment dropped sharply in October amid economic turmoil including fuel shortages and rising prices.
The total measure of GfK's consumer confidence barometer dropped to -17, as expected by most economists, from -13 in September, in the third month of decline.
All five aspects of the survey fell, led by respondents' view of the economy over the next 12 months, which dropped 10 points to -26 from September and 20 points from August. Households were also less optimistic about their personal finances over the next year and less likely to make a major purchase.
In corporate news, JD Sports Fashion said it had bought 80% of family-owned Greek firm Cosmos Sport for an undisclosed sum. Cosmos operates 57 stores in Greece and three in Cyprus and is 70% owned by the Tsiknakis Family with EOS Capital Partners holding a 30% stake.
EOS have disposed of their entire holding in this transaction. JD Sports said the size of the deal did not meet the thresholds for mandatory notification under UK listing rules, but confirmed that put and call options have been agreed, to enable future exit opportunities for the Tsiknakis Family.