Europe midday: Shares up as BoE lifts interest rates to 1,75%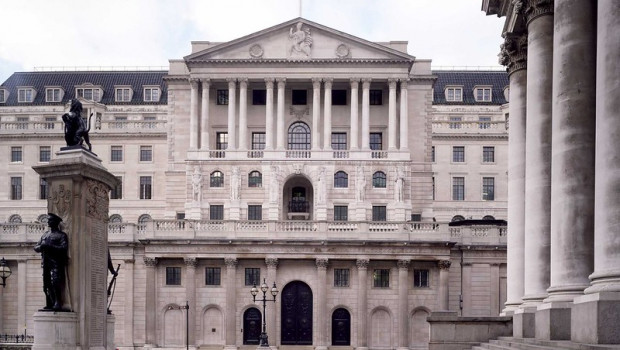 European stocks made gains at midday on Thursday despite the biggest rise in UK interest rates since 1995, and growing tensions between the US and China.
The pan-European Stoxx 600 was up 0.5 in early trade. Shares had made gains in the previous session after US economic data indicated that a recession may not be imminent.
The ISM non-manufacturing purchasing managers index showed a surprise rebound in July.
UK shares were flat as investors awaited the Bank of England's next move on monetary policy decision with expectations of a 50-basis point rise in rates.
German shares outperformed after German factory orders fell less than expected in June, according to figures released on Thursday by Destatis.
The Bank of England lifted rates by 50 basis points to 1.75%. This marked the sixth increase in a row and was in line with economists' expectations. It also warned the UK economy would enter recession in the October to December quarter.
"The latest rise in gas prices has led to another significant deterioration in the outlook for activity in the United Kingdom and the rest of Europe. The United Kingdom is now projected to enter recession from the fourth quarter of this year," it said.
"Real household post-tax income is projected to fall sharply in 2022 and 2023, while consumption growth turns negative."
The Bank now expects inflation to surge to more than 13% by the end of the year. It said inflationary pressures in the UK and the rest of Europe have intensified significantly since the May Monetary Policy Report and the MPC's previous meeting.
"That largely reflects a near doubling in wholesale gas prices since May, owing to Russia's restriction of gas supplies to Europe and the risk of further curbs," it said.
Orders declined by 0.4% following a revised 0.2% dip in May, and versus expectations for a 0.8% drop. On the year, factory orders were down 9% in June following a revised 3.2% fall a month earlier. Analysts had expected a 6% decline.
Destatis said the drop in in new orders was mostly due to a 4.3% decline in orders from the non-euro area compared with the previous month. A 1.4% fall was recorded for total foreign orders.
That would take borrowing costs to 1.75% as the central bank battles soaring inflation and would be the first half-point hike since it was made independent by the then Labour government in 1997.
UK inflation hit a new 40-year high of 9.4% in June.
In Asia, shares traded higher after the rally on Wall Street and despite tensions over US House Speaker Nancy Pelosi's controversial visit to Taiwan, which has triggered Beijing into massive live-fire military exercises in the Taiwan Strait.
In equity news, Lufthansa shares climbed after the German airline posted a smaller-than-expected quarterly loss.
Danish medical device company Ambu plunged after cutting its margin forecast and announcing that it would lay off around 200 employees.
Hikma shares fell as the pharmaceutical company lowered annual guidance in response to growing competition from generic drugs.
Reporting by Frank Prenesti at Sharecast.com