Europe midday: Markets move cautiously higher ahead of expected coalition deal in Italy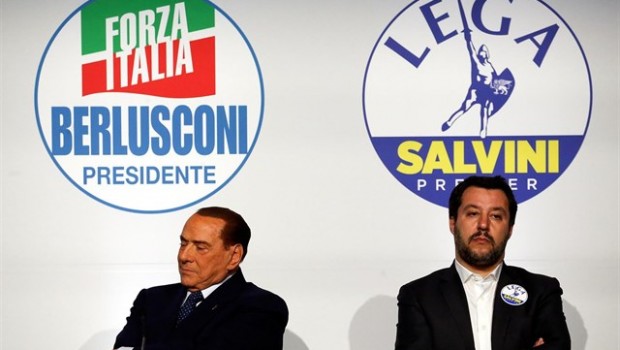 European stocks are seeing moderate gains on the heels of the previous session's advance on Wall Street, even as US government bond yields continued their climb higher on Wednesday, but with traders keeping a close eye on political events unfolding in Italy.
Indeed, shortly after noon the leader of the anti-establishment Five Star party, Luigi di Maio, said a coalition deal had been agreed with the League - but precious few details were forthcoming.
And analysts were cautious about reading too much into any one headline, emphasising that it remained to be seen how far any new government in Rome would truly be able to push through disruptive policies.
IG's Chris Beauchamp summed-up the market backdrop in a note to clients saying: "The ghost of the 10-year Treasury yield has returned to spook markets again, with equities failing to make much progress as attention fixates on the key global benchmark.
"European indices are becalmed this morning, hit by a lack of big macro drivers in economic data terms, while developments overnight in the Italian situation have prompted some cautious risk-taking in Italian stocks. Despite the denial of plans for a €250 billion debt cancellation, the incoming government still seems on course for a collision with the ECB and Brussels, and as a result threatening to unravel the delicate consensus that has existed since the eurozone crisis calmed."
Against that backdrop, as of 1314 BST the benchmark Stoxx 600 was 0.24% or 0.94 points higher to 394.15, alongside an advance of 0.28% or 35.80 points for the German Dax and a rise of 0.46% or 25.03 points to 5,592.09 for the French Cac-40.
In parallel, the yield on the benchmark 10-year Italian government bond was edging up by just two basis points to 2.14%, albeit after a 17 basis point surge the day before.
On that note, earlier CMC Markets's Michael Hewson said to clients: "For now the market fallout appears confined to Italian markets, and is likely to remain so in the short term, given that even if they wanted to deliver on their pledges, talking about them is likely to be the easy bit. Getting them implemented is likely to be much more difficult with parliament and the courts likely to be major obstacles."
"Despite the extent of the selloff in both Italian equity and bond markets yesterday the market reaction needs to be put into the context of where they were just over six months ago. Italian yields closed at their highest levels this year at 2.10%, while the FTSEMib still remains over 8% higher year to date," Hewson added.
The economic calendar was light on Thursday, although according to ACEA the year-on-year rate of growth in car registrations in the 27 countries of the European Union recovered from a 5.3% fall in March, showing a 9.6% rise in April.
"Among the smaller economies, Finland and Greece showed strong gains," said Pantheon Macroeconomics's Claus Vistesen.
"Overall, we don't think the recent months' volatility changes the fact that the trend in these data is 5%-to-6% year-over-year, slower than in 2017 and 2016, but still a little bit above nominal GDP growth, which isn't bad."