Europe close: Stocks finish weaker as Washington aims at Airbus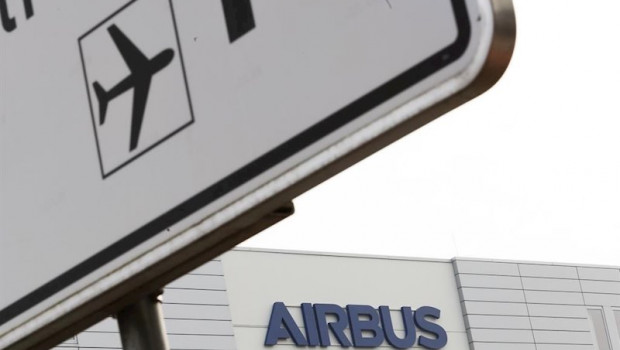 European shares closed in the red on Thursday, as investors pored over a surprise from the latest US jobless claims data, with Airbus hit by continuing tariffs from Washington.
The pan-European Stoxx 600 was down 0.46% at 373.15, while Germany's DAX lost 0.5% to 12,993.71, and the CAC 40 in Paris was 0.61% weaker at 5,041.38.
In London, the FTSE 100 was down 1.5% at the close, to settle at 6,185.62.
The euro was in a mixed state, last falling 0.1% against sterling to 90.32p, but gaining 0.3% on the dollar to $1.1819.
"European stocks have given up some of their gains of the last few days, after US House Speaker Nancy Pelosi pushed back on the prospect of a stimulus agreement plan in the near future," said CMC Markets chief market analyst Michael Hewson.
"With the S&P 500 close to record highs it would appear that US politicians are tone deaf to the very real risks to the economy of their procrastination, at a time when their stock portfolios are looking quite healthy, and the US jobs market continues to show signs of improving."
Hewson noted that it was now almost two weeks since the $600-a-week unemployment enhancement benefit ended in the US, and so far there hadn't been any "significantly negative effect" in the weekly jobless claims numbers, though that could change in the coming weeks.
"Most of today's weakness has been reflected in the oil and gas sector after the IEA downgraded its outlook for oil demand due to concerns about the outlook for air travel, with Royal Dutch Shell and BP under pressure after three days of decent gains."
The number of Americans applying for unemployment benefits fell below one million last week for the first time since mid-March as a Congress-approved weekly wage supplement expired.
Initial jobless claims came to a seasonally-adjusted 963,000 for the week to August 8, compared to 1.191m in the prior week, the US Department of Labor said on Thursday.
The figure was lower than analyst estimates of 1.1m.
Investors were also eyeing US-China trade tensions as officials from both countries were set to meet on Saturday to review their trade deal.
There were also worries over the deadlock between US Democrats and Republicans over a fifth coronavirus aid bill.
In corporate news, Thyssenkrupp shares were down 16.31% as the company posted a widened net loss for the third quarter of its fiscal year amid the coronavirus pandemic, but said it expects business in the last quarter to be stable.
The engineering firm reported a net loss of €678m compared with a loss of €94m last year.
Airbus fell 2.16% after the US government said it would maintain 15% tariffs on planes and 25% tariffs on other European goods.
Dutch insurer Aegon was 15.32% lower after it reported lower than expected first-half earnings as higher mortality and lower interest rates in the US hit the bottom line.
The company also withdrew its financial guidance for this year and next, citing an uncertain economic outlook. It said it would provide new targets at its capital markets day in December.
Collapsed payments company Wirecard was off 10.56% as German stock exchange operator Deutsche Boerse said it would strike it from the DAX index of leading blue-chip stocks this month following a rule change.
Shares in TUI were 5.15% lower as the world's biggest travel operator reported a €1.1bn loss in the third quarter as demand collapsed during the coronavirus pandemic lockdown, wiping out revenues.
Danish brewer Carlsberg slid 5.79% on a warning that lockdowns would hit second-half sales in its key markets of China and Western Europe.