Europe close: Stocks end higher after late rally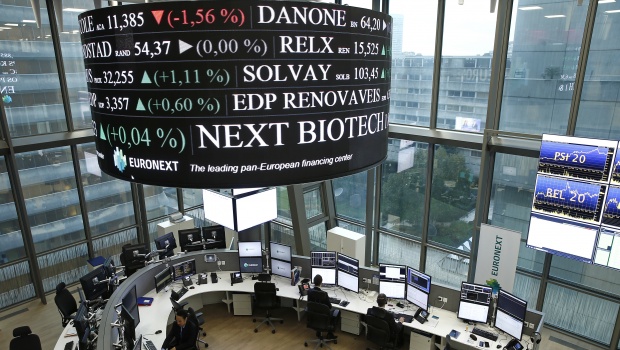 Stocks in Europe gained ground after a late lift on the back of a 'dovish' set of European Central Bank meeting minutes and optimism about trade.
The benchmark Stoxx 600 climbed 0.3% to 348.8, with Germany's Dax up 0.3% to 10,921.59 and France's Cac-40 trimming earlier losses by still down 0.2% to 4805.66. Spain's Ibex and Italy's FTSE Mib both finished higher.
Reflecting the 'dovish' content of the ECB minutes, the yield on the benchmark 10-year German government bond was down by two basis points at 0.26% and euro/dollar was drifting 0.4% lower to 1.1497.
"The risks surrounding the growth outlook could still be assessed as broadly balanced. However, the balance of risks was moving to the downside, owing to the persistent prominence of uncertainties related to geopolitical factors, the threat of protectionism, vulnerabilities in emerging markets and financial market volatility," the minutes read.
On a related note, reports indicated that economists at JP Morgan had pushed back their forecast for the first ECB rate hike from September 2019 to December.
Helping boost sentiment later in the session as well, Donald Trump was talking up the US-China trade talks that took place earlier in the week, claiming the US was having "tremendous success".
This should be taken with a pinch of salt, said Joshua Mahony, senior market analyst at IG, "yet to some extent the fact that talks have sustained this long without breaking down highlights a shift in tactics by both sides".
However, the Chinese Commerce Industry issued a statement saying that the "extensive, deep and detailed" talks between the two countries had "laid the foundations" for their dispute to be resolved.
Earlier in the session, the mood had been depressed by disappointing data from China, with factory gate price data released overnight revealing a drop in producer price inflation from 2.5% for November to 0.9% in December - a two-year low.
That, some economists said, strengthened the argument for China's central bank "to do more".
In other economic news, industrial production in France surprised to the downside, with INSEE reporting a month-on-month fall of 1.3% (consensus: 0.4%).
Manufacturing output was especially weak, dropping by 1.4%.
Meanwhile, in Italy, ISTAT reported a 0.7% month-on-month and 1.6% year-on-year increase in the retail sales for the month of November, which followed a 1.5% rise in the month before.