Europe close: Ryanair gives travel and leisure names a boost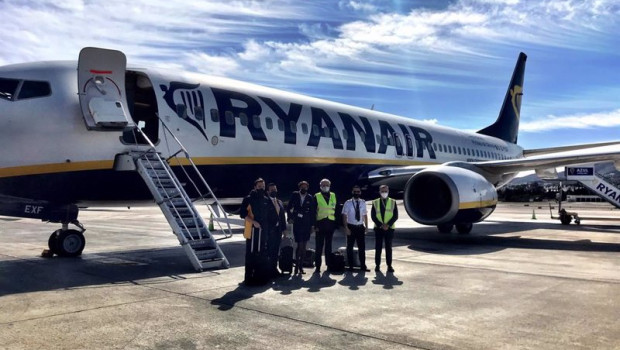 European stocks finished higher on Thursday as a positive update out of RyanAir, Europe's largest airline, which served to lift some of the gloom hanging over the sector.
"It's been a slightly better day for markets in Europe, shrugging off a weak Asia handoff, with some decent gains for travel and leisure, which has enjoyed a respite after Ryanair announced it was increasing its 5-year growth target for passengers to 225m, a 50% increase on 2019 levels," said Michael Hewson, chief market analyst at CMC Markets UK.
"That said progress has been difficult with weakness in US markets pulling the FTSE100 and DAX both off their highest levels of the day."
The benchmark Stoxx Europe 600 index was up 0.44% at 465.95, Germany's DAX was up 0.23% to 15,651.75 and France's CAC 40 was 0.59% firmer at 6,622.59.
Travel&Leisure issues paced gains within the former, with the corresponding Stoxx 600 sector gauge jumping 3.38% to 259.42.
Worth noting, investors appeared non-plussed by US economic data revealing unexpected resilience in the economy despite the latest wave of Covid-19.
Commenting on the latest monthly US retail sales figures out earlier, for example, Ian Shepherdson, chief economist at Pantheon Macroeconomics, said: "These data will trigger a wave of upgrades to forecasts for Q3 consumption and GDP growth, though a sharp slowdown from Q2's stimulus-fuelled pace is a done deal.
"Still, upside surprises on this scale don't come often, and this one indicates a real degree of resilience on the part of consumers."
In corporate news, Lagardere shares surged by almost 20% after Vivendi agreed to buy activist investor Amber Capital's 17.9% stake in the French media group, paving the way for a potential takeover.
Elsewhere, London-listed equipment hire company Ashtead rallied as it said its annual performance would beat its previous expectations and reported a 53% increase in operating profit for the first quarter.
Ryanair flew higher after the budget airline lifted its traffic growth forecast and said it expects to create 5,000 jobs. The company raised its five-year traffic growth forecast from 33% to 50%. As a result, Ryanair's pre-Covid traffic of 149m is set to grow to over 225m guests by March 2026, from a previous target of 200m.