Asia report: Stocks mixed as China exempts some US goods from tariffs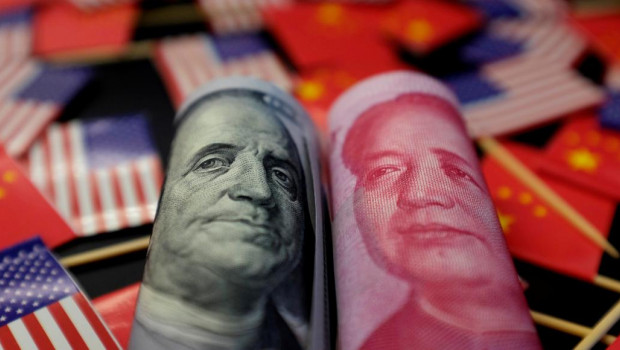 Asian markets were mixed on Wednesday as concerns about trade relations between the US and China receded.
China moved to exempt 16 types of US products from its additional retaliatory tariffs. Beijing's Ministry of Finance said the exemptions would apply to items that include some medicines, animal feed and lubricants, although more than 5,000 types of US goods, including key agricultural products such as soybeans and corn, remained subject to the additional tariffs.
Neil Wilson, market analyst at Markets.com, said: "At the very least it suggests a willingness to engage seriously in these talks. Nevertheless I think we remain a long way and even a presidential election away from a deal. The firing of US national security advisor John Bolton has also eased fears about an imminent escalation in tensions between the US and Iran."
Investors were also continuing to eye Thursday's meeting of the European Central Bank amid expectations of a rate cut and further stimulus.
Japan's Nikkei 225 was up 0.96% at 21,597.76 at the end of the session as Sony, Honda, and oil producer Inpex each racked up strong gains.
The Japanese yen dropped by 0.15% against the US dollar to JPY107.70.
In China, the Shanghai Composite fell by 0.41% to 3,008.81 and the Shenzhen Composite was 0.94% lower at 1,671.54 as investors appeared to remain cautious ahead of the next round of trade negotiations in Washington.
The fourth largest company on the mainland, beverage-maker Kweichow Moutai, saw its shares slump by almost 5% as prices of its Feitian liquor dropped, according to Chinese beverage website Jiuyejia.com.
Hong Kong's Hang Seng Index jumped by 1.78% to 27,159.06, reaching its highest level in six weeks as banks and property stocks gained on the back of diminishing trade war fears.
HSBC, Hang Seng Bank, China Construction Bank, New World Development and Bank of China (Hong Kong) each rose by more than 2.5%.
The South Korean Kospi climbed by 0.84% to 2,049.20 as investor sentiment improved following perceived progress in US-China relations, with index bellwether Samsung Electronics rising by 0.32%.
Brent Crude was 1.13% higher at $63.09 a barrel, while West Texas Intermediate rose 1.36% to $58.19.
Down under, the Australian S&P/ASX 200 closed up 0.36% at 6,638.04 as New Hope drove the market higher with an 8.5% jump after the Queensland Court of Appeal ruled in favour of expansion plans at its New Acland coal mine.
Other miners were also on the rise amid firmer iron prices, with BHP, Rio Tinto and Fortescue Metals all up around 2%.
New Zealand's S&P/NZX 50 fell 1.95% to 10,924.88 as energy stocks led the market lower amid reduced demand for their reliable dividends, courtesy of higher interest rates.
Meridian Energy, Spark New Zealand, Z Energy, Mercury NZ and Contact Energy were all at least 3.5% lower by the end of the day.
Finally, the Australian dollar was 0.10% firmer against the greenback at A$1.46 and New Zealand's dollar edged 0.08% lower to NZ$1.56.