Asia report: Nikkei crosses 30,000 as Japan GDP surges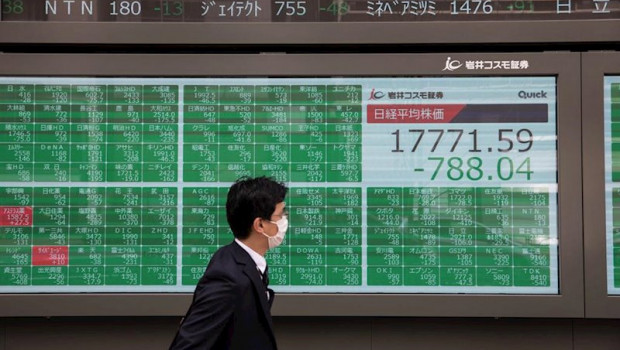 Markets in Asia closed mostly in positive territory on Monday, with Japan's benchmark crossing the 30,000-point mark for the first time in 30 years, as fresh data showed that country's economy rebounding beyond expectations in the December quarter.
In Japan, the Nikkei 225 was up 1.91% at 30,084.15, as the yen weakened 0.3% against the dollar to last trade at JPY 105.26.
It was the first time in more than three decades that the benchmark index had crossed the psychological threshold of 30,000 points.
Of the major components on the benchmark index, automation specialist Fanuc was up 3.39%, fashion firm Fast Retailing rose 4.09%, and technology conglomerate SoftBank Group was 2.12% firmer.
The broader Topix index settled 1.04% firmer by the end of trading in Tokyo, closing at 1,953.94.
According to official data released earlier in the day, Japan's economy grew 12.7% year-on-year in the three months through December.
That was significantly higher than the 9.5% improvement pencilled in by economists polled by Reuters.
South Korea's Kospi was ahead 1.5% at 3.147.00, with the blue-chip technology stocks well into positive territory.
Samsung Electronics rose 3.19% and SK Hynix was 4.76% higher by close of business in Seoul.
Markets in China, Hong Kong and Taiwan remained closed for the Lunar New Year holiday on Monday.
Oil prices were higher at the end of the Asian day, with Brent crude last up 1.15% at $63.15 per barrel, and West Texas Intermediate advancing 1.68% to $60.47.
"Asian markets have started the week on the front foot with the Nikkei, Kospi, India's Nifty and the ASX all posting gains," said Axi chief global market strategist Stephen Innes.
"The Nikkei is trading above the 30,000 level for the first time since 1990 and is catching a tailwind for Japan's fourth quarter GDP, as stimulus bazookas continue to offer up 21-gun salutes to global equity markets.
"Oil prices climbed in Asia as Texas oil operators warned of 'freeze-ins' due to arctic vortex type conditions that could reduce Permian Basin oil flow to a trickle."
In Australia, the S&P/ASX 200 was up 0.91% at 6,868.90, as the hefty financials index rose 0.82% in Sydney.
The big four banks were mixed, with Commonwealth Bank of Australia down 0.64%, while Australia and New Zealand Banking Group was up 1.61%, National Australia Bank added 1.44%, and Westpac Banking Corporation advanced 1.17%.
Across the Tasman Sea, New Zealand's S&P/NZX 50 was the region's off one out, falling 0.63% to 12,510.56, as the country's largest city once again entered lockdown.
A handful of fresh community cases of the UK variant of Covid-19 had been detected in Auckland, sending the city into so-called 'level 3' restrictions, requiring most people to work from home and retailers to operate delivery and collection services only.
The country had gone several months without any locally-transmitted cases of the coronavirus.
Both of the down under dollars were stronger on the greenback, with the Aussie last ahead 0.19% at AUD 1.2852, and the Kiwi advancing 0.53% to NZD 1.3803.