Asia report: Most markets fall, Kospi triggers circuit breaker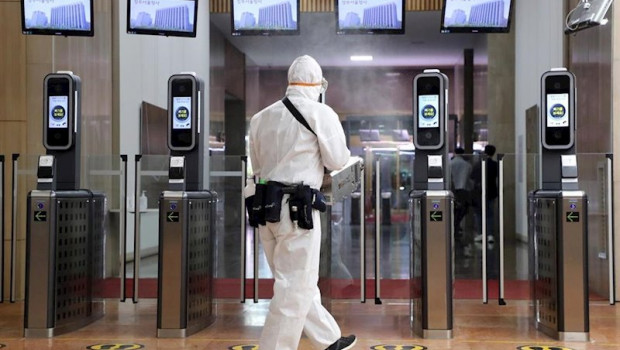 Markets in Asia finished mostly lower on Thursday, with Korea's benchmark leading the losses, as Australia's central bank slashed interest rates as part of its response to the Covid-19 coronavirus pandemic.
In Japan, the Nikkei 225 was down 1.04% at 16,552.83, as the yen weakened 1.51% against the dollar to last trade at JPY 109.71.
Of the major components on the benchmark index, automation specialist Fanuc was down 7.12%, fashion firm Fast Retailing ost 1.74%, and technology giant SoftBank Group was 17.22% weaker.
It was the biggest single day fall SoftBank's stocks had ever seen, Reuters reported.
The broader Topix index managed gains of 0.97% by the end of trading, to close at 1,283.22.
On the mainland, the Shanghai Composite was 0.98% lower at 2,702.13, and the smaller, technology-heavy Shenzhen Composite rose 0.28% to settle at 1,682.93.
South Korea's Kospi plunged 8.39% to 1,457.64, while the Hang Seng Index in Hong Kong slid 2.61% to 21,709.13.
Earlier in the trading session in Seoul, the Korea Exchange's circuit breaker mechanisms were triggered, halting trading for 20 minutes after the benchmark fell 8%.
Both of the blue-chip technology stocks were weaker, with Samsung Electronics down 5.81% and SK Hynix losing 5.61%.
"Relief is coming thick and fast," quipped Markets.com chief market analyst Neil Wilson.
"The Reserve Bank of Australia cut rates 25 basis points and starts quantitative easing; Japan eyes [a] $276bn package of support; South Korea launches [a] new package worth $40bn; and Brazil cuts rates 50 basis points to 3.75%."
Oil prices bounced through the Asian afternoon, with Brent crude last up 4.6% at $26.08 per barrel, and West Texas Intermediate rising 10.3% to $22.71.
Australia's S&P/ASX 200 was 3.44% weaker at 4,782.90, as the Reserve Bank of Australia slashed its official cash rate to 0.25% from 0.75%, as part of a "comprehensive package" to help underpin the economy.
"At some point, the virus will be contained and the Australian economy will recover," said the central bank's governor Philip Lowe.
"In the interim, a priority for the Reserve Bank is to support jobs, incomes and businesses, so that when the health crisis recedes, the country is well placed to recover strongly."
In fresh economic data out of Canberra, Australia's seasonally-adjusted employment rate came in at 5.1% for February.
Across the Tasman Sea, New Zealand's S&P/NZX 50 was down 3.6% at 9,114.53, as Tourism Holdings plunged 31.1% to reach a new six-year low.
Those losses came before the country's Prime Minister Jacinda Ardern announced the closing of its borders to all but citizens and permanent residents - a move also made by Australia after markets closed, and which is expected to see air travel to the two countries essentially dry up.
Both of the down under dollars were weaker on the greenback, with the Aussie last off 1.03% at AUD 1.7503, and the Kiwi retreating 1.34% to NZD 1.7657.