Asia report: Most markets fall as Trump fans flames of trade war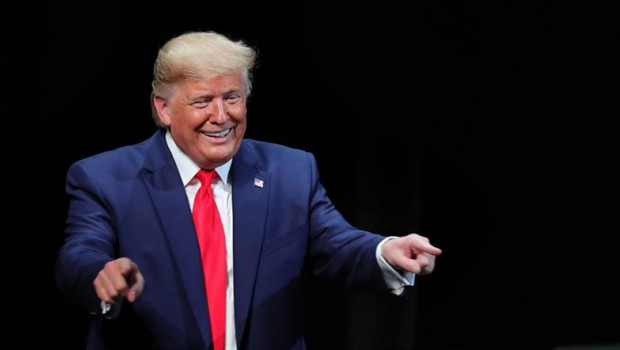 Most markets in Asia finished in the red on Tuesday, led lower by Australian stocks, as US president Donald Trump poured ice cold water on recent trade optimism.
In Japan, the Nikkei 225 was down 0.64% at 23,379.81, as the yen strengthened 0.13% against the dollar to last trade at JPY 108.84.
It was a red day for the major components on the benchmark index, too, with Fanuc down 0.99"%, Fast Retailing off 0.88%, and SoftBank Group losing 1.2%.
The broader Topix index was 0.45% weaker in Tokyo, finishing its trading session at 1,706.73.
On the mainland, the Shanghai Composite was 0.31% firmer at 2,884.70, and the smaller, technology-heavy Shenzhen Composite was 0.56% higher at 1,605.33.
South Korea's Kospi was 0.38% weaker at 2,084.07, while the Hang Seng Index in Hong Kong was off 0.2% at 26,391.30.
Fresh data out of the special administrative region shows a 26.2% plunge in total retail sales year-on-year in October, making it the worst decline ever for the city.
Hong Kong has been plagued by several months of pro-democracy protests, which have frequently turned violent.
Both of the blue-chip technology stocks were weaker in Seoul, with Samsung Electronics down 0.99% and chipmaker SK Hynix 2.24% lower.
Sentiment around trade turned tense once again early in the session, after US president confirmed overnight that tariffs would be reinstated on metal imports from Argentina and Brazil.
"Brazil and Argentina have been presiding over a massive devaluation of their currencies. which is not good for our farmers," the president said in a tweet.
"Therefore, effective immediately, I will restore the Tariffs on all Steel & Aluminum that is shipped into the U.S. from those countries."
That followed comments from the US Trade Representative suggesting tariffs of up to 100% could be applied to products imported from France.
Later in the session, The commander-in-chief told reporters that he liked the idea of waiting until after the November 2020 presidential election to nail down a trade deal with China.
"Of course, Donald Trump's shoot-from-the-hip comments in these kind of interviews need to be taken with a dose of salt – we could just as easily see him row back on this later, as has happened countless times already," said Markets.com analyst Neil Wilson.
"We're only ever a tweet away from saying that a deal is very close to see a rebound.
"However, it's clear that hopes for even a skinny deal being done this year have diminished in the last two days and markets are reflecting this."
Oil prices were lower at the end of the Asian day, with Brent crude last down 0.16% at $60.82 per barrel, and West Texas Intermediate falling 0.02% to $55.95.
In Australia, the S&P/ASX 200 tumbled 2.19%, to close its trading day at 6,712.30, after the country's central bank held interest rates at record lows.
The Reserve Bank of Australia sated investor expectations by keeping its official cash rate at 0.75%, having already cut the rate three times since June.
"The easing of monetary policy this year is supporting employment and income growth in Australia and a return of inflation to the medium-term target range," said the central bank's governor Philip Lowe.
Across the Tasman Sea, New Zealand's S&P/NZX 50 was 0.7% lower, closing at 11,228.27, being led south by specialist dairy exporter A2 Milk, which was off 3.3%.
Both of the down under dollars were stronger on the greenback, with the Aussie last ahead 0.35% at AUD 1.4614 and the Kiwi advancing 0.23% to NZD 1.5343.