Asia report: Most markets fall as trade tensions tighten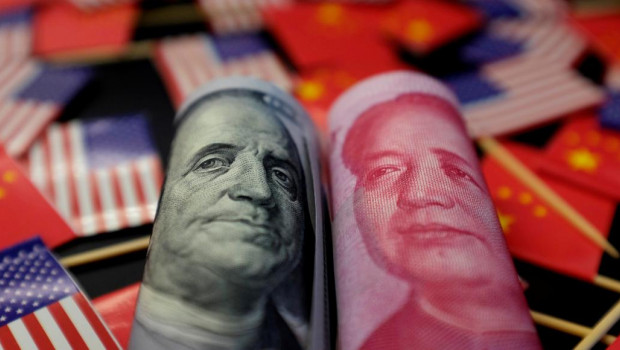 Most markets in Asia finished lower on the last trading day of the month, as investors were still holding their breath for developments on the US-China trade front, ahead of a looming tariff deadline.
In Japan, the Nikkei 225 was down 0.49% at 23,293.91, as the yen weakened 0.04% against the dollar to last trade at JPY 109.55.
SoftBank Group was in the red among the benchmark's major components, falling 0.35%, while automation specialist Fanuc rose 0.38% and Uniqlo owner Fast Retailing eked out gains of 0.05%.
The broader Topix index was behind 0.51% by end-of-play in Tokyo, ending its session at 1,699.36.
On the mainland, the Shanghai Composite was 0.61% weaker at 2,871.98, and the technology-centric Shenzhen Composite slipped 0.3% to 1,593.10.
South Korea's Kospi was off 1.45% at 2,087.96, while the Hang Seng Index in Hong Kong slid 2.03% to 26,346.49.
Both of the blue-chip technology stocks were in the red in Seoul, with Samsung Electronics down 1.95% and chipmaker SK Hynix sliding 2.29%.
Carmaker Hyundai Motor was also among the leading losers there, falling 2.42% by the end of trading.
The Bank of Korea sated market expectations during the session, standing pat on interest rates by keeping its benchmark rate on hold at 1.25%.
Tensions between the United States and China remained high on Friday, following the signing of two bills supporting Hong Kong protestors into law by US president Donald Trump earlier in the week.
Beijing was quick to condemn the move, with China's Ministry of Foreign Affairs describing US lawmakers has having "sinister intentions" on Thursday.
That political heat translated to more concern for investors, who had been hoping the two economic superpowers were getting closer to signing a first phase trade deal in a bid to end their long-running tit-for-tat war of punitive tariffs.
A fresh round of tariffs is set to kick in on Chinese goods being imported to the US on 15 December, with market watchers hopeful some sort of agreement could be finalised before then.
"Fears that Donald Trump's decision to sign a law backing the Hong Kong protestors is certainly a weight on sentiment and may be blamed for this drift, but we need to see whether this will have a material impact on trade talks or whether Beijing will set that to one side," said Markets.com analyst Neil Wilson.
"It will hardly help."
Oil prices slipped at the end of the working week in Asia, with Brent crude last down 0.57% at $63.51 per barrel, and West Texas Intermediate off 0.24% at $58.11.
In Australia, the S&P/ASX 200 lost 0.26% to close its trading session at 6,846.00, while across the Tasman Sea, New Zealand's S&P/NZX 50 was the odd one out in the region, rising 1% to 11,316.58.
Both of the down under dollars were stronger on the greenback, with the Aussie last ahead 0.08% at AUD 1.4759, and the Kiwi advancing 0.21% to NZD 1.5546.