Asia report: Most markets fall ahead of expected trade deal signing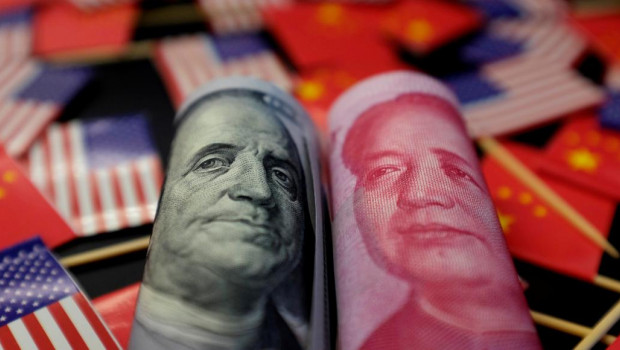 Most markets in Asia finished lower on Wednesday, as investors closed their wallets ahead of the scheduled signing of the first phase trade deal between the United States and China later in the global day.
In Japan, the Nikkei 225 was down 0.45% at 23,916.58, as the yen strengthened 0.08% against the dollar to last trade at JPY 109.90.
Uniqlo owner Fast Retailing was up 1.55%, while among the other major components on the benchmark index, automation specialist Fanuc was down 0.91% and technology conglomerate SoftBank Group lost 1.39%.
The broader Topix index was also in the red by the end of trading in Tokyo, losing 0.54% to settle at 1,731.06.
On the mainland, the Shanghai Composite was down 0.54% at 3,090.04, and the technology-focussed Shenzhen Composite slipped 0.22% to close at 1,814.21.
South Korea's Kospi was 0.35% weaker at 2,230.98, while the Hang Seng Index in Hong Kong was down 0.39% at 28,773.59.
The blue-chip technology stocks were both weaker in Seoul, with Samsung Electronics down 1.67% and chipmaker SK Hynix losing 2.29%.
Investor attention was firmly fixed on Washington on Wednesday, with the world's two largest economies expected to sign a 'phase one' trade agreement in a bid to wind down parts of their ongoing tit-for-tat war of trade tariffs.
Under the deal, the US agreed to cancel or reduce a number of the tariffs it has levied on Chinese goods, while China said it would purchase American goods and also review its practices with regard to technology transfer and financial services.
Beijing is believed to have agreed to purchase around $80bn of manufactured goods, $53bn in energy, $35bn in services and $32bn worth of agricultural goods, totalling $200bn over five years.
Bloomberg reported overnight that existing tariffs on billions of dollars of Chinese were still likely to remain in place until after the US presidential election.
Citing people familiar with the matter, it said that any move to reduce the tariffs would hinge on Beijing's compliance with the terms of the phase one deal.
Bloomberg said the two sides had an understanding that no sooner than 10 months after the signing on Wednesday, the US would review progress and possibly consider additional cuts on tariffs affecting $360bn of imports from China.
"Steven Mnuchin's confirmation that tariffs on $360bn of Chinese goods will 'stay in place until there is a phase 2' helped sour the atmosphere," said Spreadex analyst Connor Campbell.
"That's because the chances of a 'phase 2' agreement ever actually materialising feel rather slim given how tortuous the process was to reach the comparatively simple 'phase one' deal."
Oil prices were lower at the end of the Asian day, with Brent crude last down 0.08% at $64.44 per barrel, and West Texas Intermediate falling 0.16% to $58.14.
In Australia, the S&P/ASX 200 went against the regional trend, and rose 0.47% to 6,994.80, with most subindices in the green by end-of-play in Sydney.
Across the Tasman Sea, New Zealand's S&P/NZX 50 was also in the green, advancing 0.44% to reach a record high close of 11,676.67.
It was led higher by dividend-yielding property stocks, with Argosy Property rising 1.8%, Goodman Property Trust up 1.8%, and Kiwi Property Group adding 2.3%.
Both of the down under dollars were weaker on the greenback, with the Aussie last off 0.19% at AUD 1.4516, and the Kiwi retreating 0.13% to NZD 1.5137.