Asia report: Markets rise as more stimulus packages roll in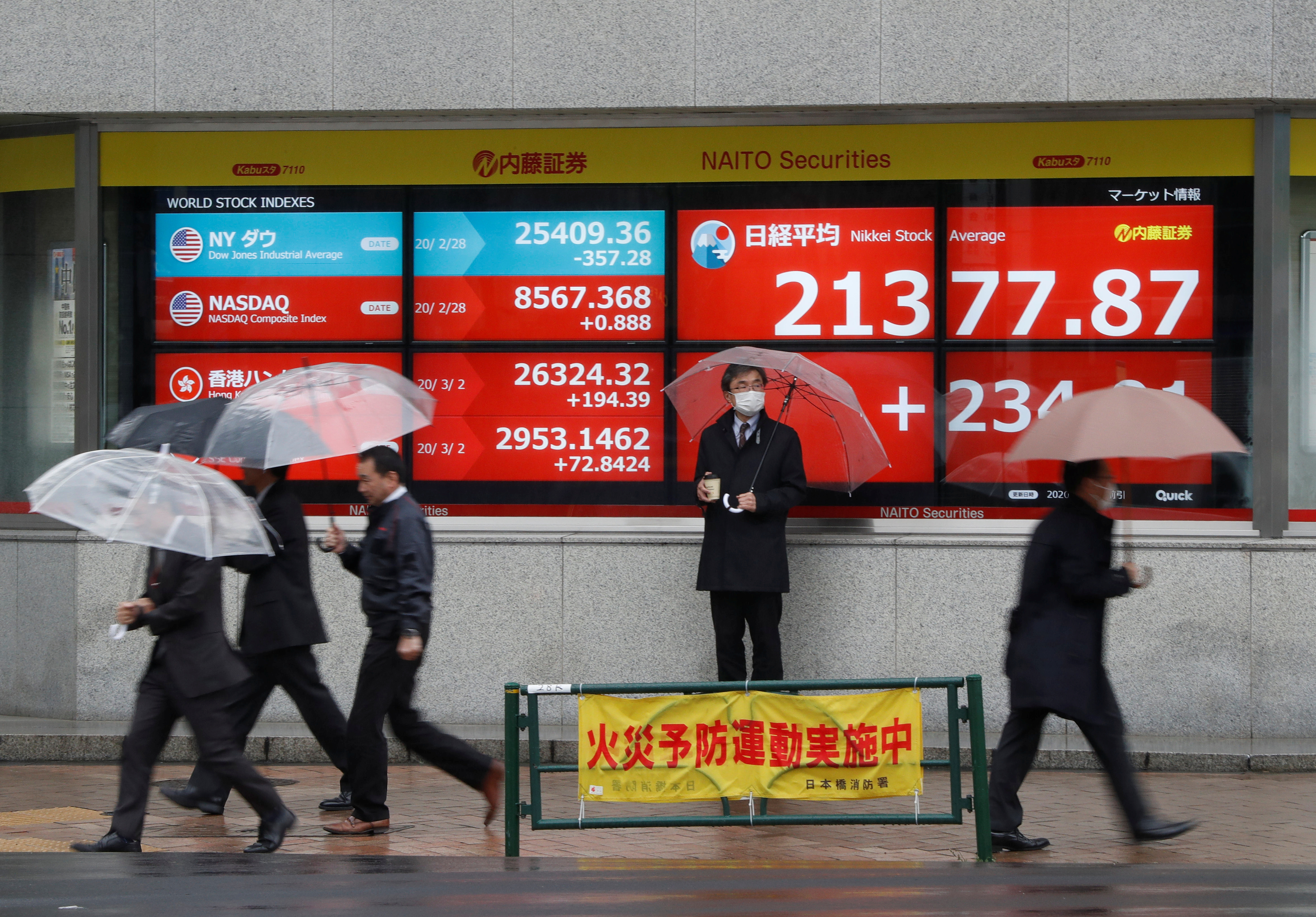 Markets in Asia finished higher on Tuesday, led by gains in South Korea and Japan, as investors continued to watch stimulus packages roll in around the world as the Covid-19 coronavirus pandemic grew.
In Japan, the Nikkei 225 was up 7.13% at 18,092.35, as the yen strengthened 0.42% against the dollar to last trade at JPY 110.76.
Of the major components on the benchmark index, automation specialist Fanuc was up 9.3%, fashion firm Fast Retailing rose 13.79%, and technology conglomerate SoftBank Group was 18.95% firmer.
The broader Topix index was 3.18% firmer by the end of trading in Tokyo, closing at 1,333.10.
On the mainland, the Shanghai Composite was 2.34% firmer at 2,722.44, and the smaller, technology-heavy Shenzhen Composite added 2.1% to 1,666.22.
South Korea's Kospi jumped 8.6% to 1,609.97, while the Hang Seng Index in Hong Kong was 4.46% higher at 22,663.49.
Both of the blue-chip technology stocks were in the green in Seoul, with Samsung Electronics up 10.47% and chipmaker SK Hynix rising 13.4%.
Coronavirus stimulus was once again the theme of the day, with the US Federal Reserve announcing an open-ended asset purchase programme overnight.
The Fed said the programme would be in the "amounts needed to support smooth market functioning and effective transmission of monetary policy to broader financial conditions and the economy".
Lawmakers in Germany were expected to follow suit with their own major stimulus measures later in the global day.
"The Federal Reserve kitchen sinking it has gone some way to calm markets," said London Capital Group analyst Jasper Lawler.
"With a little time to review, there were some astonishing measures taken."
Lawler said there were three standout measures in the Fed's package.
"Number one - open ended quantitative easing, which means the Fed will just keep buying as they see fit with no restraint.
"Number two - lending directly to businesses completely bypassing high street banks in the process.
"Number three - Corporate bond buying where the Fed can even buy corporate bond exchange traded funds in the stock market."
Oil prices were higher as the region went to bed, with Brent crude last up 3.71% at $28.07 per barrel, and West Texas Intermediate ahead 4.5% at $24.46.
In Australia, the S&P/ASX 200 grew 4.17% by end-of-play in Sydney, settling at 4,735.70.
Across the Tasman Sea, New Zealand's S&P/NZX 50 bounced 7.18% to 9,109.15, led higher by Tourism Holdings, which rebounded 32.7%, having taken a hammering in recent weeks as the country's tourism industry has essentially shut down.
Both of the down under dollars were stronger on the greenback, with the Aussie last ahead 1.5% at AUD 1.6908, and the Kiwi advancing 1.26% to NZD 1.7291.