Asia report: Markets mostly weaker as bond yields rise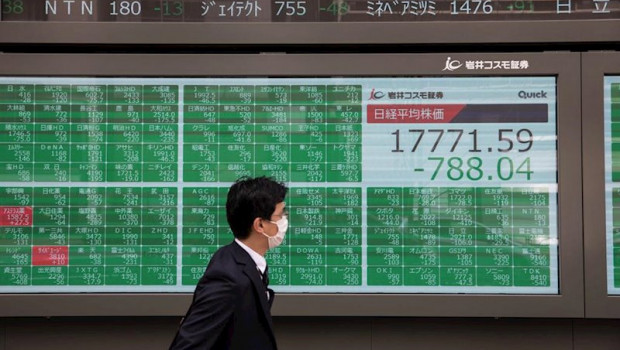 Most markets in Asia closed weaker on Friday, as investors kept a watchful eye on bond yields after the 10-year US Treasury note surpassed the 1.6% level for a short time overnight.
In Japan, the Nikkei 225 was down 2.99% at 28,966.01, as the yen weakened 0.18% against the dollar to last trade at JPY 106.40.
Of the major components on the benchmark index, automation specialist Fanuc was down 5.2%, fashion firm Fast Retailing lost 4.15%, and technology conglomerate SoftBank Group was 4.53% weaker.
The broader Topix index was off 3.21% by the end of trading in Tokyo, closing at 1,864.49.
On the mainland, the Shanghai Composite was 2.12% weaker at 3,509.08, and the smaller, technology-heavy Shenzhen Composite lost 1.79% at 2,293.69.
South Korea's Kospi lost 2.8% at 3,012.95, while the Hang Seng Index in Hong Kong shed 3.64% to 29,980.21.
The blue-chip technology stocks were weaker in Seoul, with Samsung Electronics down 3.28% and SK Hynix 4.71% weaker.
Bond yields were once again in focus, as investors bet on economic recovery and a subsequent rise in prices as Covid-19 vaccines continued to be rolled out.
On Wall Street overnight, the yield for the benchmark 10-year US Treasury note reached its highest level in more than a year, crossing the 1.6% level briefly during the session.
"The Dow's rapid decline came as bond yields shot up across the globe," said Spreadex analyst Connor Campbell of the US session.
"[This suggests] investors are considering the incoming injection of stimulus, a return to bolder economic growth, and what that means for inflation and, therefore, monetary policy."
Oil prices were lower as the region entered the weekend, with Brent crude last down 1.11% at $66.14 per barrel, and West Texas Intermediate losing 1.15% to $62.80.
In Australia, the S&P/ASX 200 slid 2.35% to settle at 6,673.30, while across the Tasman Sea, New Zealand's S&P/NZX 50 was the region's odd one out, managing gains of 0.71% to settle at 12,227.29.
Both of the down under dollars were weaker against the greenback, with the Aussie last off 0.92% at AUD 1.2820, and the Kiwi retreating 0.75% to change hands at NZD 1.3671.