Asia report: Markets mixed as Japan economic growth beats forecasts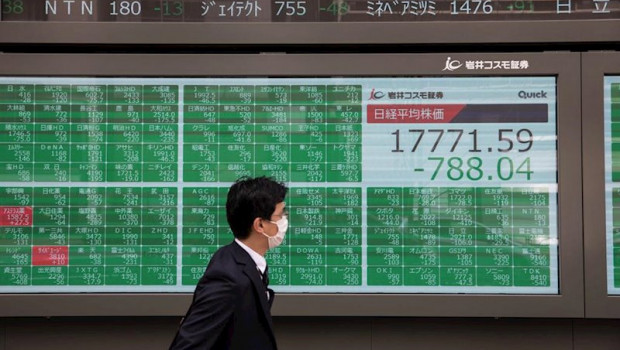 Markets in Asia closed in a mixed state on Wednesday, as fresh data on Japan's economy showed it growing by more than expected in the June quarter.
In Japan, the Nikkei 225 was up 0.89% at 30,181.21, as the yen strengthened 0.04% against the dollar to last trade at JPY 110.24.
Technology conglomerate SoftBank Group leapt 4.64%, while among the benchmark's other major components, automation specialist Fanuc was down 0.1% and fashion firm Fast Retailing lost 0.08%.
The broader Topix index advanced 0.79% by the end of trading in Tokyo, settling at 2,079.61.
Japan's economy expanded by 1.9% on an annualised basis in the quarter through June, according to data released on Wednesday morning, which was well above the 1.3% initially estimated by the government.
It was also above the 1.6% growth pencilled in by economists polled by Reuters.
"These data leave the business sector in slightly better shape, and we continue to expect a solid upswing in capital expenditure, in line with the leading indicators such as China's PMIs and core machine orders," said Pantheon Macroeconomics chief Asia economist Freya Beamish.
"Nevertheless, the economy remains very weak, thanks to mismanagement of the latest outbreak, and we expect prime minister Suga's replacement - whoever that may be - to come in with a substantial stimulus package."
On the mainland, the Shanghai Composite slipped 0.04% to 3,675.19, and the smaller, technology-heavy Shenzhen Composite went the other way, managing gains of 0.08% to 2,492.60.
South Korea's Kospi was 0.77% weaker at 3,162.99, while the Hang Seng Index in Hong Kong closed down 0.12% to 26,320.93.
Property developer China Evergrande Group was in focus in the special administrative region, with its shares managing to rise 3.92% by the close on Wednesday.
It was still down almost 5% for the week so far, however, adding to the losses it recorded last week after it warned of the possibility it could default.
Fitch downgraded its rating on China Evergrande earlier on Wednesday, following Moody's, which did the same on Tuesday due to "heightened liquidity and default risks".
The blue-chip technology stocks were on the front foot in Seoul, with Samsung Electronics up 0.26% and SK Hynix ahead 1.44%.
Oil prices were higher at the end of the Asian day, with Brent crude last up 1.05% at $72.44 per barrel, and West Texas Intermediate rising 1.26% to $69.21.
In Australia, the S&P/ASX 200 was down 0.24% at 7,512.00, while across the Tasman Sea in New Zealand, the S&P/NZX 50 lost 0.97% to 13,193.01.
The down under dollars were both weaker against the greenback, with the Aussie last off 0.2% at AUD 1.3566, and the Kiwi retreating 0.04% to NZD 1.4090.