Asia report: Markets higher amid trade hopes, Hong Kong election surprise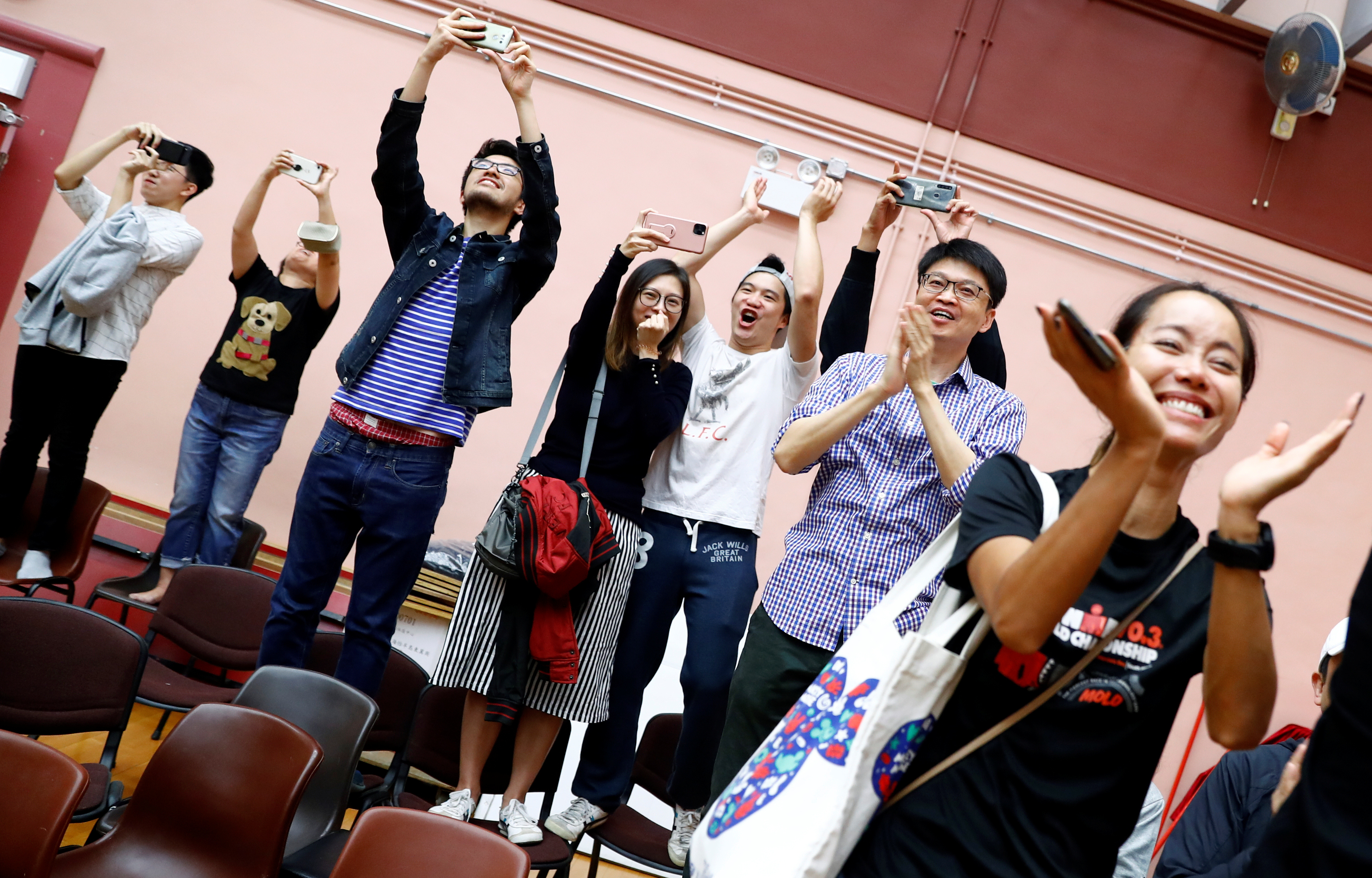 Markets in Asia finished broadly higher on Monday, led by gains on the Hong Kong benchmark, after a record voter turnout in the special administrative region led to a landslide victory for pro-democracy candidates on the city's councils.
In Japan, the Nikkei 225 was up 0.78% at 23,292.81, as the yen weakened 0.2% against the dollar to last trade at JPY 108.88.
All three of the benchmark's heavyweights were in the green, with automation specialist Fanuc up 0.78%, fashion firm Fast Retailing rising 0.32%, and technology conglomerate SoftBank Group 2.26% firmer.
The broader Topix index was 0.69% higher at the end of the day, closing the Tokyo session at 1,702.96.
On the mainland, the Shanghai Composite was 0.72% higher at 2,906.17, and the smaller, technology-heavy Shenzhen Composite went the other way, losing 0.44% to 1,600.45.
South Korea's Kospi was ahead 1.02% at 2,123.50, while the Hang Seng Index in Hong Kong leapt 1.5% to settle at 26,993.04.
The city's councils were set to be flooded with pro-democracy candidates after elections over the weekend, which came amid record voter turnout in the special administrative region of China.
Hong Kong has been rocked by months of violent clashes between pro-democracy demonstrators and police, with many commentators suggesting Beijing was hoping for a "silent majority" in its favour at the polls.
"The pro-democracy candidates controlled all but one of the 18 districts it seems," noted Neil Wilson, chief market analyst at Markets.com.
"This is a humiliation to Beijing - there is no silent majority backing Carrie Lam - it will only embolden the protest movement further, which of course carries risks for investors."
It was a mixed affair for the blue-chip technology stocks in Seoul, with Samsung Electronics up 0.39%, while SK Hynix was flat.
The trade war between Washington and Beijing remained on investor minds on Monday, as a report from Reuters suggested a second phase deal between the two economic superpowers was unlikely to happen anytime soon, citing lawmakers, officials and trade experts familiar with the matter.
Both sides were still trying to come to a final agreement on a first phase deal ahead of 15 December, when a fresh round of punitive tariffs on Chinese goods are set to begin in the US.
Sentiment was given a boost over the weekend, however, after China said it would raise penalties on intellectual property violations.
"We've had progress in an important area - China has appeared to relent to a degree on intellectual property, a key sticking point in the talks thus far," said Neil Wilson.
"Beijing on Sunday said it will increase penalties for IP violations, and lower the bar for criminal proceedings to be brought in cases of alleged IP theft.
"This could be an important step forward, but we as ever will only believe it when we see it."
China's state-run Global Times also reported on Sunday that the two nations were "very close" to a phase one trade deal.
Oil prices were lower at the end of the Asian trading day, with Brent crude last down 0.02% at $63.38 per barrel, and West Texas Intermediate off 0.1% at $57.71.
In Australia, the S&P/ASX 200 was 0.32% firmer at 6,731.40, although shares of major bank Westpac Banking Corporation were on the back foot by 1.33%.
The company announced its response to allegations from Canberra's anti-money laundering and terrorism financing body over the weekend, confirming it would immediately close an international money transfer system, and boost its efforts around the monitoring of financial crime.
AUSTRAC, the regulator, had filed for civil penalties against Westpac last week, alleging the firm's "oversight of the banking and designated services provided through its corresponding banking relationships was deficient".
Across the Tasman Sea, New Zealand's S&P/NZX 50 was ahead 0.1% at 10,953.67, led higher by energy generator and retailer Mercury NZ, which was up 3.7%.
Both of the down under dollars were stronger on the greenback, with the Aussie last ahead 0.05% at AUD 1.4728, and the Kiwi advancing 0.06% at NZD 1.5601.