Asia report: Markets firmer, Hang Seng rises from bear territory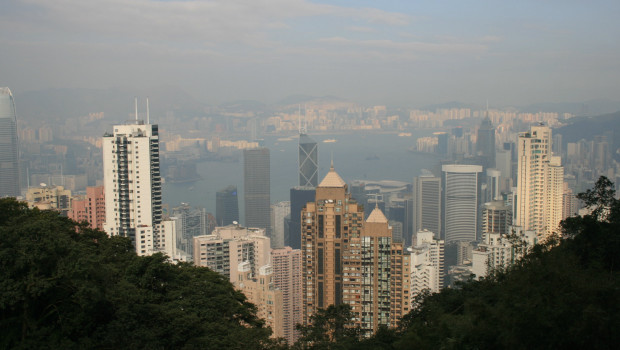 Equity markets were in the green across the Asia-Pacific region on Monday, with Hong Kong's main board pulling itself out of the bear territory it found itself in last week.
In Japan, the Nikkei 225 was up 1.78% at 27,494.24, as the yen weakened 0.25% against the greenback to last trade at JPY 110.05.
Technology conglomerate SoftBank Group was down 1.07%, while among the benchmark's other major components, automation specialist Fanuc was up 2.36% and fashion firm Fast Retailing advanced 1.14%.
The broader Topix index was ahead 1.83% by the end of trading in Tokyo, settling at 1,915.14.
On the data front in Japan, Jibun Bank's manufacturing purchasing managers' index (PMI) fell to 52.4 in August, from 53.0 in July.
Pantheon Macroeconomics chief Asia economist Freya Beamish said the weakening was expected in the context of the decline in China's PMIs in recent months, as Japan tended to lag, with the downturn driven by output and new orders.
"For now, firms are still managing to pass on previous high input price inflation, with the output price index suggesting a faster pace of gains, despite the slowdown in input price rises," Beamish explained.
"Margin repair will be an ongoing theme, with manufacturing prices tending to lag developments in commodities.
"The outlook softened, and Chinese indicators suggest Japan's PMI still has further to fall."
On the mainland, the Shanghai Composite advanced 1.45% to 3,477.13, and the smaller, technology-heavy Shenzhen Composite jumped 2.35% to 2,445.04.
South Korea's Kospi added 0.97% to 3,090.21, while the Hang Seng Index in Hong Kong managed gains of 1.05% to 25,109.59.
The gains in the special administrative region saw the benchmark come out of bear market territory, having fallen more than 20% below its most recent peak in February last week amid ongoing concerns around Beijing's regulation of the technology sector.
Seoul's blue-chip technology stocks were on the front foot, with Samsung Electronics up 0.38% and SK Hynix adding 0.49%.
In economic data out of Korea, 20-day exports bounced back to 40.9% in August, from 32.8% in July, while 10-day exports also pointed to a rebound.
Pantheon's Freya Beamish said 10-day daily averages fell, but noted that was typical for August
"Nevertheless, we were surprised by the strength of 20-day exports at the margin, with a 4.7% month-on-month rise, seasonally adjusted, even after the 6.9% increase in August.
"We had expected a weaker performance in exports to China, given the partial closure of a major port, due to a case of the Delta variant being found.
"Only around one quarter of the port was closed, however, and it's possible that August exports benefitted from front loading, with Chinese importers seeing the Delta writing on the wall."
Exports to China surged 12.3% on the month, Beamish pointed out, after rising 2.2% in July, while ships also appeared to have been a major contributor, though it was "hard to tell" from the preliminary data.
"In any case, exports elsewhere continued rising at a robust pace, so the strength goes beyond China-induced volatility.
"Full month export growth is unlikely to have picked up by much - we reckon growth ticked up to about 31% year-on-year in August, from 30% in July," Beamish said.
"Delta cases are now coming down fast in China, so the volatility should abate, after a pullback in Korean exports there in September."
Oil prices were higher at the end of the Asian day, with Brent crude last up 3.1% at $67.20 per barrel, and West Texas Intermediate rising 3.04% to $64.03.
In Australia, the S&P/ASX 200 eked out 0.39% to 7,489.90, while across the Tasman Sea, New Zealand's S&P/NZX 50 was 0.95% higher at 13,064.07.
The down under dollars were both stronger on the greenback, with the Aussie last ahead 0.69% at AUD 1.3942, and the Kiwi advancing 0.48% to NZD 1.4585.