Asia report: Markets finish weaker as Hong Kong tensions escalate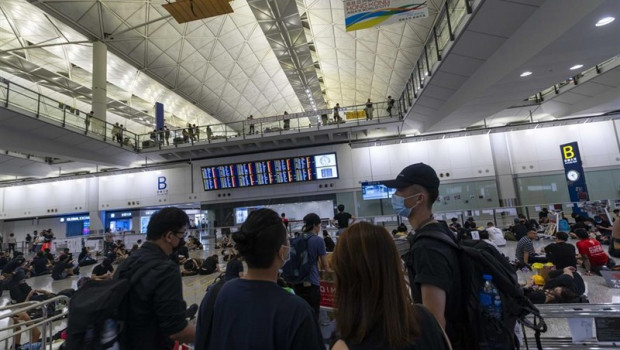 Markets in Asia were in the red on Tuesday, as investors kept a watchful eye on developments in Hong Kong, where tension continued to escalate between officials and police, and an ongoing anti-government protest movement.
In Japan, markets returned from a public holiday, with the Nikkei 225 falling 1.11% to 20,455.44, as the yen strengthened 0.09% against the dollar to last trade at JPY 105.21.
Of the major components on the benchmark index, automation specialist Fanuc was down 0.56%, fashion firm Fast Retailing lost 1.23%, and technology conglomerate SoftBank Group was 2.37% weaker.
The broader Topix index fell below the level of its last close in 2018, losing 1.15% to settle at 1,486.57.
On the mainland, the Shanghai Composite was 0.63% lower at 2,797.26, and the smaller, technology-heavy Shenzhen Composite was off 0.69% at 1,498.63.
The People's Bank of China set its renminbi loose peg to CNY 7.0326 against the dollar for Tuesday, which was stronger than anticipated, but still above the CNY 7 psychologically pertinent level for the fourth trading day in a row.
China's central bank allows the onshore yuan to trade up to 2% either side of its daily reference point.
The yuan has been a source of contention among traders after it slipped beyond the CNY 7 level against the dollar last week, which led to the US Treasury Department officially labelling the People's Republic a 'currency manipulator'.
South Korea's Kospi was 0.85% weaker at 1,925.83, while the Hang Seng Index in Hong Kong slid 2.1% to 25,281.30.
Hong Kong Airport reopened on Tuesday, after the cancellation of hundreds of flights late on Monday amid a massive sit-in by protestors.
Shares in the special administrative region's primary airline, Cathay Pacific, were down 2.55%, as Bocom International cut its rating on the stock to 'neutral' from 'buy' as a result of an expected fall in demand amid the ongoing unrest in the city.
Chinese officials upped their rhetoric overnight, using the word "terrorism" as a descriptor for the protests.
"Dropping the 'T' word is particularly disturbing as it does suggest a more aggressive mainland response, which triggered a wave of risk aversion across global markets," noted VM Markets managing partner Stephen Innes.
The blue-chip technology stocks were mixed in Seoul, with Samsung Electronics dow 1.6%, and chipmaker SK Hynix flat.
Oil prices were mixed as the region went to bed, with Brent crude last up 0.05% at $58.60 per barrel, and West Texas Intermediate losing 0.2% to $54.82.
In Australia, the S&P/ASX 200 was odd 0.33% at 6,568.50, while across the Tasman Sea, New Zealand's S&P/NZX 50 was off 0.2% at 10,854.77.
Both of the down under dollars were stronger on the greenback, with the Aussie last ahead 0.3% at AUD 1.4767, and the Kiwi advancing 0.14% to NZD 1.5492.