Asia report: Markets finish mixed as trade negativity takes hold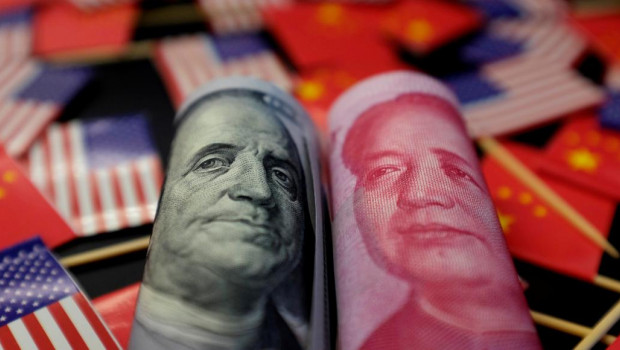 Markets in Asia finished mixed on Thursday, as investors digested disappointing industrial output data from China, as well as fresh reports that Beijing and Washington had reached yet another bump in the road of trade negotiations.
In Japan, the Nikkei 225 was down 0.76% at 23,141.55, as the yen strengthened 0.2% against the dollar to last trade at JPY 108.60.
Technology conglomerate SoftBank Group was in the green, rising 0.28%, while the other major components of the benchmark index were weaker, with Fanuc down 1.06% and Fast Retailing falling 0.09%.
Convenience store giant Familymart was one of the bourse's biggest losers, sliding 2.74%, while internet content brand Z Holdings - formerly known as Yahoo Japan - surged 19.93% after it confirmed it was in merger talks with online communications platform Line.
Tokyo's broader Topix index was 0.94% weaker by close of business, ending the day at 1,684.40.
Fresh data out of Japan showed the country's economic growth reached its lowest level in 12 months for the third quarter, with GDP growing 0.2% year-on-year for the period.
That was significantly lower than the 0.8% rise picked by market watchers.
On the mainland, the Shanghai Composite added 0.16% to 2,909.87, and the smaller, technology-heavy Shenzhen Composite rose 0.61% to 1,624.13.
Industrial output in China was up 4.7% year-on-year in October, according to fresh official data released during the day.
That fell well short of the 5.4% growth economists polled by Reuters had pencilled in.
South Korea's Kospi was 0.79% firmer at 2,139.23, while the Hang Seng Index in Hong Kong lost 0.93% to close at 26,323.69.
Chinese internet giant Tencent watched its shares fall 2.32% in Hong Kong trading, after it reported a 13% fall in profits overnight.
The blue-chip technology stocks were mixed in Seoul, with Samsung Electronics up 0.57% and SK Hynix finishing flat.
Naver, the parent company of Line , was 13.61% in South Korean trading after the merger discussions with Z Japan were revealed.
Sino-US trade developments remained in focus, with reports from Wednesday evening suggesting that negotiations for a phase one deal had stumbled on disagreements over farm purchases.
"We were told a few weeks ago that a phase one deal was close, and would be signed soon and yet here we are still finding problems around soybean and pork purchases, particularly in terms of the actual amounts," said CMC Markets analyst Michael Hewson.
"And so the theatre goes on, with a deal unlikely to be signed off any time soon."
Oil prices were higher by the end of the Asian session, with Brent crude last up 1.02% at $63.01 per barrel, and West Texas Intermediate rising 0.85% to $57.61.
In Australia, the S&P/ASX 200 was up 0.55% by the end of trading, finishing at 6,735.10, as data from the sunburnt country showed unemployment rose to 5.3% in October, returning from a fall in September.
Net new jobs in Australia were also down, falling by 19,000 during the month, which was the biggest decline for that measure in three years.
Across the Tasman Sea, New Zealand's S&P/NZX 50 partially recovered from a sell-off in the previous session, rising 0.6% to 10,899.25.
Local logistics giant Mainfreight led the benchmark index higher, rising 3.1% after it reported decent first-half earnings growth on Wednesday, though it was still below some analyst expectations.
Both of the down under dollars were weaker on the greenback, with the Aussie last off 0.75% at AUD 1.4733, and the Kiwi retreating 0.31% to NZD 1.5644.