Market buzz: Oil tumbles on reports of Trump's Iran decision, Sorrell speaks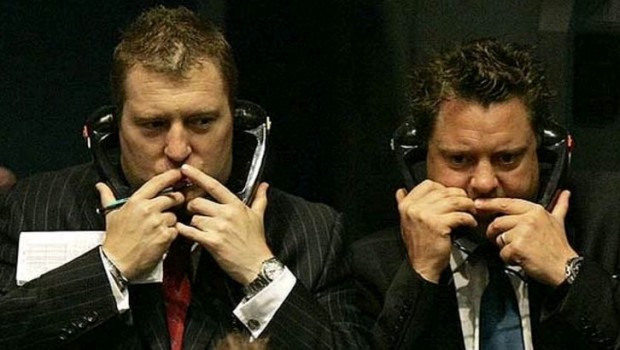 1706: FTSE 100 telecoms giant Vodafone is nearing a deal to acquire German and eastern European assets from Virgin Media owner Liberty Global in a near-£16bn deal, the FT is reporting.
The newspaper said the deal could be announced as soon as Wednesday morning, with Liberty's first-quarter results due later today.
1633: Oil prices are tumbling on a CNN report that President Trump "will allow sanctions to go forward on Iran", a first step toward withdrawing from the nuclear agreement, before also veering off to say that not only could the sanctions take months to put into effect but that the Trump could change course before he announce his decision later today.
WTI crude futures down 3.5% to $68.2.
1625: Front month Brent down 2.974% to $73.97 a barrel on ICE.
1501: WPP shares are down today. Not sure if it's a coincidence that ex boss Sir Martin Sorrell was earlier speaking at the Techonomy conference in New York. "I'm going to start again" in advertising, Sorrell told industry event, saying he had been "extracted" from WPP, not mentioning that it was rather under a cloud and with non-disclosure agreements on both sides, which have rather got up the noses of some investors. "I'm not going into voluntary or involuntary retirement… I love the industry," Sir Martin said.
Possibly dampening hopes it could spin off its Kantar research arm, there was also industry news that the group was combining its Kantar Analytics and GroupM subsidiaries in India. The new global analytics practice will combine the expertise of 1,500 data analytics experts from a number of the firm's specialised divisions.
1500: Given that most silver is a by-product of mining for copper, gold, zinc and lead, analysts at Capital Economics believe that higher prices for industrial metals will see silver output bounce back by 3% in 2018 after falling 4% in 2017.
Nevertheless, the main catalyst to their end-2018 $16.0 per ounce price forecast for silver was likely to be policy tightening by the US Federal Reserve, they said.
1445: Analysts at BoA-ML have penciled in a November hike in Bank Rate.
"We think the current softness in the data makes a turnaround by August hard to envision, leaving the 15bp of hikes priced in too high. In GBP the re-pricing of May rate hike expectations has been the major driver of underperformance over the past month. With the USD in the ascendency, we think GBP/USD is vulnerable to further losses and the Bank of England rate decision is unlikely to change that narrative in the near term," they add.
1249: Some analyst comment on the Virgin Money deal.
John Cronin at Goodbody, having "for a long time" expressed concern in relation to VM's book value "due to credit card income recognition", expects VM's board to reject the initial offer to wrangle a cash sweetener as part of the offer. He suggested the proposal in its current form "will be rejected, but that it paves the way for a part-cash part-share deal" at "no more than (and potentially less than) 359p per share", once CYBG has migrated its mortgage book to the internal ratings-based (IRB) approach.
"While this will drive VM's stock price further upwards today, we believe scepticism will set in among VM shareholders regarding what the shape of a full and final offer would look like," Cronin said, adding that the approach and "imminent" IRB migration should provide strong support for CYBG's stock price in the coming days/weeks, with any subsequent scepticism surrounding the shape of a final offer "could pave the way for CYBG to acquire VM at or below the 359p level".
Noting that the offer values VM at £1.6bn, around 15% upside to the last close price, the bid value is 27% higher than the IPO price in November 2014 but 23% lower than the share price peak in June 2015, Robert Noble at RBC Capital Markets reckons the offer price could be too low.
"If VM is successful in building the digital bank from scratch we see an ROTE of 15% in 2023 and a theoretical valuation of 485p - and therefore the bid price could be seen as too low."
Gary Greenwood at ShoreCap sees "much logic" behind the deal and significant potential cost savings, he points out that combining two banks is never a simple process.
"The challenges of bringing together and integrating two IT systems in particular represents a significant challenge, one that will not doubt receive significant regulatory attention given the recent issues at TSB, where the migration onto Sabadell's platform has been a disaster. The challenges of a complicated and lengthy integration process may also distract management from business as usual, thereby resulting in the combined entity potentially losing ground on competitors in the near-term."
Shares in Metro Bank and OneSavings have both popped this morning, with this reason added to the speculation that they could soon be in play.
1237: Ed Morse at Citi tells Bloomberg TV there is about 5 dollars per barrel of Iranian political risk built into the oil price.
1204: The Fed could raise interest rates faster and higher than most people expect, says JPMorgan Chase CEO Jamie Dimon, suggesting it could force yields on 10-year Treasury notes up to 4%. Speaking to Bloomberg TV overnight, Dimon said: "You can easily deal with 4% bonds and I think people should be prepared for that."
1148: Analysts at Olivetree, the M&A specialist, sees no evidence of a wide-ranging shareholder rebellion at Takeda over its deal to acquire Shire.
"The market is broadly concerned that large Takeda shareholders are rebelling against management's acquisition ambitions and voting with their feet – potentially intimating a threat to any vote to approve the deal. The data doesn't support this...Outside of one holder, there has been very little activity at all amongst the large holders. In fact, this group has actually been a small net buyer, there are very few sellers indeed."
While someone is selling the stock, but an institutional group representing nearly 50% of Takeda, is the investing community that Takeda "will most likely rely on to carry a shareholder vote", says Olivetree. "Even if we model a 66% voting hurdle, modelling a turnout of 75% (last year's was c73%) sees this close to being cleared with just the support of this group."
In fact, Olivetree says the bigger risk introduced by this performance is the erosion of value to Shire holders: "if one vote is potentially threatened, it could be Shire shareholders deciding the headline offer isn't sufficient".
1046: US dollar edging up 0.37% versus Argentine peso to 21.9458 and by 0.36% against Indonesia's rupiah to 14,.052.0.
1045: After the baking hot bank holiday weekend, shares in retailer Kingfisher are up 3% as investors anticipate burgeoning sales of garden furniture, barbecue equipment and the like.
Also Morgan Stanley has highlighted the stock, saying there the shares "look very cheap".
If the CEO's 'One Kingfisher' transformation works there is "material upside to consensus forecasts", though analysts remain sceptical, but even if it doesn't, when investors start valuing the company on assets that include £3.5bn of property and nine separable businesses, plus no debt and a surplus in its pension scheme, "the shares look very cheap to us". The bank's sum-of-the-parts valuation suggests Kingfisher could be worth 430p per share on this basis.
1034: More deal news of sorts, as FirstGroup shares tumble after private equity group Apollo Management said it would not be making an offer for the transport operator.
1032: More on Comcast, which yesterday was reported to be preparing an attempt to gatecrash Disney's purchase of assets from 21st Century Fox.
The cable network has pledged to operate Sky News arm for at least five years if its offer for Sky was successful. The move complicates an already complex picture because Comcast is bidding against Rupert Murdoch's Fox for the 61% of Sky that Fox does not own.
0954: Prime Minister Theresa May's proposed post-Brexit customs partnership with the EU is "crazy", says foreign secretary Boris Johnson in an interview in the anti-EU Daily Mail.
"It's totally untried and would make it very, very difficult to do free trade deals," Johnson said. "If you have the new customs partnership, you have a crazy system whereby you end up collecting the tariffs on behalf of the EU at the UK frontier."
It was reported in the Times earlier that the PM has put off another confrontation over her favoured customs partnership "as she tries to erode cabinet opposition". Cabinet discussions on a revised version of her plan have been reportedly been pushed back from this coming Thursday until a week on Wednesday.
There will be a House of Lords vote tonight on a series of amendments as officials work to try to find a deal on May's preferred option of a customs relationship with Europe that is acceptable to Brexiters and remainers in her cabinet, as well as MPs and EU negotiators, the Guardian reported.
1025: Three-month LME copper futures up at $6,852 per metric tonne versus $6.839 on Friday.
0904: Halifax data this morning shows a significant slowdown in house price growth, with the annual rate of increase falling to 2.2% from 2.7%. Month to month the fall of 3.1% in April is much worse than the consensus 0.2%. The three-month average of year-over-year growth in prices dropped to 2.2%, from 2.7% in March, also well below the consensus, 3.2%.
The Halifax index is by far the most volatile measure of house prices, even though it is supposed to be seasonally adjusted, says Sam Tombs at Pantheon Macroeconomics, "so it would be a mistake to sound the alarm over April's huge fall in prices".
Tombs notes that the sharp fall, the biggest since September 2010 and the second largest since the index began in 1983, followed a large 1.5% month-to-month rise in prices in March.
The Halifax numbers confirm other reports of a more general slowdown in market activity, with fewer homes being sold, fewer houses being put on the market, and a decline in consumer confidence, which if it continues for the rest of the year would see 2018 turn out to be the least active year for the housing market since 2013. Halifax is confident that this is unlikely to lead to a big fall in house prices, since mortgage rates remain low, mortgages remain available and supply is still tight.
0847: While there is "much logic" and significant potential cost savings to be made in the combination between Virgin Money and CYBG, combining two banks is never a simple process, stressed analyst Gary Greenwood at Shore Capital, though he thinks the owner of the Clydesdale and Yorkshire bank may need to sweeten its offer.
"The challenges of bringing together and integrating two IT systems in particular represents a significant challenge, one that will not doubt receive significant regulatory attention given the recent issues at TSB, where the migration onto Sabadell's platform has been a disaster."
Though Virgin's shares have been languishing on valuation multiples which he believes fail to reflect the underlying value of the franchise, he said he thinks the premium being offered by CYBG is "on the lean side" with the implied valuation not seeming to reflect any takeover premium.
"In addition, when we take into account that we believe the fair value of CYBG shares on a standalone basis is only 290p (versus Friday's closing price of 318p), the offer looks even more stingy. We therefore believe that CYBG may need to further sweeten its offer in order to get this deal over the line and would not be surprise to see Virgin Money stand its ground."
0847: The FTSE 100 is up 18 points or 0.24% to 7,585.18, with the mood lifted by deal news from Virgin Money, Shire and Paragon.
Virgin Money has spiked up 8% after confirming that CYBG was interested in a takeover, as market chatter last week had suggested. CYBG has proposed buying its FTSE 250 rival for £1.6bn, which has seen shares in fellow challenger banks Metro Bank and OneSavings both rally too.
Shire is also on the up as it agreed a takeover offer from Takeda Pharmaceutical valued at close to £46bn, with three Shire directors to join the Japanese drug-maker's board as part of the deal.
That's far from everything, as Paragon Banking Group is also on the takeover trail. Confirming reports from yesterday, the buy-to-let property lender said it is mulling a possible acquisition of residential development finance lender Titlestone.
The Competition & Markets Authority has referred the proposed merger of SSE's retail business and Npower for an in-depth investigation after finding competition concerns.
0844: Sky suitor Comcast, which last month announced a £22bn all-cash "pre-conditional cash offer" for Sky of £12.50 per share, has put out a statement making various assurances about Sky News after reports yesterday from Reuters that it is talking to investment banks about obtaining financing for an all-cash bid for 21st Century Fox to challenge Disney's $52bn deal.
0841: Tuesday's London open market report finds sunburnt traders returning to their desks from the baking Bank Holiday weekend to find a mix of deal news and encouraging Chinese trade data, with announcement to come later today from US President Trump over the Iran nuclear deal.
"Repeated criticism from Tump over the US Iranian nuclear disarmament deal has traders fearing that a withdrawal from Trump could see US sanctions being re-imposed on Iran," says London Capital Group analyst Jasper Lawler. "These sanctions would almost certainly include reductions to the country's oil exports, jolting the oil market and lifting the price of oil in recent sessions."
Trump tweeted on Monday he will announce a decision on the Iran deal on Tuesday.