Market buzz: Some analysts see four Fed hikes, Fed funds futures still say otherwise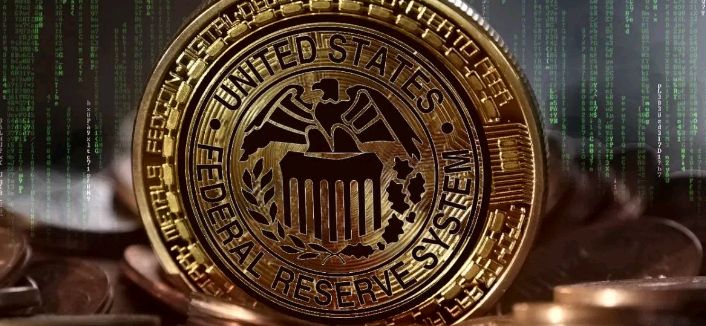 1847: Northern Ireland talks collapse. DUP's Arlene Foster points to disagreements over a "stand alone" Irish Language Act as the main stumbling block, BBC reports.
1707: Japanese yen at 15-month high versus US dollar [...] yield on benchmark 10-year US Treasury note up seven basis points at 2.90%.
On that note, on Tuesday strategists at BofA-ML argued that the BoJ's stealth reduction in bond purchases on 9 January failed, saying: "The BoJ's stealth to be decisive in the transition from an excessively accommodative to a normally accommodative policy [...] In the future, the BoJ might employ greater stealth in its negative interest rate policy and ETF purchases."
1635:Close Footsie has finished the day higher, overcoming a bid in the pound, as Wall Street gained despite a stronger-than-expected January CPI print. Industrial metals and mining stocks fared best, helped by commodity price gains in the absence of Chinese sellers due to the start of the Lunar New Year holidays. WPP and Virgin Money were higher on broker talk. Helping to put a bid in Sterling, the Bank of England's Agents' summary of economic conditions noted rising wage pressures. Some analysts explained that US share price gains were the result of the weak retail sales data published alongside the consumer price data, which undershot forecasts. Perhaps, nevertheless, that did not stop benchmark two-year US Treasury note yields from climbing by six basis points to 2.16%. FTSE 100 up 45.96 points to 7213.97.
1630: Here's one seemingly plausible explanation for Thursday's market action, courtesy of CMC Markets UK's David Madden.
"Markets were very volatile on the back of the US inflation and retail sales figures. In January the inflation rate held steady at 2.1%, which caught traders off guard as the consensus was for a decline to 1.9%. Retail sale actually declined by 0.3%, which was a big a miss as economists were forecasting an increase of 0.2%.
"The initial reaction was a hawkish one, as traders viewed the headline CPI number as more evident the Federal Reserve could hike interest rates four times this year. As trader digested the data, it sunk in that CPI just held steady and there was a sizeable decline in retail sales, so the numbers weren't as good an initially thought."
1545: Some old hands in the market like to say that volatility is the hardest thing to 'call'. CBOE VIX down 19.46% to 20.11.
1535: Like Pantheon Macroeconomics, Barclays Research is also expecting four interest rate hikes from the Fed in 2018 (Fed funds futures still say two hikes, 60.4% probability of a third, Bloomberg estimate probably a bit above that).
Commenting on today's CPI data, Michael Gapen and Pooja Sriram at Barclays are also highlighting the unusual strength core goods prices (such as apparel and used car prices), pointing out that the rise in the former was the largest increase since February 1990, while the latter was still being impacted by the post-hurricane strength "surge" in auto sales.
Even so, they added that "other core goods were up 0.3% m/m and we will remain watchful for signs that core goods prices have more momentum than we anticipate."
"[...] other core goods were up 0.3% m/m and we will remain watchful for signs that core goods prices have more momentum than we anticipate."
1412: Commenting on the data, Ian Shepherdson, chief US economist at Pantheon Macroeconomics, perhaps one of the more 'hawkish' economists in terms of his inflation forecasts, said: "Coming so soon after the out-sized Jan wages numbers, it will be easy for inflation bears to spin a story of rising wage gains lifting inflation.
"That's a premature judgement, not least because just two components - apparel and medical services - account for the overshoot against consensus."
Shepherdson also pointed out that gains in apparel costs followed a long stretch of unusually low readings while those for medical care services were typically "very erratic" so some correction could be expected in February.
All told, he believed the underlying trend was at roughly 0.2% per month, although that meant CPI would gradually move towards 2.5%, which was consistent with 'core' PCE (the Fed's preferred price gauge) to 2.0% year-on-year.
"[...] likely rather quicker than the Fed and the markets expect. This report does not constitute an inflation disaster, but it's clearly a threat to markets which still don't fully price-in the three hikes the Fed expects; we think four are more likely."
S&P 500 futures down 0.61%.
1338: In reaction, the yield on the benchmark 10-year US Treasury note has spiked higher by almost five basis points to 2.88% while S&P 500 futures (2,630) are pointing to a 1.09% drop at the opening bell. In the background, there is some 'market chatter' around reports that Cleveland Fed chief Loretta Mester (a well-known 'hawk') has the best odds of being nominated to the post of Federal Reserve vice-president.
On the flip-side, following January's stronger-than-expected jobs report some market commentary appeared to have been highlighting that new Fed chair Jerome Powell's training was not as an economist and - perhaps - even insinuating he might be beholden to the White House, which nominated him.
1335: US dollar spot index up around half a percentage point to 90.124.
1332: Credit Suisse trims target on Coca Cola CCH from 2,820p t0 2,700p citing translational FX impact.
1330: US headline CPI for January prints at up 2.1% year-on-year (consensus: 2.0%), the same as for December, while 'core' has come in at 1.8% (consensus: 1.7%) also the same as in the month before.
1230: Ahead of today's US CPI release, Craig Erlam at Oanda is pointing out to clients that: "While the CPI number isn't the Federal Reserve's preferred inflation measure – which could impact how traders respond to it - it is released a couple of weeks earlier than the core PCE price index and so is seen as being indicative of inflationary trends. This means markets can be sensitive to the release, particularly during times of increases sensitivity, like we're seeing at the moment." Futures: Dow mini: +39.18, S&P 500: +6.94, Nasdaq Composite: +31.55.
1221: Shire posts 8% rise in full-year 2017 proforma sales to $14.4bn and reiterates medium-term targets. Company says: "The mid-term outlook for growth is positive driven by our Immunology franchise, multiple near-term launches, and international markets. We are committed to achieving our projected revenue target of $17 - $18 billion in 2020."
Nevertheless, Richard Hunter at Interactive Investor points out: "Shire's ability to pay down this debt is under scrutiny, whilst the general level of competition in some of its key areas is heightening. The company is also under increasing pressure to replace the products which will lapse into patent expiry over the coming years and the immediate outlook is guarded, all of which in total gives the company potentially hazardous headwinds."
1220: In a research note entitled: "A small fish in a crowded pond", JP Morgan downgrades AG Barr to 'underweight', providing the following explanation: "We believe the UK soft drink market will come under pressure after the introduction of the sugar levy in April; we expect carbonates volumes to drop by 1% and competition to intensify."
1138: ANC will hold no-confidence vote on Zuma on Thursday, WSJ reports citing the party's Treasurer.
1123: Credit Suisse points out that depending on if Sky wins one (of two) of the smaller packages left then it might end up paying the same it did last year, versus the 40% increase it had expected. Labeling it a "once-in-a-decade" opportunity, the Swiss broker points out how shares in British American are trading at a forward price-to-earnings multiple of 14.5, the lowest in five years. "Paradoxically, in FY18 we expect BAT to deliver organic sales growth of 6.2%. Not only is this the highest growth rate since 2011, but we believe a 5-7% pa growth rate is sustainable medium term as BAT's sales mix shifts in favour of next generation tobacco products." CS also positive (report is from yesterday) on latest EIA January well completion data and read-across for Weir. Capita target lowered from 455p to 187p.
0945: Deutsche Bank analysts are heart torn on St.Valentine's Day, Jim Reid reveals. Their long-standing forecast has been for inflation to make a comeback in 2018 - but perhaps not today. The house forecast at the German investment bank is for core US CPI to tick-down in January year-on-year. As an aside, he mentions the added uncertainty around today's print given BLS's recently updated seasonal adjustment factors. They imply that CPI will be 4 basis points less than what otherwise might be expected. That could easily mark the difference between January's reading being marked up, or down.
0935: According to BoE's February update on agents' summary of economic conditions: "Recruitment difficulties had remained at an elevated level, and pay growth had picked up."
0930: Treasury's Hammond makes case of benefits for both sides from a transition period after Brexit: "In the short term, our priority is to offer certainty. To do this, we must agree a time-limited Implementation Period after we leave the EU. Again, this is in both our interests because businesses across Sweden, the UK, and Europe will have time to prepare for a single set of changes once we know what our future partnership will look like." Cable down 0.09% to 1.3873.
0926: Michael Hewson on falling liquidity in S&P 500 futures: "One thing has been particularly notable in the past few days is how liquidity in the US S&P futures market has fallen back sharply since the beginning of the month. Volatility may well have picked up sharply in the past few days killing off the short volatility trade in the process, but it appears to have been at the expense of liquidity which has fallen to historically low levels, and well below the levels seen in January."
0912: Russian military manoeuvres in Kuril islands making the headlines, might negatively impact Japan PM Abe's popularity (yen).
0911: Stocks have started the morning higher, tracking slight gains overnight on Wall Street as Fed chief Powell said policymakers are keeping an eye on financial stability risks. Asian stock indices have put in a mixed performance overnight, although the Shanghai Stock Exchange's Composite Index and the South Korean Kospi closed in the black, clocking in with gains of 0.45% and 1.11% each. Early gains on the Footsie led by Coca Cola HBC, Sky, alongside financials. To take note of, the CBOE's VIX fell 8.57% on Tuesday, ending the session at 22.83, alongside allegations of some less than transparent trading practices that were impacting it. Also of interest, CMC Market's Michael Hewson is calling attention to the recent fall in liquidity in S&P 500 futures. Against that backdrop, all eyes are on today's US CPI figures for January. Economists are calling for a decline in headline CPI from 2.1% year-on-year to 2.0% and a dip in the 'core' rate from 1.8% to 1.7%. FTSE 100 up 50.02 at 7,219.14.