Market buzz: BT fails to inspire, Carney says economy will pick back up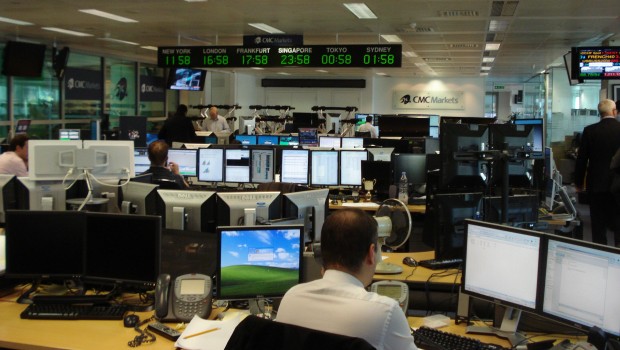 1655:Close UK economy will pick back-up, not "rocket back up", driven by exporters and investment, Carney tells the BBC.
In the end, we will need to do some adjustments to interest rates "but at a pretty gentle pace", he says.
Global, European economy less of a risk. The biggest risk is probably around household spending, Carney adds.
1609: Multiple broadcast interviews (BBC, ITV, Sky and Channel Four) with Mark Carney are scheduled for today after 1600 BST.
1524: Commenting on the latest US CPI data, Mickey Levy at Berenberg Capital Markets said: "The underlying U.S. consumer price inflation trend is stabilizing after accelerating since late 2017 and should quell concerns for now about a widespread and sustained heating-up of inflation."
"Our base case is for consumer price inflation to increase at a moderate pace in the medium term, without affecting economic momentum or the Fed's monetary policy dramatically, but we do acknowledge that a slew of survey, producer price data, anecdotal reports, and higher wages point to firming inflationary pressures and that the risks to inflation are to the upside in 2018."
Meanwhile, Barclays's Pooja Sriram was of the view that: "Looking further out, we expect fiscal stimulus to keep the US economy on an above-trend growth path, leading to increased resource utilization over time, which should help keep inflation around the Fed's 2% target for the rest of the year."
1406: With oil prices having recently rallied to their highest level in nearly three years price, Brent crude oil could conceivably rise to $90 per barrel by the second quarter of next year, predicts BofA Merrill Lynch, which will have a big impact on inflation.
Earlier, Oxford Economics said concerns about the impact of oil prices on activity and inflation are becoming widespread.
"We simulate a scenario where oil prices reach $85pb in Q3 2018 and then remain at that level until the end of 2020 to gauge its impact on the Eurozone.
"The simulation shows that the impact on consumer prices is notable, adding 0.4ppt to our baseline and inflation peaking at 2.4% in 2019, a six-year high. GDP growth falls by a more moderate 0.1ppt per year. The impact varies across countries, with Spain being hit the hardest given its largest dependence on oil."
1401: US 'net neutrality' rules will cease around June 10, the Federal Communications Commission has said.
1352: US consumer price index up 0.2% in April, below the consensus of 0.3%. The core CPI rose 0.1%, also below the consensus of 0.2%, the Labor Department revealed.
1348: The pound is down 0.16% at 1.3525, having jerked higher and lower while eyes have been on the BoE.
While the pound remained volatile throughout Mark Carney's press conference, observes market analyst Craig Erlam at Oanda, the bulk of the decline after the release – more than 0.5% against the dollar – came in response to the new economic projections which forecast lower growth and inflation over the next three years.
"Carney may have expressed confidence in the outlook but the forecasts were less convincing. Still, markets continue to price in a rate hike this year – most likely in November – which assuming Brexit negotiations progress as planned, will be far more convenient for the central bank."
1330: US headline CPI printed at up by 2.5% year-on-year for April, as expected. At the 'core' level on the other hand, CPI came in at 2.1% (consensus: 2.2%).
1327: Barratt Developments is still riskier than its peers, says Shore Capital, keeping its 'sell' rating on the stock.
"The Q3 trading update said nothing that would cause us to change forecasts, valuation or recommendation," ShoreCap says, with the macro environment for housing visibly worsening, especially on house prices.
"Barratt remains, in our view, riskier than its peers due to lower returns (thus higher sensitivity to weak pricing) and a weaker, true financial position. Barratt is less over-bought than its large cap peers and closer to our fair value (520p) but we remain cautious and remain at 'sell' although with less conviction than six months ago. We see better value still in the midcaps or in the materials supply chain for those still wanting exposure to the housing sector."
1239: The BoE decision to keep interest rates on hold is unsurprising and "the right decision", says Suren Thiru, the British Chambers of Commerce's head of economics, given the loss of momentum suffered by the UK economy in the first quarter and the downgrade to their 2018 GDP growth forecast.
"That said, the limited lowering of its GDP growth and inflation forecasts over 2019 and 2020, and the hawkish tone of the minutes from the latest MPC meeting, suggest that the prospect of an interest rate rise this year looks to have been delayed, rather than discarded.
"In our view the Bank of England remains too bullish about the UK's growth prospects over the next few years despite their downgrade to the 2018 forecast, which is now in line with our own outlook. Similarly, business investment is likely to be more sluggish than the Bank of England is currently forecasting, with the cost of doing business in the UK likely to weigh on investment decisions. Similarly, the contribution of net trade to UK GDP growth is likely to be more limited than suggested by the central bank's latest forecast. While UK export growth is likely to remain strong, imports are likely to grow at a faster rate than the bank expects with little evidence of significant import substitution. We currently expect that UK interest rates will rise to 0.75% this year, possibly as early as August."
1234: The MPC's conviction that it needs to raise interest rates over the next three years to keep underlying inflation pressures in check hasn't been shaken by recent weaker-than-expected GDP and inflation data, says Pantheon Macroeconomics, noting that CPI projections were based on markets' expectations for higher interest rates.
The MPC "wisely" refused to clearly signal the exact timing of the next rate rise, Pantheon said. "We continue to think that the odds of the August rate rise are slightly above 50%, given that the recent rebound in energy prices means that the latest inflation print probably will be higher before the MPC's August meeting than at present. But the Committee will be sensitive to the activity data too, and given that business surveys so far suggest the risks to its new GDP forecast lie to the downside, the next rate rise easily could slip back to November."
1204: The Bank of England's Monetary Policy Committee voted 7-2 to keep interest rates steady, as expected, with Ian McCafferty and Michael Saunders again voting to raise Bank Rate from 0.5% to 0.75%. The MPC stuck to their forecasts for a moderate pace of economic expansion over the medium-term, while pointing to current market pricing for another hike in Bank Rate around the turn of the year.
The MPC expects the estimate of quarter-on-quarter GDP growth in Q1 to be revised up to 0.3%, from 0.1%, and expects growth of 0.4% in Q2. And it revised down its two-year ahead forecast for CPI inflation to 2.03%, from 2.16% in February.
"There was value in seeing how the data unfolded over the coming months, to discern whether the softness in Q1 might persist, and to learn about the extent to which the economy was evolving in-line with the May Inflation Report projections," the MPC judged, according to the minutes of their meeting.
1028: On BT, analysts at RBC say the company is "strategically very well positioned and is addressing the overhang issues which have concerned investors over the last 18 months", with analysts predicting the company is "likely to announce a large consumer facing convergence push" in the next few weeks.
1024: The FTSE 100 is down 3 points at 7,659.58 as European stock indices have pretty started Thursday morning in much the same way as they have all week, notes IG analyst Chris Beauchamp, moving higher despite the signs of geopolitical instability in the Middle East.
"However for a change the FTSE 100 is not leading the way, weighed down by a host of ex-dividends and a miserable update from BT," Beauchamp says, reckoning cutting jobs is a good first step, "but BT has a number of large mountains to climb, with no real sign that the current plans can really turn the ship around."
"Today's BoE meeting could see a host of outcomes, but a 'hawkish hold' is probably the best that sterling bulls can expect. If the Bank really wants to move this year, then time is running out, since the EU summit in October limits its freedom of manoeuvre. Sterling looks primed for a short-term rebound in all but the most dovish of circumstances, but it may not last long."
Ahead of the US open, we expect the Dow to start at 24,562, up 20 points from yesterday's close. He adds: "Even the modest retreat this morning barely puts a dent in the dizzying rally over the past six weeks, while all eyes have turned to the S&P 500, which is moving back above 2700 in a tentative fashion and is threatening to stage a breakout from its current downtrend."
0825: Industrial production rose 0.1% in March, short of the expected 0.2%, as manufacturing production fell 0.1%, though this was not as bad as the 0.2% fall predicted. UK construction output was down 2.3% in March, as expected, with the year-on-year figure down 4.9%, not as bad as the 5.7% fall feared.
The trade deficit widened, from £1.2bn in February, to £3.1bn in March, with net trade appearing to have contributed very little to GDP growth in Q1 as import volumes fell by 0.3% on the quarter and export volumes only rose by 0.1% in Q1.
"Today's activity figures did little to support suspicions that the overall economy grew a bit more quickly than the Q1 GDP figures suggest," says Capital Economics. Against this background, economist Ruth Gregory says "it is hard to see the MPC hiking interest rates this afternoon. However, we still think that improving data in the coming months will allow the Committee to raise rates again in August."
0825: BT is down 9% this morning to new five-year lows - not quite what CEO Gavin Patterson would have hoped with his grand new strategy update.
Here's Lee Wild, head of equity strategy at broker Interactive Investor, setting the scene for the 50% fall in recent years of BT's shares: "Part of the reason for BT's decline is the inevitable heavy spending needed to upgrade the fibre network with potentially no incremental return. But it's finally taken action which it clearly believes will signal a change in fortunes.
"Cutting 13,000 admin and middle management jobs and hiring 6,000 staff in more relevant roles, including engineers to accelerate rollout of fibre broadband, is common sense. Finding £1.5bn of cost cuts and moving out of its expensive London HQ to focus on 30 fit-for-purpose hubs, is the kind of action BT shareholders have wanted to see for years.
"Too long a bloated, lumbering beast, BT's recognition that it must become a 'lean and agile' organisation is long-overdue. It is both dramatic and far-reaching, yet both sensible and critical if the business is to compete with rivals who saw the future of a rapidly changing industry much quicker than BT.
"Investors need some convincing, however, if the grim response to the plan, fourth-quarter results and the pension review. BT shares are down sharply but remain cheap on most valuation models and a dividend of yield of over 6% is compensation for risk involved in making Gavin Patterson's grand plan work."
0815: Next has upgraded its profit guidance for the year as it posted a rise in first-quarter sales thanks to unusually warm weather in recent weeks.
Nicholas Hyett, analyst at Hargreaves Lansdown, says: "Few retailers would go to the lengths Next has to play down what are undoubtedly strong results, especially when UK retailers are facing such a tough environment. But there's method in the madness. If, as Next seems to believe, the strong first quarter reflects shoppers pulling forward their summer purchases to take advantage of the recent warm weather, then Q1's positive results will come largely at the expense of later quarters."
0740: RBS has agreed a settlement with the US authorities over its dealing in mortgage-backed securities before the financial crisis. The bank will pay $4.9bn (£3.6bn) to settle the long running-investigation by the US Department of Justice.
0737: House prices dipped in April as sentiment in the London market dropped to a low not seen since the UK was in recession, the monthly RICS survey showed.