Market buzz: FTSE breaches 7600, Greggs and Burberry dumped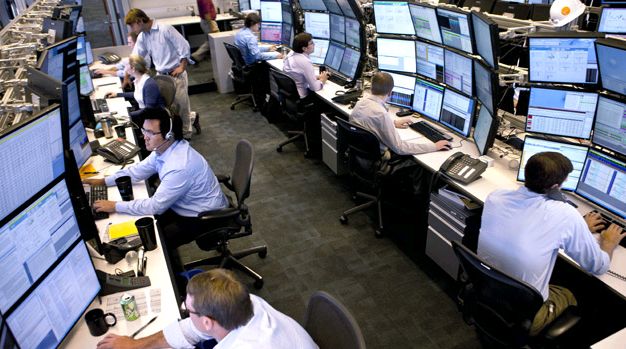 1550: Front month Brent crude oil futures are rising 2.729% to $76.95 a barrel on the NYMEX, helped by the latest US DoE data showing a 2.2m barrel drop in oil inventories for over the latest week.
Domestic US oil ouput was higher again last week, according to the DoE, rising by 84,000 barrels a day to 10.703m b/d.
1525: Unilever shares trying to clamber back atop their 200-day moving average.
1524: Commenting on the outlook for shares in Sainsbury, WebFG's chief technical analyst, Jose Maria Rodriguez, says: "the shares have carved out a clear reversal pattern in the form of a 'double floor', having broken technical resistance on the back of high trading volumes, helping to lower the risk - as always - of a false price signal.
"Typically, one would now expect the shares to rise towards their downward-sloping trendline, now at 340p, although in theory the first upside target comes in at 400p - the stock's 2013 highs.
"Nonetheless, a feint lower first, towards the 269.8p level they managed to breach a few weeks ago, is a possibility."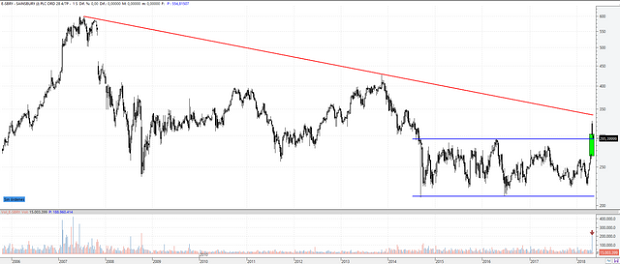 1525: IAG has announced group traffic up 3.4% in April compared to a year ago, while group capacity increased 4.9% in available seat kilometres. Last month British Airways and Iberia launched a new long-haul 'basic' fare to numerous destinations for customers who do not need to check in a bag or select a seat.
1343: Sainsburys higher on the back of a target price upgrade out of Berenberg from 300p to 369p. The broker says that even under conservative assumptions for net synergies from its merger with Asda and for further declines in the acquisition target's EBIT, the merged entity is trading at a discount of between 20% to 30% versus the sector - among many other positives resulting from the combination.
1330: US producer prices up by 0.2% month-on-month in April (consensus: 0.1%).
Commenting on Wednesday's data, Andrew Hunter at Capital Economics said the figures revealed more sign that US dollar weakness over the past year was feeding into core consumer goods inflation.
Combined with signals of faster wage growth in the pipeline and in anticipation of stronger gains in administered medical care prices - stoked by the higher Medicare hospital payments approved by Congress for the 2019 fiscal year - Hunter said the report reinforced his view that core PCE inflation was set to move above the US central bank's 2% target in 2018.
"And we think that will convince officials to raise interest rates three more times by year-end."
1156: Looking at the US withdrawal from the Iran nuclear deal, Barclays says its expect little impact on Iranian crude production in 2018 despite the understanding given by the White House that the waiver is not going to be renewed.
As a result of the US decision, Barclays has lowered its output expectations for Iran by around 150k barrels per day in 2019, a volume that it expects could be offset by Saudi Arabia or by a coordinated reconfiguration of the OPEC/Non-OPEC agreement.
"Therefore, given that we could see a more robust increase in US supply, lower demand growth (in Iran as well), other non-OPEC output (mitigated declines), and an expectation of some recalibration in the OPEC deal, most of the potential loss of Iranian supply could be partially or even entirely offset, in our view."
1142: After the the weak BRC sales figures earlier and St Modwen's sale of around a quarter of its retail property portfolio, the natural temptation is to come up with yet further gloomy headlines, muses Russ Mould, investment director at AJ Bell, "but perhaps investors need to think a little harder."
He suggests investors "look at this through the eyes of the buyer" of St Modwen's retail sites in Longbridge and Wembley "and ask themselves what the purchaser is seeing that they are not".
"The answer may be 'value' amid the torrent of cautious commentary on retail, property and the UK economy more generally," he says, suggesting that as likely second-tier assets the 4% discount to NAV suggests that first-tier assets sold to a trade buyer could go for book value .
He points out that St. Modwen's shares are already trading at a 9% discount to the company's last published NAV per share figure of 450.9p which dates back to November 2017 and that real estate investment trusts with the biggest retail exposure like Intu trades at a 52% discounts to NAV and others a more than 20%, even though they own prime, first-tier assets.
"Under such circumstances it is still possible to argue that the big REITs are cheap (or at least that a lot of the bad news is already well understood) - they last traded at similar discounts to NAV during the recession of the early 1990s and then they had to pay tax, whereas now they do not, so it can be argued the property plays look even better value now than they did then."
1137: After Greggs cautious statement earlier about weak trading in recent weeks, analysts at Shore Capital have downgraded their full year PBT forecast by 7% to £81.3m from £87.3m, for EPS of 62.9p.
"On our revised forecasts, and post a sharp sell-off, Greggs' stock is trading on a PER of 17.2x with a somewhat less demanding EV/EBITDA multiple of 7.9x and a forecast dividend yield of 3.1%. We view Greggs as a high-quality operator, though one that is clearly not immune from consumer sentiment," they said, expecting the stock to tread water at current levels.
1134: The FTSE a little earlier breached above 7,600.
Here's Connor Campbell, market analyst at Spreadex: "Though Brent couldn't quite hold above $77 per barrel, the black stuff is still trading at its best price since 2014. This propelled BP and Shell more than 2% higher apiece, gains that provided the bedrock of the FTSE's own growth. The UK index shot up half a percent, a move that lifted it above 7600 and towards levels not seen since the very end of January. All this while the pound curbed its early losses – the currency is flat against both the dollar and the euro – ahead of Thursday's Bank of England meeting.
"Without the same commodity clout the Eurozone indices were more subdued than their UK peer. The DAX climbed 0.2%, keeping the German bourse above 12900, while the CAC nudged around 5 points higher, causing it to touch 5500."
0940: On Imperial Brands, analysts at RBC Capital Markets say their "worst fears have not arisen", with volume and revenue declines within expected ranges, while operating profit and EPS were 1% and 2% respectively ahead of company-compiled consensus.
"It's hard to call both volume and revenue declines of 2.1% a solid performance but that's how Imperial Brands' 1H performance strikes us. Things seems to be going to plan for the first time in a while at Imperial...EBIT 1% ahead of consensus expectations – with no funnies that we've found so far – is also welcome."
0854: Burberry shares are down 7% after Groupe Bruxelles Lambert, the holding company of Belgian billionaire Albert Frere, sold a 6.6% stake in the group.
The FTSE 100 is up 31.68 points or 0.42% at 7,597.43.
GBL said the divestment of the Burberry stake is part of its "dynamic strategy in terms of portfolio diversification" and allows it to realise a capital gain.
The FTSE 100 is up 31.68 points or 0.42% at 7,597.43, with Wednesday's London open market report finding oil majors Shell and BP leading the index higher as crude prices rebound after a wobble prior to the US Iran decision (see below).
0846: Following Liberty Global's sale of continental European assets to Vodafone for €19bn, as long as regulators don't block the deal, market analyst Neil Wilson at Markets.com, says it could see Liberty use the cash to shake things up in the UK.
"The much-rumoured bid for ITV could be on the cards although Liberty may in fact be minded to go after o2 ahead of its much-rumoured stock market listing. Tying up the assets of Virgin and o2 to offer bundled services/quad-play in the UK may be the number one option. One thing is for sure, with the mounting costs of building out network capacity and 5G etc, telecoms firms have decided they need to combine or merge assets to have the necessary scale."
0819: Retail sales data from the BRC shows a collapse in like-for-like sales value growth to -4.2% in April from +1.4% in March, well below the consensus forecast for a slight -0.8%. Total sales dropped to -3.1%, from +2.3%.
The survey was for the four weeks to 28 April.
"The BRC's survey adds to evidence that consumers have tightened their purse strings this year and are prioritising repairing their balance sheets over spending more," said economist Sam Tombs at Pantheon Macroeconomics, though he admits most of the sharp decline in sales growth in April is due to the earlier timing of Easter this year compared to last.
Stripping this out, he estimates underlying growth in total sales values actually increased, to -0.1% in April, from -0.7% in March. "Nonetheless, it is extremely rare for total sales to fall outright; December 2008 was the last time our calendar-adjusted measure of total sales fell for two consecutive months," he said, adding that "the widely anticipated revival in growth in consumers' spending is not emerging this year".
0816: Greggs is a big faller this morning, down 18% as it struck a cautious note in a pre-AGM statement, saying underlying profits for the year are likely to be at a similar level to the previous year, with trading in March and April hit by weaker market conditions.
The FTSE 100 is up around 30 points, nearing the 7,600 mark that has proved so difficult for the index to breach.
0719: The FTSE 100 is seen rising 4-7 points on Wednesday, according to traders.
Trump's withdrawal from the Iran nuclear treaty had "little impact" on US equities but did encourage a brief flight into safe haven currencies, says Jasper Lawler, market analysts at London Capital Group.
"Despite a big build up to the announcement the markets have pretty much shrugged off the news, with Europe pointing to a rather lacklustre start," he says.
"Amid all the drama the dollar remained well supported, dipping to 93.00 on optimism of Trump remaining in the deal, before charging to 93.2 overnight and looking to retest the earlier 4 ½ month high of 93.28. The stronger dollar and a sparse economic calendar have ensured that the pound and the euro continue to trade around multi month lows, although the pound bears have been unable to break $1.35 suggesting that the recent bear run could be losing steam."
0705: Wall Street finished with main indices almost perfectly flat, with the Dow Jones up 0.01% at 24,360.21, the S&P 500 down 0.03% to 2,671.92 and the Nasdaq 100 down 0.09% to 6,815.48.
0702: Last night US President Donald Trump announced he is pulling his country from the Iran nuclear deal. Trump said that the US will impose "the highest level" of economic sanction.
In response, Iran's president Hassan Rouhani reportedly emphasised the multilateral accord, known as the Joint Comprehensive Plan of Action, was not a bilateral one between Washington and Tehran but rather a multilateral one, endorsed by the United Nations's Security Council. Significantly, Iran reportedly also said it would remain within the deal.
Not long afterwards, Brent crude oil futures were down by 0.741% at $75.61 a barrel on NYMEX, but well off the session lows plumbed before the announcement and overnight Brent has climbed back up to $76.64.