Market buzz: FTSE flops after market's worst week since 2008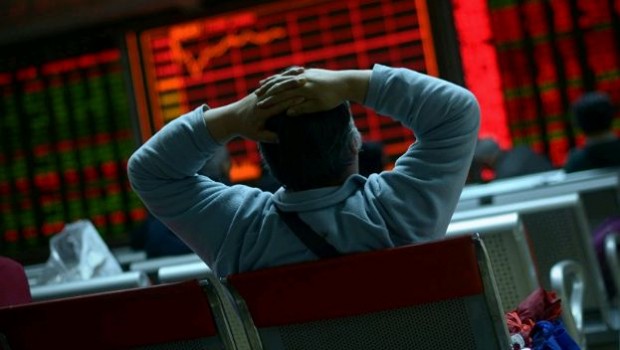 1650: By the close on Friday, the FTSE 100 had fallen 78.26 points or 1.09% to end at 7,092.43, which is a fall of almost 5% for the week and almost 8% from the high of mid-January.
Swissquote analysts added their tuppenceworth: "Markets remain on edge as growing unease over higher inflation and policy rates have sent equites into a tailspin. Global stocks sold off-across the board, bond yields rallied while volatility, hibernating until now, surged. Yet, signs of real 'normalization' remain distant.
"The lack of capitulation in FX prices suggests the stock correction was technical in nature. Markets shrugged-off news of the US government shutdown highlighting that fundamental news is having scant effect on market price. This week traders will be trading the market."
1626: Courtesy of strategists at Bank of America-Merrill Lynch: "Markets stop panicking when central banks start panicking," they say, as the Fed has become 'buyer of volume'. Suggesting the S&P 500 at a 2540 points and Treasury 10-year bonds at 3% "represent good entry points in coming weeks."
"Policy: markets stop panicking when central banks start panicking'...late-cycle crash/correction in 1987, 1998, 2016 all arrested by policy actions; crucial to note Fed now hawkishly selling Treasuries and rhetoric past few days shows Fed 'buyer of vol' not 'seller of vol' for 1st time since 1987; two upcoming events to soften Fed stance…1. Jan CPI (Feb 14th) <0.3%mom; 2. Humphrey-Hawkins [first of two-day hearings in the Capitol on 28 February] opportunity for Powell to signal old, cautious Fed back."
1625: The past calendar week will go down in history, says Allianz Global Investors global strategist Stefan Scheurer, observing the CBOE's Volatility Index, a 'measure of fear, jumping by more than 100% to its highest level since August 2015,
"Are we seeing the return of volatility to the international capital markets after years of artificially low price fluctuations in the wake of the global central banks' expansionary monetary policy?
"Not only the equity markets, but also the commodity and bond markets came under pressure," he said. With core inflation looking set to accelerate gradually, inflation-indexed US bonds are increasingly pricing the probability of a rate hike at the upcoming Fed meeting in March to more than 80%. "We believe that this will be the first of three rate steps in the current year."
1556: Heading into the close, London's blue chip index is 70 points or almost 1% lower, while Wall Street is seesawing but was last seen in the green. After what has been the worst week for stock markets since the 2008 financial crisis, unusually coming off the back of one of the quietest periods in market history, IG market analyst Chris Beauchamp says after such a volatile week, "investors in stocks will be wondering what comes next".
He went on: "What is clear is that no one is keen to hold equities into the weekend, with the swashbuckling opportunists having departed on Thursday's session as the slump intensified."
Beauchamp also pointed out that market breadth remains weak, with the percentage of stocks in the S&P 500 above their 50-day moving average just 13% - the lowest level in two years.
"While it is a sign of widespread decline, this low reading is usually bullish over the longer term," he said, with the previous five years seeing only four occasions when the indicator has been within 20% of the current level of 13%. "Over the next 20 trading days, the average return was 3.7%. This improves to 8.3% for the next 60 days, indicating a favourable risk-to-reward ratio."
1537: With European equities holding up relatively well in the global market correction, outperforming their beta, Goldman Sachs has sent a bullish portfolio strategy note to clients. "We continue to expect positive returns for European equities and expect the SXXP [Euro Stoxx 600] at 425 in 12 months, mainly due to earnings expansion (rather than valuations)," wrote Lilia Peytavin, a strategist at the New York-based investment bank.
"The economic backdrop remains strong and although financial conditions in the US have tightened 50bp since the correction began, they are only back to where they were in late December, ie, 125bp looser than when the Fed embarked on its hiking cycle in Dec-16."
She sees higher interest rates as likely capping valuation expansion but thinks equities "can digest them as long as growth is strong". Looking back, she pointed to the 17 consecutive Fed hikes between 2004 and 2006, when European equities rose 35% as robust economic growth fed into companies' profits. Goldman's recommended 'overweight' sectors includes banks, resources, business services, digital economy and technology, with underweights including food and drink, retail and regulated utilities.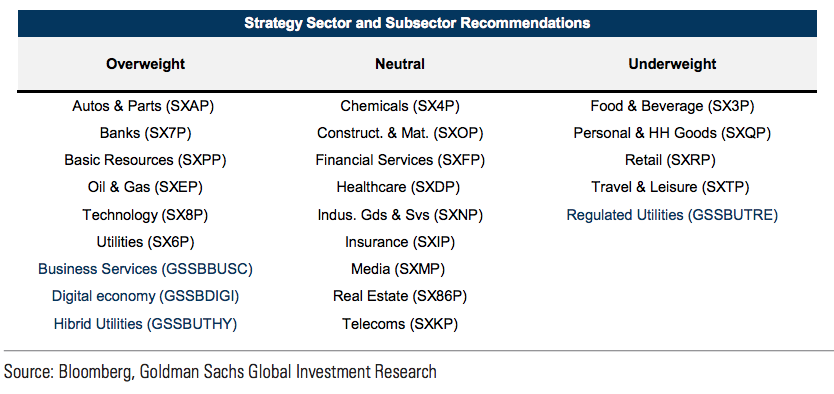 1436: US stocks are moving higher after the opening bell on Wall Street, following another 1,000-point fall overnight. The Dow Jones Industrials index quickly jumped 261.84 points or 1.1% to 24,122.30.
London's FTSE 100 has been lifted off its lows in the last hour as US stock futures pointed north. As of just now, the index was down 33 points or 0.46% to 7,137.65.
1425: The UK financial watchdog has until next Friday, 16 February to publish the skilled persons' report into Royal Bank of Scotland's treatment of small business customers in its Global Restructuring Group (GRG), according to a deadline set by parliament's Treasury select committee set this week. If the Financial Conduct Authority unable to meet this deadline, the Committee requested that it send the report to the Committee by the same date.
Andrew Bailey, chief executive of the FCA, has today written to Nicky Morgan, the MP who chairs the committee, to set out the FCA's assessment of the Committee's request. Commenting on the correspondence, Morgan said: "I am pleased to see that the FCA is trying to get the report agreed for publication or handed to the committee to meet its deadline."
1347: US stock futures are mixed but flattish ahead of the opening bell. DJI: -42 points to 23,928, S&P 500: 0.00 at 2,593.50, Nasdaq-100: +32.50 to 6,349.75.
As an aside, here a graph on the Dow Jones Industrials which might be worth keeping in mind over coming weeks and months (hopefully not days). According to our chief technical analyst at WFG, Jose Maria Rodriguez, the technical support area to monitor on the Dow lies between 20,000 to 22,000 points. For now, he believes we are simply witnessing a correction. However, he does not dismiss the possibility that in time it might come to signal a trend change.
1346: The Japanese government is set to reappoint Haruhiko Kuroda to top post at BoJ, Kyodo reports.
1336: Following a marking-to-market excercise, analysts at Bank of America-Merrill Lynch have raised their forecast for the average price of copper in 2018 by 11% to $7,274 per metric tonne. Global supplies are seen up by 2.9% year-on-year, although that will not suffice to avoid a 213,000 tonne deficit. On the demand side, global demand growth is seen slowing from a 2.7% clip last year to 2.1% in 2018. Some of the recent headwinds to Chinese demand will likely persist they say, but "continued strength in the global business cycle, ongoing reflation and the recent USD weakness may to some extent offset that." Nearer term, given a weak physical market in China and with the Lunar New Year approaching, the analysts see a risk for some price volatility over coming weeks.
1235: The FTSE 100 has lurched further into the red even as the pound fell after figures showed a widening of the trade deficit and a sharp drop in industrial production in December. Sterling was off 0.7% versus the dollar at 1.3815 and 0.6% lower against the euro at 1.1291, having risen sharply in the previous session following the Bank of England's signal yesterday for interest rates to rise sooner and more than previously anticipated.
The London midday report showed stocks down 0.8% at 7,110.22 by noon as investors digested the mixed set of UK data releases mentioned below.
1210: "Equities are off their best levels and back under pressure," says analyst Mike van Dulken at Accendo Markets in a short note to clients just after midday. "After an exciting week in terms of volatility, the bounce after the sell-off is looking more dead-cat than bullish-reversal, with major indices testing support levels and looking set to resume the downtrend that began late Jan, resulting in in stock market corrections which took many by surprise."
He pointed to BP and Shell being hit by lower oil prices, banks in the red amid the risk-off mood, pharma stocks retreating from recent recovery highs, which is overpowering rising shares in the big miners as base metals appreciate. "The FTSE 100 is testing today's rising support at 7115. The DAX 30 has breached yesterday's 12130 lows. Dow Jones Futures have breach rising support at 24100. Gold is back at $1315 support, in a new narrower falling channel."
1047: The pound, which rallied to almost 1.4 against the dollar in early European trading, is now down slightly at 1.3901. London's main share index is down just 14 points, at 7,156.11, up from initial levels. But analyst Joshua Mahony at IG is focusing on the negative narrative as the FTSE 100 looks to close out the week with another bearish shift, he says, as volatility remains elevated, while weak economic data drags the pound lower despite yesterday's hawkish BoE update.
The stock slide is back on the cards today, with yesterday's sharp deterioration in US indices paving the way for a drop in Asian and European markets," he said, noting an explosion in volatility this week with the VIX 'fear index' pushed to levels not seen for over two years, with yesterday's drop in US stock indices ensuring volatility is likely to remain elevated into next week.
Mahony pointed out that energy and utilities sector appears to be one of the main losers in London on Friday, with SSE, Centrica, United Utilities and National Grid all tumbling at the open, along with power plant group Drax.
1043: Trinity Mirror, which owns the Daily Mirror, is acquiring Northern & Shell which owns the Daily Express, and the deal is worth over £126 million. The move will reduce costs, and Trinity Mirror expects to save £20 million per year. The takeover come as hard-copy newspaper circulation is declining, so consolidation is not a surprise. The stocks is up 6.9% today.
1041: Commodity prices started 2018 on a high, bolstered by optimism about global growth prospects and the ongoing depreciation of the US dollar, but Capital Economics now thinks there are "clear signs that growth in China's economy is slowing and we expect the US dollar to stabilise in the coming months" and so "prices of most energy commodities and metals will end the year lower". In a note to clients, the economics boutique said it was "somewhat more positive" on the outlook for agricultural commodities, feeling that low prevailing prices should help boost demand.
1039: Three-month LME traded copper futures down to $6,791 per metric tonne from the Thursday close of $6,832 a tonne.
0947: UK industrial production fell by 1.3% month-to-month in December, the Office for National Statistics has revealed. This was worse than the consensus forecast and lower than the ONS assumption in its preliminary estimate of GDP, both of which anticipated a 0.9% fall.
Britain's longest unbroken run of growth in industrial production for 23 years was brought to an abrupt end in December, noted economist Sam Tombs at Pantheon Macroeconomic. This was due to a collapse in mining and quarrying output, though the plunge reflects the temporary closure of the Forties oil pipeline due to a fracture. As the pipeline fully reopened in late December, output will reverse December's drop in January.
The trade deficit was also reported by ONS, coming at as a much worse £4.9bn in December than the consensus forecast for £2.4bn, while November's deficit also was revised down to £3.7bn, from £2.8bn.
Tombs said these trade figures should "temper the MPC's optimism that the economy is rebalancing and enjoying a trade boost".
0914: Bank of England policymaker Ben Broadbent earlier this morning spoke to BBC radio and followed yesterday's more hawkish update from the central bank by saying he did not think two interest rate hikes would be "a great shock".
0843: The FTSE 100 is already erasing some of its initial losses, down 29.5 points at 7,141.19. Talktalk is the biggest faller on the FTSE 350 this morning, amid reports of a shareholder revolt over its fundraising and profit warning yesterday. The Times reported that at least one heavyweight shareholder had called for the telecoms company not to go ahead with yesterday's £200m capital-raising, with a row erupting over whether existing investors were being unfairly treated. "Critics of the deal said Talktalk and its advisers Barclays and Deutsche Bank were flouting one of the sacred tenets of City behaviour by failing to give existing shareholders first option of buying new shares on offer, a principle known as pre-emption rights."
Analysts at RBC Capital Markets were being positive after the profit warning, saying it was "painful but not terminal" and the company's subscriber dynamics were becoming better understood. With wholesale fibre costs about to fall "we feel it is the wrong time to give up on TALK", they added, especially given the opportunity from the new fibre-to-the-home venture announced yesterday.
More broker note action is given in Friday's London open report, just published, including a boost for Tate & Lyle from an upgraded to 'buy' at Societe Generale, while Metro Bank is up on the back of an upgrade to 'hold' at Investec.
0816: The FTSE has lost just over 42 points in the first minutes of trading to fall 0.6% to 7,128.17 after big falls in US and Asian markets earlier. Overnight the Dow Jones lost more than 1,000 points for the second time in a week as it dropped 4.15% to 23,860.46
0801: A quick look back at yesterday after the Bank of England's more hawkish views were revealed, a note from Morgan Stanley forecast a May hike, assuming that the Brexit talks stay on track and spring wage deals deliver some further upside. "Absent Brexit,we'd then expect a more aggressive pace of hiking, perhaps at a rate of three per annum, on the grounds that the policy rate should be broadly neutral when the output gap closes. However, we expect a growth slowdown in the Brexit endgame, reopening the output gap and keeping the MPC on hold until May 2019 when the Brexit outcome is clear."
0743: Stocks in London are looking like falling when they open on Friday after another big selloff on Wall Street and in Asia. The FTSE 100 was earlier being called to open around 56 points lower at 7,124, but now this had moderated to nearer 26 points.
CMC Markets analyst Michael Hewson said: "It would appear that the brief respite for stocks seen in the middle of the week turned out to be the eye of the storm as once again rising bond yields prompted a further bout of selling across the board, not only in the US last night but in Asia again this morning." See the pre-open report for more.
0738: Newspaper headlines include the Guardian reporting on "spooked investors" causing Asian markets to plummet "following what some described as panic selling on Wall Street which saw the Dow Jones drop by more than 1,000 points for the second time in a week". The Times reports that senior Qatari officials challenging the evidence of Carillion directors who at parliamentary hearings this week blamed the Gulf state for the construction company's demise.
The Telegraph picks up the late story from yesterday that listed publisher Trinity Mirror has agreed a near-£200m deal to buy various newspaper and magazine titles from Richard Desmond's Northern & Shell. "The deal will see the publisher of the Daily Mirror snap up national newspaper titles the Daily Express, Sunday Express, Daily Star and Daily Star Sunday and three celebrity magazines OK!, New! and Star."
Good news for Sky and BT in the Guardian, plus a 'revolt' at Talktalk too - see more in the Friday newspaper round-up.
0705: Overnight the Dow Jones lost more than 1,000 points for the second time this week as Thursday's batch of Federal Reserve speakers were not especially 'hawkish', but the Bank of England's unexpected take on the outlook for interest rates rekindled some of the market's concerns over inflation and where rates may be headed - even in the medium-term. The US closing report last night showed Dow Jones Industrial Average finished down 4.15% at 23,860.46, the S&P 500 fell 3.75% to 2,581.00, and the Nasdaq 100 lost 4.19% to settle at 6,306.10.