Market buzz: FTSE flies as Trump tramples on Brexit plans, DCC leads pack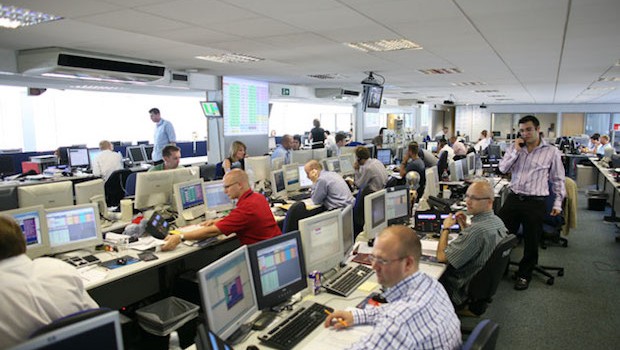 1600: US equity markets are mixed as banks kick-off earnings season, with numbers from JP Morgan,.Well Fargo and Citi. Traders booked some of their profits on US stocks after they had a strong finish yesterday. The trade spat with China is still bubbling away in the background, and remains at the forefront of traders' minds.
"Traders booked some of their profits on US stocks after they had a strong finish yesterday. The trade spat with China is still bubbling away in the background, and remains at the forefront of traders' minds," says David Madden at CMC Markets.
Citigroup beat analysts' forecasts for second quarter earnings, despite falling short of its own guidance for the firm's sales from trading. For the three months ending in June, the lender posted a 16% jump in profits to reach $4.49bn, for earnings per share of $1.63 which were 27% ahead of those obtained during the same quarter on year ago.
JPMorgan Chase posted record second-quarter earnings. EPS came out at $2.29, beating the expected $2.22, the 14th consecutive quarter where EPS topped forecasts. The bank's bond and equity trading departments comfortably exceeded forecasts, after some lacklustre recent years.
By contract, Wells Fargo failed to impress investors. Q2 EPS of $1.08 undershot the Street's expected $1.12. Net income was $5.19bn and the consensus estimate was $5.47bn. Community banking revenue slipped by 1.2%, and corporate and wholesale banking fell by 3.8%.
1531: Consumer sentiment in the US has worsened, according to a preliminary reading from the University of Michigan.
The consumer sentiment index fell to 97.1 from 98.2 in June, below expectations for an unchanged reading but up from 93.4 in July 2017. Trade war concerns are blamed.
1459: US President Donald Trump has started the second day of his tour to the UK amid the sort of controversy he must be used to by now, after he attacked Prime Minister Theresa May's Brexit plans and suggested they would sink any future free trade deal with the US.
In a newspaper interview with The Sun Trump had queried whether May's plans respected the result of the 2016 referendum to leave the EU and also praised former Foreign Secretary Boris Johnson, who resigned in protest at the blueprint for a "soft" Brexit.
However, at a news conference on Friday after a meeting with May at her Chequers country retreat, Trump said the interview, had left out favourable comments towards her, calling it "fake news".
"I didn't criticise the prime minister. I've got a lot of respect for the prime minister," Trump said.
Trump also denied that May's Brexit plan would scupper any hopes of a US trade deal. "I don't know what you're going to do, but whatever you do is OK with us. Just make sure you can trade with us, that's all that matters," he said to May.
1040: The UK Takeover Panel has put out its ruling on Sky. The watchdog says Disney must extend its offer to Sky shareholders in order to ensure minority shareholders benefit equally to major shareholder 21st Century Fox.
It's complicated by the rival offers from Comcast for Fox and Sky, but essentially, the Panel says that, as a result of Disney's offer to Fox on 20 June, it should formally increase the price of its offer, under the 'chain principle' of £14 for each Sky share.
0942: In broker action, Diageo has been boosted by an upgrade to 'buy' at Goldman Sachs while Evraz and IMI were up after upgrades by Renaissance Capital and HSBC, respectively.
UBS has notes out on some of this morning's blue chip news. DCC, after its acquisition of two businesses in its technology division and a short trading statement covering its relatively small Q1 period, is expected to see little change to underlying consensus forecasts.
On Experian, UBS notes growth was in-line with expectations, with North America consumer's acceleration to 8% from 2% in Q4 "was the first quarter of a return to growth, so this is a big improvement sooner than expected". The market's reaction will take in the higher FX headwinds, "but underlying trends are encouraging and could suggest upside to FY'19e growth overall".
A note on Next, employing UBS's Evidence Labs research, finds industry data showing Next sales growth remains "solidly positive in the period to early June, although there is some slowdown probably reflecting tougher comps... We forecast 3% LFL for Q2, with growth then slowing further against tougher comps to hit company guidance for FY revenue growth of +2.2%. While there is upside risk to estimates, there remains some uncertainty about whether exceptionally high temperatures and the world cup have affected patterns of spending in June."
0840: The BofA Merrill Lynch Bull & Bear indicator remains flat at 2.3, the weekly 'Flow Show' note reveals. A buy signal 5.0%.
Also noted is the flow back into bonds, with $5.6bn bond inflows, including the first inflow into high yield in nine weeks, $1.2bn equity inflows, $0.1bn gold outflows, while flows back into defensives have included the largest inflows to healthcare in a year amid big outflows from financials in the past four weeks. "Note tech is in a lonelier & lonelier bull market."
Elsewhere, the market mocks and loves the Fed: "linking flat yield curve, wimpy US dollar bull market, tech's lonely bull market...belief that at first hint of trouble Fed will stop hiking...views aided by lack of US wage growth and disbelief ECB & BoJ will ever hike."
0838: Friday's London open market report notes that stocks are up as the pound takes a hit after US President Trump said the Prime Minister's soft Brexit plan would "probably kill" any trade deal with the US.
A weaker pound tends to benefit the top-flight index as around 70% of its constituents derive their earnings from overseas.
Trump said in an interview with The Sun that if the UK goes ahead with the soft Brexit strategy revealed on Thursday - which would stick to a common rulebook with Brussels on goods and agricultural produce - any future trade deal with the US would likely be off the cards.
"If they do a deal like that, we would be dealing with the European Union instead of dealing with the UK, so it will probably kill the deal," he said. "We have enough difficulty with the European Union. We are cracking down right now on the European Union because they have not treated the United States fairly on trading. No, if they do that I would say that that would probably end a major trade relationship with the United States."


Parliament Square pic.twitter.com/lfRXiQvdgf

— Jim Pickard (@PickardJE) July 13, 2018
0823: The FTSE 100 has started up 0.8% to almost 7713.
DCC is topping the leaderboard says first quarter group operating profit was "well ahead" year-on-year, driven by completed acquisitions. It also announces it had bought a US distributor of professional audio-visual products and a UK distributor of mobile and accessory products for an undisclosed sum.
0759: Overnight Wall Street enjoyed a strong finish, with tech stocks pushing the US Nasdaq to another record high, and there's been a largely positive session in Asia, as global trade tensions recede and China held off from matching Trump's $200bn tariff threat and China trade balance beat estimates.
"Chinese growth data, however, is a double-edged sword," said Mike van Dulken at Accendo Markets, "supportive of global growth but backing up Trump's trade grievances; exports accelerated more than expected (11.3% vs. 10% est.) and imports slowed significantly (+14.1% vs. +20.9% est.). A bigger Chinese trade surplus may well be supportive of FTSE miners, although copper prices are off their best amid USD strength, and note dual-listed miners in the red in Australia overnight."
Van Dulken adds that USD strength versus peers, and corresponding sterling weakness is helping the FTSE, amplified by Donald Trump's comments about PM May's "soft" Brexit White Paper jeopardise the UK and its hoped-for US-UK trade deal. "Oil prices are mostly flat, consolidating after Wednesday's big drop, while gold is likewise muted as investors grew bolder and risk appetite continues to recover."
0745: Company news: Antofagasta confirms that its subsidiary Mineral Centinela was selling Centinela Transmisión, the company that holds its electricity transmission lines, for $117m. "This sale is consistent with the group's strategy of disposing of its water and energy assets," said Antofagasta chief executive officer Ivan Arriagada.
Experian reports trends continuing from the end of its last financial year into the first quarter of its new trading year but the credit checker said currency swings looked likely to have a bigger impact on full year profits than first expected. Group revenue grew 9% in the three months to 30 June, up from 8% the past financial year.
Flexible office space provider Workspace says that it saw good customer demand in the first quarter and that it is actively exploring acquisition opportunities. In a first-quarter business update, the company reports enquiries average 1,021 per month versus 1,016, while lettings average 88 per month compared to 93 in the same period a year ago.