Market buzz: 'Buy humiliation, sell hubris,' says BofA-ML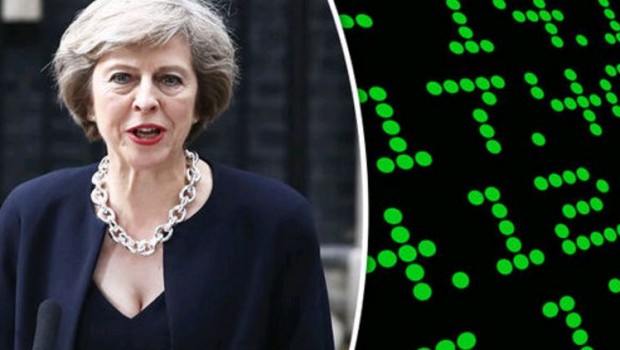 1556: Wall Street is continuing to skid lower, with the Dow Industrials down 1.40% or 343.83 points to 24,253.69, the S&P 500 losing 0.99% or 26.37 points at 2,651.67 and the Nasdaq Composite lower by 1.05% or 73.26 points to 7,107.58.
1532: Credit Suisse reiterates outperform on Burberry shares, says it is its "favourite" restructuring story in the luxury space and on a price-to-earnings multiple of 19.0 times' its calendar year 2018 earnings - versus an average of 22 for the wider luxury sector - it is also the "cheapest".
"The company has gone through the biggest management reshuffle since IPO, margins are below the historical average and the impact from rationalisation of the off-price and wholesale channels, largely in the US, should be partly offset by a cost-cutting plan in place."
1335: BoA Merrill Lynch's popular Friday flow show notes $17.7bn flowing into equities in buy-the-dip moves and includes "six reasons for another $6tn correction".
The 6 reasons why the S&P 500 may test recent intraday lows:
1335: BoA Merrill Lynch's popular Friday flow show notes $17.7bn flowing into equities in buy-the-dip moves and includes "six reasons for another $6tn correction".
The 6 reasons why the S&P 500 may test recent intraday lows:
"1 - Positioning: peaking optimism…Bull & Bear Indicator still in v bullish territory; big equity inflows this week; GWIM private client asset allocation 61% stocks, 33% cash & bonds.
2 - Profits: peaking…booming US 12-month forward EPS estimates now +20% (we say "peak")…booming US consumer confidence 130.8, unemployment rate 4.1%, ISM 60.8…"buy humiliation & busts, sell hubris & booms".
3 - Policy: peaking…global central banks have played "whatever it takes" card, by year-end Fed will have hiked 9 times, fiscal card played aggressively…no more stimulus to discount; only policy left to discount is...
4 - Protectionism: starting…and market pricing as "deflationary" (yields down, stocks down…and stocks down may be necessary to stop escalation of trade war).
5 - Price action: tech not making new highs (e.g. SMH, XLK), credit spreads not making new lows (H0A0, C0A0), homebuilders (XHB) are making new lows; global stocks (ACWI -0.3% YTD) no longer outperforming global government bonds (W0G1 -0.9%).
6 - Pain: trough in inflation, rates, volatility (all 9-year drivers of bull in corporate bonds & equities) now challenging bullish consensus."
1301: Comment from Whitman Howard on Sports Direct's increased stake in Sports Direct.
"Have not seen a Debenhams response yet but would comment that half of the Sports Direct inserts into Debenhams (think was 7-8 opened in total) have closed and feeling from Debs was that the more downmarket demographics worked best not the other way round," says analyst Tony Shiret. "SDI has consistently struggled to achieve a premium presentation although it clearly feels that premium/semi premium High Street space is best suited to this and has been opening/buying some better quality sites recently. So this would be un-proven so far as either side is concerned (could obviously be tested at relatively low cost/risk)."
Shiret added that SDI is "clearly averaging down" at what may be the trough in the UK non-food retail cycle and think it is "unlikely that it will make a full offer given the property situation at Debs" and "looks like applying some low-cost leverage on the Debs management".
1249: Taking advantage of Debenhams share price after a succession of uninspiring updates, Sports Direct's Mike Ashley has increased its stake in the department store group to 29.7%.
1232: London stocks are further into the red after midday following the release of a better-than-expected but still uninspiring reading on the UK construction sector, as worries about a global trade war and an upcoming Brexit speech by Prime Minister Theresa May rattled investors.


EU/Barnier's objections to UK's '3 baskets' idea pic.twitter.com/4nC6sTQdIi

— Bruno Waterfield (@BrunoBrussels) February 22, 2018
1114: Miners and other commodity stocks are a big weight on the FTSE this morning. Anglo American is down 2.7% and Rio Tinto and Glencore are 2% lower, the same loss seen at steelmaker Evraz.
Ferrexpo is 2.56% lower as iron ore futures slide on proposed US steel import tariffs, with contracts in Singapore losing as much as 4.4% and trading at $73.9/t, reports SP Angel.
"Prospects of a trade war between the US, EU and China has fuelled fears of a correction in steel prices which in turn would weigh on mills' margins and weaker demand for steel raw materials. Coking coal prices have also pulled back with May/18 futures off slightly and trading at $218/t v $224/t at the start of the week," the Angel analysts said.
China steel exports fell, with data showing the People's Republic exported 36.6% less steel in January compared to a year ago, with the 4.65mt the lowest monthly figure since February 2013. The pullback is mainly due to Chinese anti-pollution measures cutting local production as well as ongoing Chinese construction growth.
1105: Food delivery is, says Credit Suisse, "the most attractive subsector in Euro Internet", a space that "looks hugely attractive". Just Eat and Delivery Hero are analysts' top picks: "Delivery Hero with its vast addressable market, early structural adoption and fierce competition is in our view an attractive higher risk, higher reward play. However, Just Eat remains our top Outperform as a more balanced, proven play. Takeaway with limited addressable market in countries with strong competitive positions is our least favoured play and we see it as fairly valued."
1101: IMI shares are down after solid results that were in-line with expectations. But there was no "pop" in there to reverse what has been a disappointing share price of late, says Jamie Constable at broker N+1Singer. New year is to be weighted to the second half as per usual. "Trading on a discount to the sector on PE 16x December 2018 with 3.5% yield and 10.75x EV:EBITDA. It should really be doing better than this given the global backdrop."
1051: Some nations are exploring the possibility of retaliatory measures to Trump's proposed tariffs, with China commenting that it would "definitely take necessary measures to safeguard its legitimate rights".
Australia called Trump's announcement "disappointing", while Canada outright said the tariffs are "unacceptable", adding that the country will hit back if its metal industry isn't exempted from the measures. European Commission President Juncker, too, stated that the EU "will react firmly and commensurately to defend our interests".
0953: The UK construction purchasing managers' index for February rose to 51.4 from the 50.2 four-month low from January, IHS Markit said, beating average of economist predictions for a modest rise to only 50.5.
Output in the construction sector remains on course to contract for a fourth consecutive quarter, despite the modest rise in the PMI in February, pointed out Sam Tombs at Pantheon Macroeconomics, as in practice, any PMI reading below 52 has been consistent with falling construction output in the past.
"The near-term outlook for the construction sector remains bleak. Hopes that a Brexit transition deal could be agreed by the end of this month now look forlorn, so businesses will remain reluctant to commit to long-term capital expenditure. Rising mortgage rates will subdue demand for new houses. Meanwhile, public sector investment is set to fall by 4.5% in 2018/19, provided the Chancellor does not revise the November Budget plans in this month's Spring Statement."
0855: UK Steel has put out a statement on President Trump's comments concerning the imposition of 25% tariffs on steel imports into the US, with the UK exporting some £360m worth of high-value steel products into the US each year, almost 15% of total steel exports.
UK Steel said there was still a hope that these tariffs may not target the UK and EU but that Trump's comments did indicate the introduction of blanket measures to restrict the import of all steel imports regardless of their origin.
"This would be a unilateral, and extremely blunt, approach to what is a complex global problem of overcapacity in the steel sector," said Richard Warren, head of policy at the trade body. "This requires a coordinated global approach. Whilst we all too well understand the frustrations of the US sector, measures such as these smack of short-termism, protectionism and would be rife with unintended consequences for global trade and for the users of steel in the US."
Warren said the measures, would "seriously undermine our ability to compete in this market" and could see steel trade diverted away from the US to other markets, such as the UK. "In short, these measures would cause serious damage to the prospects of many steel producers here."
0846: The London opening market report notes that stocks fell in early trade after the White House sparked worries about a trade war and with investors eyeing Theresa May's Brexit speech later. The FTSE 100 is down 0.5% at 7,143.18, while the pound was flat against the euro at 1.1229 and down 0.1% versus the dollar at 1.3769.
0826: The FTSE 100 has opened lower, as expected, down 20.49 points or 0.29% to 7,155.15 but is off its initial lows.
The pound is down slightly but little moved yet against the dollar or euro.
PM Theresa May is later expected to say in her speech that she wants "the broadest and deepest possible agreement – covering more sectors and co-operating more fully than any free trade agreement anywhere in the world today," according to extracts briefed by her office. "Rather than having to bring two different systems closer together, the task will be to manage the relationship once we are two separate legal systems."
Mondi is an initial riser, as the South African packaging and paper group promised a bumper special dividend on top of an already healthy payout, but mixed news on costs and offset by "strong upward momentum" in pricing.
GKN and suitor Melrose are both down as GKN confirmed it is in talks with US-based Dana about a potential sale of its automotive division.
London Stock Exchange Group shares are down despite full year operating profits rising 47% to £626m.
0756: Britain faces an unprecedented food shortage if the UK completes a no-deal Brexit, Sainsbury's boss Mike Coupe has told Bloomberg. "The impact of closing the borders for a few days to the free movement of food would result in a food crisis the likes of which we haven't seen," said in an interview.
0726: Friday's newspapers offer up stories on Rio Tinto, Carillion and fears that other high-street retailers.
0711: London stocks were being called lower on Friday morning, with the FTSE seen falling around 28 points.
Opening calls from London Capital Group were for the FTSE 100 to open 44 points lower at 7131, Germany's DAX to start down 114 points at 12,076 and the CAC 40 in Paris 37 points lower at 5225.
Overnight Donald Trump's decision to slap a 25% tariff on steel imports and 10% on aluminium, to counter Chinese practices spooked the markets, observes analyst Jasper Lawler at London Capital Group, bringing treasury yields, the dollar and US indices tumbling lower and boosting the yen as risk off dominates. "The knock-on effect pulled Asian markets lower and the FTSE can be expected to be hit hard on the open, given its heavyweight mining sector."
0705: The US close last night saw Wall Street finished lower as investors sifted through a slew of economic data, digested Fed Chair Jerome Powell's second testimony this week and reacted with horror to likely increase in costs from Donald Trump's proposed tariffs on steel, aluminum. The Dow Jones Industrial Average closed down 1.68% at 24,608.98, the S&P 500 lost 1.33% to 2,677.67, and the Nasdaq 100 was off 1.52% at 6,750.54.
0659: In the Friday preview, barring any surprises, the spotlight at the end of the week is expected to be on Theresa May as she sets out her cabinet's vision for the UK's future trade relationship with Brussels. Having been provided with a sneak peak of the document that the Prime Minister was to present, European Council president Donald Tusk said that "real political difficulties" lay ahead for Brexit.
The above aside, in a quiet day for economic data, the most important release of the session was expected to be the University of Michigan's final reading on US consumer confidence for the month of February, which is scheduled for release at 1500 GMT.