Market buzz: Signing of US tariffs postponed, Draghi sends euro plunging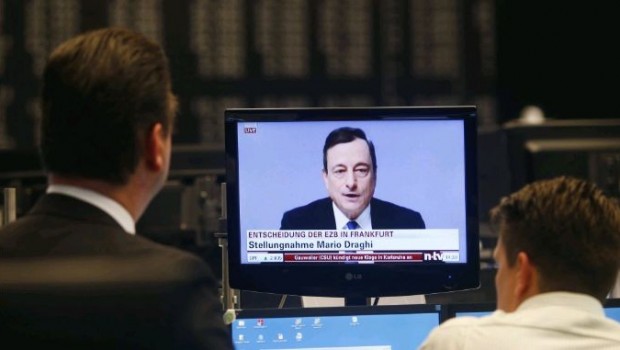 1652: In remarks to WebFG UK, one financial industry veteran describes Wilbur Ross as 'balanced', explains he won't do anything foolish.
On that note, economists at Oxford Economics are out with a note saying: "Our models indicate the odds of a recession this year range from 1% to 15%, changing little since last month and remaining well below critical thresholds.
"Importantly though, the imposition of steel and aluminum tariffs and Gary Cohn's resignation as Trump's top economic adviser signal an increased risk of US trade protectionism, which could elicit international retaliation and increase the risk of an economic downturn."
1615: Having initially risen against the dollar on the ECB statement, the euro has now plunged to $1.2329, a fall of 0.66% for the day, after Mario Draghi's press conference.
"While the lead-up to today's meeting was all centred on whether Draghi will alter the language into a less accommodative stance, we have instead seen markets focus on the diminishing influence inflation is having on rate hike expectations," said Joshua Mahony, market analyst at IG. "While the ECB decided to remove their reference to potential further QE increases, the focus has instead been centred on today's inflation downgrade with CPI expected to remain below target for years to come. Once again Draghi has managed to retain a dovish theme despite a marginally hawkish shift in tone, with the governor taking with one hand and giving in return."
1610: Plenty to look out for tomorrow in the Friday preview: US non-farm payrolls and earnings numbers that should all but seal the deal for a FOMC rate hike later this month, plus results for Inmarsat amid dividend concerns and from SIG after whistleblowing incident last month.
1559: The White House has delayed signing of proposed tariffs on steel and aluminium in order to have more time to prepare the legal documents, according to Bloomberg, which cites a person familiar with planning within the Oval Office. The White House's schedule for today does not include any reference to a tariff announcement.
1450: After the minor improvements to the ECB's outlook gave the governing council the confidence to remove the easing bias from its asset purchase programme, Rabobank's currency analysts say: "To us, this marginal change in the statement is the precursor of a more substantial revision of the communication strategy in summer, before the ECB unwinds QE altogether by end-2018."
1414: Draghi points out that financial sector de-regulation in other major jurisdictions is a risk factor.
1406: Sir David Norgrove, chair of the UK Statistics Authority has expresses concern about "widespread use" of Retail Prices Index after the Office for National Statistics published an article on the problems with RPI.
"The RPI is a poor measure of inflation, and today's publication by the ONS highlights its many problems," Norgrove said.
"With this strong evidence for the deficiencies of the RPI, I remain concerned by its widespread use. If people want to measure changing prices they should use other indices such as the CPI or CPIH, which do not suffer the technical weaknesses of the RPI."
The ONS article highlighted the shortcomings of the RPI measure of consumer inflation, with key drawbacks including that it uses a formula that overstates inflation, reflects house prices and the cost of borrowing money rather than the cost of housing as a service, and excludes the highest income households and lowest income pensioner households from the expenditure weights used to calculate the index.
1345: Commenting on the tweaks to its 'forward guidance', Draghi highlights that the changes were agreed to unanimously by the Governing Council.
1344: In his press conference, Draghi indicates sustained upwards pressures on inflation not still in place. Accomodative policies needed to nurture build-up in underlying momentum in prices, he says.
1259: The euro has spiked up against the dollar and pound, but only slightly, after the ECB removed the loosening bias from its policy statement. On the ECB statement, Claus Vistesen, chief eurozone economist at Pantheon Macroeconomics, said the governing council's guidance on QE has been changed, albeit not in the way expected, with the commitment to increase the 'size and duration' of the program if the outlook worsens having been scrapped. "This is slightly odd in our view. Taken by the letter, it means that the ECB potentially is willing to continue buying €30bn per month beyond September, but has jettisoned the willingness to adjust the program in response to a change in economic conditions. Apart from being a contradiction, it also locks in the ECB to a narrow range of policy choices. In any case, these are word games in the end, and Mr. Draghi naturally will be quizzed on this at today's presser."
Jennifer McKeown at Capital Economics said removing the loosening bias from its policy statement means Draghi is likely to signal during the press conference that interest rate hikes are a distant prospect. Removing the APP pledge on terms of size and/or duration if "is arguably the ECB's first cautious step along a path of gradual policy normalisation", which explains the immediate rise in the euro. She thinks Draghi "may try to temper any tightening of financial market conditions with some dovish comments at the forthcoming press conference".
1245: The European Central Bank kept all its main policy settings unchanged and reiterated that its programme of asset purchases may run past September, if needed, contrary to some analysts' expectations. However, the ECB omitted the reference to the possibility that it might increase the size or duration of its APP if "the outlook becomes less favourable, or if financial conditions become inconsistent with further progress towards a sustained adjustment in the path of inflation."
Following the announcement, all eyes shifted to ECB president Mario Draghi's press conference at 1330 GMT.
1222: February and early March have lived up to the old adage that "when it rains it pours", says Jefferies in a UK equity strategy note this morning, casting back to a minor earthquake, the coldest spring day on record and the FTSE 100 falling by its most on a single day since the Brexit vote.
"However, behind the scenes last month's theme on dividend growth is asserting itself. While it is becoming increasingly difficult to read how well or how badly the Brexit negotiations are proceeding, the unavoidable truth is that UK access to European markets will be restricted and will come at a price. Meanwhile, the spillover from Wall Street's February fall masked the flattening of the UK yield curve – it was the sharp rise in short UK rates that seems to have been missed by investors: 12-month interbank rates rose by over 10bp while 2 year Gilt yields climbed by over 20bp."
This has led to three observations: during a tough month for UK equities, the one investment style that proved successful both in absolute and excess returns was 'dividend per share revision'; that UK banks delivered dividend surprises; and that UK homebuilders such as Bovis and Taylor Wimpey continue to exhibit solid 'sustainable income' attributes.
1119: Persimmon is leading the drag on the main FTSE indices as it is one of the band of stocks going ex-dividend, also including BHP Billiton, CRH, Land Securities, Standard Chartered and Thomas Cook.
1101: With little else in terms of economic catalysts on International Women's Day, analysts are saying the ECB interest rate decision at lunchtime and president Mario Draghi's speech soon after will be keenly watched, with the latest ECB staff projections also providing some grist for the market mill. Draghi's Q&A session will be scrutinised for any "subtle shift in rhetoric" as to what might happen after September this year when the current bond buying programme is due to end, said Lee Wild at broker Interactive Investor.
The ECB rate announcement is at 1245 GMT, while the press conference is at 1330 GMT.
Craig Erlam at Oanda points out that it's not uncommon for markets to be a little quieter in the lead up to major central bank decisions, even those that don't promise to be overly eventful.
Speculation over whether Draghi and co will end the bond buying programme altogether in September or be extended to the end of the year at a reduced rate, "is quite irrelevant", Erlam says, as investors are more interested in when the ECB will make it first interest rate hike. "All we're likely to get today is a slight change in the language, with the possible removal of a willingness to increase the asset purchase program in size or duration if the outlook becomes less favourable."
1077: Shares in Aviva fell around 2.5% at the open and have since come back to a bit to -1.8%. Full year results from the life insurer were strong, with earnings per share up 7% and the dividend lifted 18% for 2017, with growth targets upgraded for 2018 and beyond.
Simplification of the FTSE 100 group's geographic footprint is complete, said chief executive Mark Wilson, leading to this bringing forward of growth targets to aim for at least 5% EPS growth from 2018, with 55-60% to be paid out in dividends.
1010: After a 17% slide in Britvic's shares since the start of the year, Morgan Stanley has upgraded the drinks maker to 'overweight', saying the current share price offers an attractive entry point. Analysts forecast +170 basis points of margin expansion FY17-20e, strong free cash flow growth and improving return on invested capital. The 12.5 times 2018 EPS "is a deeper discount to peers than is justified".
0903: The FTSE 100 has struggled for any sort of direction in the first hour, with the pound flat against both dollar and euro, the London open market report notes, ahead of the latest monetary policy statement from the European Central Bank later and as the US began to make concessions on trade.
Stocks in Asia finished on the front foot after stocks on Wall Street pared early losses overnight on reports that Canada and Mexico could get exemptions from Trump's planned import tariffs on steel and aluminium.
At just before 0900 GMT, the FTSE 100 was virtually flat at just under 7,158, held back by a swathe of stocks going ex-dividend as usual on Thursday. The FTSE 250 mid-cap index was up 35 points at just over 19,800. The pound was flat on the dollar at 1.3890 and the euro at 1.1196.