Market buzz: Calm returns but 'risk appetite yet to reappear'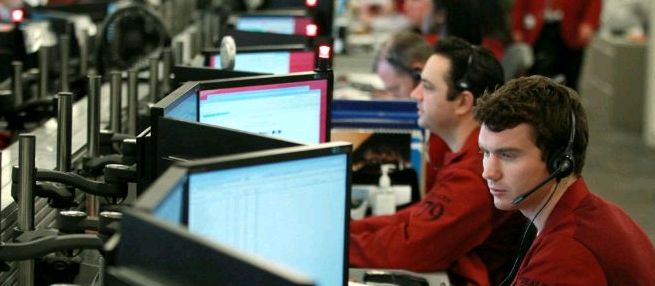 European equities are higher on Wednesday morning, following a rebound overnight in the US that continued in Asia.
1635: Looking a day ahead, tomorrow will see the Bank of England's 'Super Thursday', the main event of the week. There's also results and quarterly updates from the AA, Ashmore, Bellway, Compass, Smith & Nephew, Sophos, TalkTalk and Tate & Lyle.
"Overall we expect the Bank to remain in wait-and-see mode after its November hike and refrain from revising its communication in the absence of relevant events or data since the last inflation report," said economists at Barclays.
UBS was most interested in results from Sophos, looking for a narrowing of full year guidance after hikes in September at and again in November.
1535: Looking at the FTSE 100's biggest movers, Direct Line is among the leading gainers following an upgrade to 'add' from 'hold' from analysts at Peel Hunt. "Going forward we believe the market will start to appreciate DLG's diversified pool of earnings and its ability to gradually grow the underlying, own branded, policies in an environment where: (a) rates are starting to plateau in Motor; and (b) Home rates are starting to show signs of stabilisation after a period of softening."
Other companies in the FTSE 100 movers report include retail property developer Hammerson, miners Fresnillo and Randgold Resources, packaging company Smurfit Kappa and conglomerate DCC.
Among the 250 movers, asset manager Investec is the top gainer, UDG Healthcare is boosted by an upgrade at Liberum, while Sanne Group is under the cosh as the same firm issues a downgrade and slashes the price target. Miners Ferrexpo, Hochschild, Polymetal and Acacia Mining all lost their shine too.
1524: Commenting on Monday's market rout, strategists at Credit Suisse are telling clients that the critical level of wage growth in the US for markets, from 3.25% to 3.50%, has not yet been reached. In January, US average hourly earnings advanced at a 2.9% clip year-on-year. "The most reliable predictors of a market peak have not been seen (such as spreads widening for 7 months, corporates over-investing or the NY Fed's recession probability model rising above 20%). Our tactical indicators update slowly, but the premium paid for puts (relative to calls) is now extreme," Credit Suisse's Andrew Garthwaite said.
1510: Croda called off merger talks with Ashland in January, Reuters is reporting citing a source familiar with the matter.
1435: Fed's Dudley reportedly saying a sustained drop in stockmarket would impact his outlook. But recent drop was not that big of a bump, "not yet".
1433: Slight dip on Wall Street at the opening bell: Dow down 0.41% or 104.12 to 24806.79, S&P 500 off 10.71 or 0.26% to 2,689.93 and Nasdaq Comp. down 0.19% or 15.66 points to 7,100.22. VIX down 5.14% to 28.44.
1426: US equity futures are pointing to declines of roughly half a percentage point on average for Wall Street's main market gauges at the opening bell, with the mini contract for the Dow Industrials at 24,741.00, that on the S&P 500 at 2,683.75 and that for the Nasdaq-100 at 6,641.0.
1208: As the midday market report is published, shares in London are holding onto most of their early gains as they bounce back from heavy losses in the previous session following a late rally on Wall Street, with housebuilders on the up after solid first-half numbers from Redrow. The FTSE 100 was up 0.6% to 7,185.53.
1202: Speaking from Frankfurt and in response to a journalist's query, Dallas Fed chief Robert Kaplan terms recent sell-off in markets "healthy", says he doesn't think it would have economic implications, adding that it was basically a market event.
1158: There's a report citing the FT's Alphaville saying Croda might be interested in bidding in the low $90s for US-based Ashland. Alphaville itself is careful to note such suggestions might be complete rubbish, adding that market chatter/speculation regarding Croda's possible interest in making a jump to the other side of the Pond has been around since 2014.
1142: While European equities are carrying on with the rebound that began on Wall Street and continued in Asia, Mike van Dulken, head of research at Accendo Markets issued investors some words of caution: "as much as this will please those of a bullish persuasion, looking for buying opportunities, bears highlight major indices well off the highs that futures markets hit overnight.
"As it stands, we're back closer to overnight lows. Calm may have returned, but genuine risk appetite has yet to reappear. Not until investors are certain that, if this was just a technical correction, that it's over, and not part of a bigger unwind and decline," he added, noting that a stronger US dollar was helping the european indices via corresponding weakness in pound and euro, with the FTSE 100 trading 7160-7195 and the DAX hugging rising support at 12,430. "Dow Jones Futures test rising support, still below falling highs resistance. Gold has turned back from $1333."
1130: Investec is the top riser on the FTSE 100 this morning after some boardroom "musical chairs", with a much-anticipated change in leadership as CEO Stephen Koseff and MD Bernard Kantor will be replaced by both the current chairman Fani Titi as well as the Investec Asset Management CEO, Hendrik du Toit, effective from 1 October. "While the change was expected, the extent of the overhaul is surprising as it has become a full changing of the guard," said analysts at Deutsche Bank.
1112: With global equities down 8% since their January peak and investors wondering whether this is a market correction or the beginning of the next major bear market, Citi analysts compared the current conditions to the start of previous bear markets and found "only 3.5" out of 18 factors on its checklist were flashing sell compared to 17.5/18 in 2000 and 13/18 in 2007.
"Our Bear Market Checklist says it is too early to call the end of this bull market," Citi said. "Equity returns in 2018 will be defined by the trade-off between two powerful forces. Positive continuity will be provided by ongoing strength in the global economy and rising EPS. Negative change will be provided by central bank tightening.We think that higher EPS should eventually win out, but the journey will not be as smooth as in 2017."
1054: Housebuilding stocks are on the up thanks to good first-half numbers from Redrow. The FTSE 250 builder posted a 26% jump in pre-tax profit to £176m on group revenue up 20% as legal completions in the half rose 14% to 2,811.
0850: The FTSE 100 has rallied 0.9% to 7,201.94, while the pound was down 0.1% against the euro and the dollar at 1.1260 and 1.3933, respectively. Read more, including company news from Imperial Brands, DCC and Severn Trent, in the Wednesday's London open market report.
0806: Wednesday sees the FTSE 100 open in the green, taking its cue from a rebound on Wall Street overnight. The blue chip index had ended the previous session at around eight-month lows, down 2.64% on the day to 7,141.40, as part of what analysts said was a technical correction in US stocks, seemingly sparked by concerns that rising inflation might force the Federal Reserve to hike rates more than the three expected times this year.
0645: Britain's economy will expand faster than forecast in 2017 and 2018 due to unexpectedly strong global growth, the National Institute of Economic and Social Research has said. GDP growth will accelerate to 1.9% in each of the next two years from 1.8% in 2017, according to the . The booming global economy and the pound's fall have helped rebalance the UK away from domestic consumption towards net trade as other countries have bought British goods, NIESR said.