Ultra Electronics 'minded' to recommend £2.58bn Cobham offer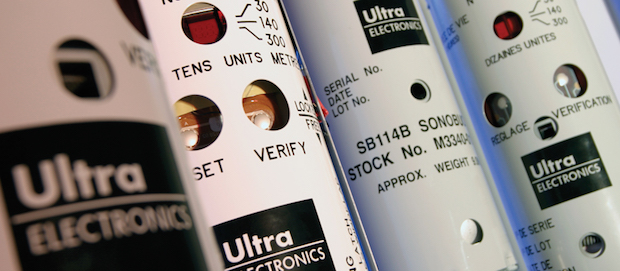 UK defence company Ultra Electronics on Friday said it was minded to recommend a £2.58bn takeover bid from Cobham to shareholders.
Cobham, owned by US private-equity firm Advent International, has offered £35 a share, a 42% premium to Ultra's share price of £24.70 on Thursday.
Accepting shareholders will also be able to keep the interim dividend of 16.2 pence per share, announced earlier this week.
Cobham had indicated it would offer the UK government "appropriate undertakings in respect of national security" and both side would now start talks to explore the offer in more detail.
Ultra is a major part of the Royal Navy's supply chain, providing submarine-hunting sonobuoys for British warships. When Cobham was bought out by Advent International for £4bn two years ago there was an inquiry into claims that the acquisition was against the UK national strategic defence interests.
Cobham has until August 20 to either make an offer or walk away under UK Takeover Panel "put up or shut up" rules.