DS Smith shares soar as Mondi reportedly mulls bid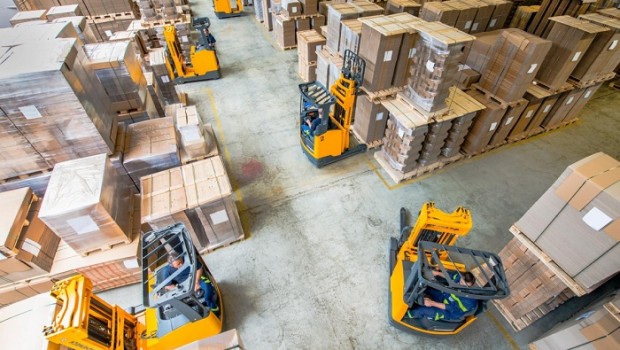 Shares in UK paper and packaging firm DS Smith spiked on Thursday on reports rival group Mondi is considering a bid in what would be one of the largest British deals this year.
FTSE 100-listed Mondi has been speaking with advisers, Bloomberg reported citing unnamed sources. An acquisition of fellow blue-chip D S Smith, worth more than £5bn, would add another 30,000 to Mondi's 26,000- strong global workforce.
Shares in Smith were up 14% in early trade, and were 8% higher at 0942 GMT.
Consumers have turned to online shopping amid the pandemic, boosting demand for packaging companies as retailers grapple with increased deliveries.
D S Smith's shares have risen over 10pc in the past year – since before the pandemic – including 2.5% through 2021 so far, giving it a market value of £5.3bn.
According to data compiled by Bloomberg, a deal between the two rivals would be one of the largest in the UK this year. Deliberations are, however, at an early stage, without certainty they will lead to a buyout. Both firms declined to comment.
David O'Brien, equity analyst at investment bank Goodbody, said a merger would "mark a move from a more vertically integrated containerboard to box business".
"From an operational stand point we have seen it before – opposites attract. Mondi is a technically focused long containerboard player with an emphasis on low cost production. DS Smith is a more downstream focused operation with an emphasis on innovation within the corrugated box market."
"It would also be merging DS Smith's more western European biased box business with Mondi's more Eastern European focused assets. At a high level this seems manageable."
"Given the scale of a potential transaction this is likely to be entirely or largely a paper deal should it come to fruition."
Mondi on Thursday said annual profits fell by a third on the back of "significantly lower" average selling prices for pulp and paper grades and the Covid-19 pandemic.
The company on Thursday said pre-tax profits for the year to December 31 fell 30% to €77m. Underlying core earnings declined 18% to €1.35bn, while revenue was down to €6.6bn from €7.2bn.
Mondi declared a total dividend of 60 euro cents a share, up 5% year on year.
AJ Bell investment director Russ Mould said the growth of online shopping "has been a slow-burning driver for the packaging industry for several years, after all nearly everything you order over the web arrives at your door in a box".
"This trend has accelerated massively in the last 12 months as we have been stuck at home thanks to coronavirus restrictions."
"However, while this has led to reports of cardboard shortages and driven strong demand, particularly in the fourth quarter and over Christmas, Mondi's results today show this was not enough to outweigh the loss of business in other areas due to the pandemic."
"This has been exacerbated by the plethora of used cardboard stuck in people's homes; with pick up and recycling services unable to keep up, this has driven up the price of recycled containerboard which the likes of Mondi and DS Smith use to manufacture boxes."
"Scale could be a big advantage in capitalising on the e-commerce related opportunity, which could be the reason for Mondi's apparent interest in delivering some blockbuster M&A."