Wall Street reels after US President says he will respond to Chinese counter-tariffs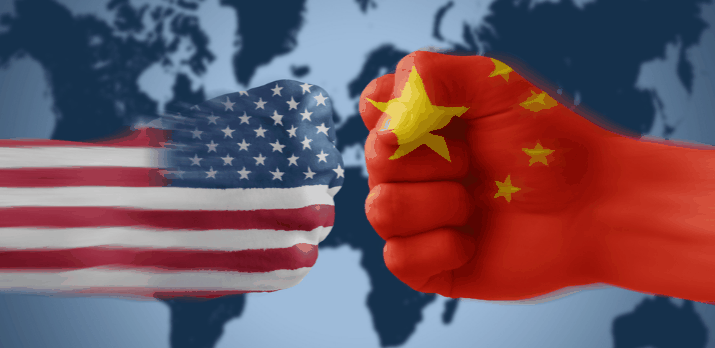 Wall Street was left reeling at the end of the week after the US President upped the ante in his trade war with China following Beijing's decision to retaliate against the latest measures threatened by Washington.
As usual, the Fed did NOTHING! It is incredible that they can "speak" without knowing or asking what I am doing, which will be announced shortly. We have a very strong dollar and a very weak Fed. I will work "brilliantly" with both, and the U.S. will do great...

— Donald J. Trump (@realDonaldTrump) August 23, 2019
Earlier, China unveiled plans on Friday to impose additional retaliatory tariffs of between 5.0-10.0% on US exports worth $75.0bn split into two batches with the first levies due to kick-in on 1 September and the rest on 15 December.
A 10.0% tariff would be put on various agricultural goods including pork, beef and chicken and tariffs on soybeans would be raised by a further five percentage points.
China also said on Friday that it would reimpose a 25.0% levy on US made autos from 15 December, although certain American car and parts manufacturers would be allowed to apply for exemptions.
Beijing's announcement was not wholly unexpected after the editor-in-chief of China's Global Times earlier said: "Based on what I know, China will take further countermeasures in response to U.S. tariffs on $300 billion Chinese goods. Beijing will soon unveil a plan of imposing retaliatory tariffs on certain U.S. products."
In post on his personal account on Twitter, Donald Trump responded that he would do something "shortly".
...Additionally, the remaining 300 BILLION DOLLARS of goods and products from China, that was being taxed from September 1st at 10%, will now be taxed at 15%. Thank you for your attention to this matter!

— Donald J. Trump (@realDonaldTrump) August 23, 2019
The US President's remarks came just moments after the head of the US central bank, Jerome Powell, left the door open to further easing, although he appeared to point to a perhaps more gradual pace of easing than some in the markets - albeit not many - had been hoping for.
And after the close of markets in the US, the American President announced that the 25.0% levy on $300.0bn-worth of Chinese exports already in effect would rise to 30.0% starting from 1 October and that the 10.0% that was scheduled to be levied on $300.0bn of imports from China would instead be set at 15.0% effective 1 September.
As of 1616 BST, the Dow Jones Industrials was falling by 1.35% to 25,898.29, alongside a drop of 1.45% for the S&P 500 to 2,880.68 and a retreat of 1.65% on the Nasdaq Composite to 7,859.26.
Meanwhile, the yield on the benchmark 10-year US Treasury note was dropping by eight basis points to 1.54%, having earlier traded as high as 1.66%.
Gold futures were rocketing 1.83% to $1,536.10/oz. on COMEX.
And the US dollar was higher by 0.13% to 7.0956 against the Chinese yuan, having earlier fallen to 7.0708.
Beijing had already warned earlier in the week that it would respond to the recent announcement of US tariffs on almost another $270.0bn-worth of Chinese goods some of which were also set to go into effect in September and the rest by mid-December.
"The US moves will pose some challenges to China's exports and economy, but overall, the impact is controllable," Ministry of Commerce Spokesman Gao Feng had said in a press conference the day before. "China will be forced to retaliate if the U.S. follows through with new tariffs," he added.
Trade tensions were running high, especially after US President Donald Trump said on 21 August that he's the "chosen one" to wage a trade war with China and asserted that he's winning.
"This is a trade war that should have taken place a long time ago," Trump told reporters at the White House.
"Somebody had to do it. I am the chosen one," he said.
Citing people familiar with their intentions, earlier on Friday Bloomberg reported that a Chinese delegation was still planning to travel to Washington in September.